What Is PMC Redan? The Russian Youth Gang Inspired by Extreme Nationalism
PMC Redan, a new youth subculture that appears to be inspired by extreme nationalism, has emerged in Russia, making headlines for staging mass brawls in shopping centers in Moscow, St. Petersburg and other major cities across the country.
Members of the new youth movement, inspired by the Japanese anime series Hunter x Hunter, have caused so much commotion in recent days that Russia's police and national guard are clamping down on the group, detaining members en masse.
According to the Baza Telegram channel, on February 25, Moscow police officers received an order to arrest all teenagers who show signs that they are members of PMC Redan: long dark hair, wearing clothes with a spider symbol and the number four, and plaid pants.
Videos of mass brawls organized by the group have circulated on social media since the group's first fight broke out on February 19 in the food court of the Aviapark mall in Moscow. Other arranged fights subsequently took place in other shopping centers in the city.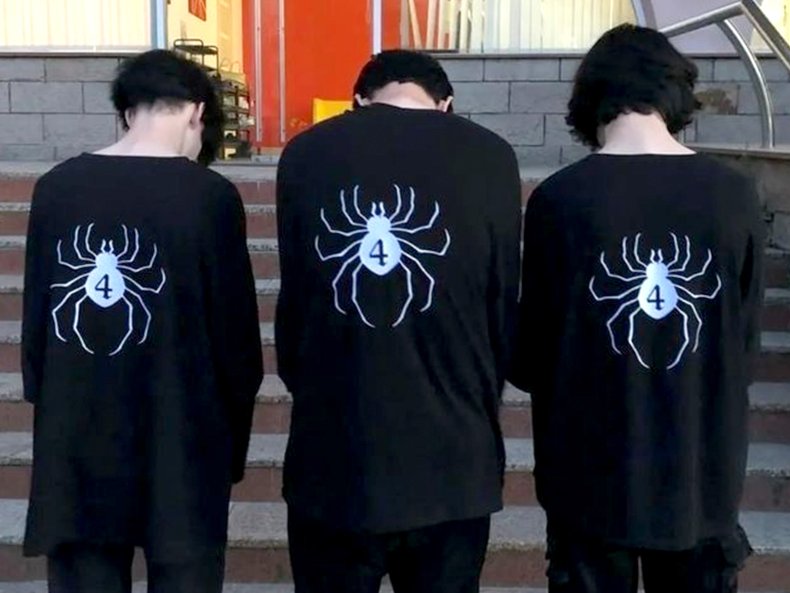 The group has even caught the attention of the Kremlin, suggesting its activities could be causing alarm for Russian President Vladimir Putin. On Monday, Kremlin spokesman Dmitry Peskov said "it is important to stop illegal actions."
Peskov called the PMC Redan movement a pseudo-subculture "with a minus sign," which does not bring anything good for Russia's youth.
"Attention has been drawn. Naturally, we need to respond to this," Peskov told reporters at a press briefing.
What is PMC Redan?
Unlike the name suggests, PMC Redan is not a paramilitary group. The "PMC" abbreviation was used "as a joke" members have said.
A member of a group dedicated to PMC Redan on the Russian social media network VKontakte told Newsweek that it's "possible" the group took inspiration from the Wagner Group, the notorious paramilitary outfit that was founded by Russian businessman Yevgeny Prigozhin in 2014 and is heavily involved in the current fighting in Ukraine.
The movement at its core is inspired by the anime Hunter x Hunter, which features the criminal organization "Genei Ryodan," also known as the "Spider," and its members the "Spiders." They gather in groups, arrange skirmishes, and take revenge using criminal means.
Images sent to Newsweek show members with long dark hair, dressed in black clothing emblazoned with spider symbols and the number four, like the fictional characters they are inspired by.
'Russia for the Russians'
According to media reports, brawls have occurred between members of PMC Redan and another Russian youth subculture— the so-called "offniks" (football hooligans)—as well as against Russians with a non-Slavic appearance.
Members appear to be inspired by nationalist Russian elements, perhaps even those who are critical of Putin himself, Newsweek has been told.
"Members of PMC Redan are against offniks and abu bandits (Dagestani youths)," VKontakte user Mirka Ibraeva told Newsweek. "They said 'Russia for Russians' when they came to the shopping center to fight offniks, then offniks started to fight them.
"In Zelenograd, eight people were killed, and in Moscow, one was stabbed in the head with a knife, and the other was thrown from the third floor...Cops are now targeting only PMC Redan members. I personally am for Redanovtsy and against offniks," she said.
When asked what the movement's ideology is, Ibraeva responded: "I can answer with only one phrase, as the Redans themselves say 'Russia for the Russians!'"
In 2021, Putin said the slogan "Russia for the Russians," which is often used by nationalists, is considered harmful to his country.
The phrase "only harms Russia and contributes to its buildup from within. And we must not allow this. Of course, we must ensure that the culture of each nation, its history, the origins of each nation are revered, developed and respected in our country," Putin said at the time.
VKontakte user Timofey Isakov, also a member of the site's PMC Redan group, told Newsweek that members are "against non-Slavic appearance due to the fact that such people bully Russian boys."
Another said PMC Redan fights "for freedom" and "choice."
Redan PMC itself has issued a disclaimer statement saying that its members "do not oppress people because of their religion or nationality."
Ukraine and Belarus Arrests
The group also appears to have gathered momentum in Ukraine and Belarus in recent days. A petition has been created on Ukrainian President Volodymyr Zelensky's official website, demanding that PMC Redan is banned in the country.
"The petition will help prevent manifestations of pro-Russian sentiment throughout Ukraine," a message on the petition states.
According to the Russian business daily Vedomosti, young people have attempted to organize mass brawls in Ukrainian cities including Kyiv, Odesa and Lviv.
And in Belarus, more than 200 arrests were made on Tuesday, the press service of the Ministry of Internal Affairs of Belarus said.
Newsweek reached out to Russia's Foreign Ministry for comment.