What Polls Say About Kelly Loeffler, Raphael Warnock a Week Before Georgia Senate Election
With just one week until Georgia's Senate runoff between Republican Senator Kelly Loeffler and Democratic challenger Raphael Warnock, recent polls show a close race with neither candidate clearly in the lead.
The polling average compiled by political and polling analysis website FiveThirtyEight shows Warnock with an average narrow lead of just 0.5 percentage points. Loeffler is backed by an average of 47.7 percent of Georgia's likely voters, while Warnock is supported by 48.2 percent. The narrow difference between the two candidates is well within the margin of error, which means that neither the Republican nor the Democrat is clearly favored to win.
A recent poll conducted by Trafalgar Group from December 23 to 27 shows Warnock narrowly in the lead by 1 percentage point. The Democrat was backed by 50 percent of likely voters, while Loeffler was supported by 49 percent. That survey polled 1,022 likely voters.
But another poll of 1,045 likely voters, carried out from December 21 to 27 by the Open Model Project, shows Loeffler in the lead by 4 percent. The senator was supported by 50 percent of likely voters in that survey, while Warnock was favored by 46 percent.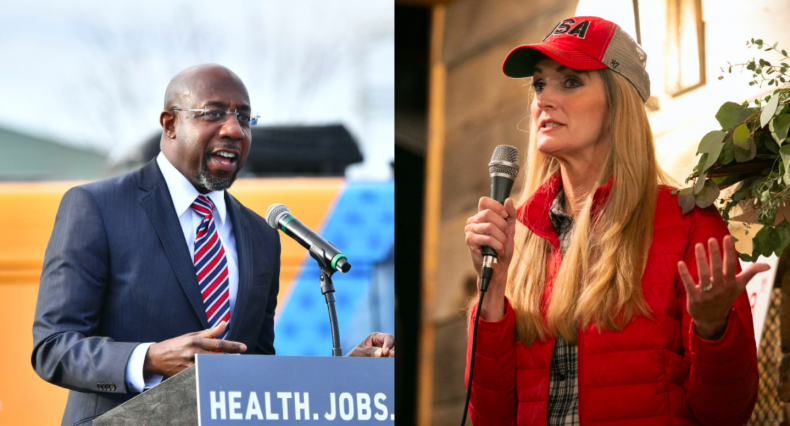 Meanwhile, a poll by SurveyUSA shows Warnock ahead of Loeffler by 7 percent. In the survey, Warnock was backed by 52 percent of likely Georgia voters, while 45 percent supported the Republican incumbent. Conducted from December 16 to 20, the poll solicited the opinions of 600 respondents.
Polling from InsiderAdvantage, conducted from December 21 to 22, puts Warnock in the lead by 2 percent. That survey of 500 likely voters shows Loeffler with the support of 47 percent of Georgians and Warnock with the backing of 49 percent. But in an Emerson College poll carried out from December 14 to 16, Loeffler was ahead by 2 percent. The Republican was supported by 51 percent of likely voters, and the Democrat was backed by 49 percent.
President-elect Joe Biden became the first Democratic presidential candidate to win in Georgia since former President Bill Clinton carried the state back in 1992. Biden narrowly flipped the state blue by a margin of less than 12,000 votes—or 0.2 percent. Democrats remain optimistic that they can flip Loeffler's seat, along with that of her fellow GOP Senator David Perdue, in the January 5 runoffs.
The two Georgia Senate races have drawn much national attention, as their outcomes will decide whether Democrats or Republicans control the upper chamber of Congress. If Republicans win at least one of the seats, they will maintain their majority in the Senate, although it will be slimmer than in the past two years. But if the Democrats win both seats, the Senate will be evenly split between them and the GOP. That will give Democrats control of the Senate, as Vice President-elect Kamala Harris will make the final decision when votes are tied.
All the candidates have raised tens of millions of dollars, and leading members of both political parties have traveled to Georgia to campaign. Early-voting turnout suggests that Democratic voters may be more enthusiastic than their Republican counterparts, but GOP voters could still come out in mass on the day of the runoffs.
Stacey Abrams, a Democratic activist and organizer who is a former minority leader of the Georgia House of Representatives, expressed confidence on Monday that Warnock and fellow Democratic contender Jon Ossoff would win.
"The numbers tell their own story. More than 2 million voters have cast their ballots, including 65,000 voters who did not vote in November, who have been disproportionately under the age of 29 and people of color," Abrams told CNN.
"Raphael Warnock and Jon Ossoff have done an exceptional job of engaging voters, increasing participation and leading the kind of turnout that we need to win this election," she said.