What Is Pope Francis Accused Of? Pontiff Challenged by Abuse Allegations
Pope Francis is ignoring calls to resign amid accusations that he covered up years of sexual abuse by an American cardinal.
Former Vatican diplomat Archbishop Carlo Maria Vigano released an 11-page letter Monday during the pope's visit to Ireland. In it, he claimed Francis knew about 88-year-old Cardinal Theodore McCarrick's abuse for five years but allowed the priest to keep his position. McGarrick resigned from his post in disgrace last month.
According to the BBC, on his flight back to Rome the pontiff refused to make any comments on Vigano's allegations, telling reporters: "I will not say one word on this. I think the statement speaks for itself. And you have the sufficient journalistic ability to make your conclusions. It's an act of trust."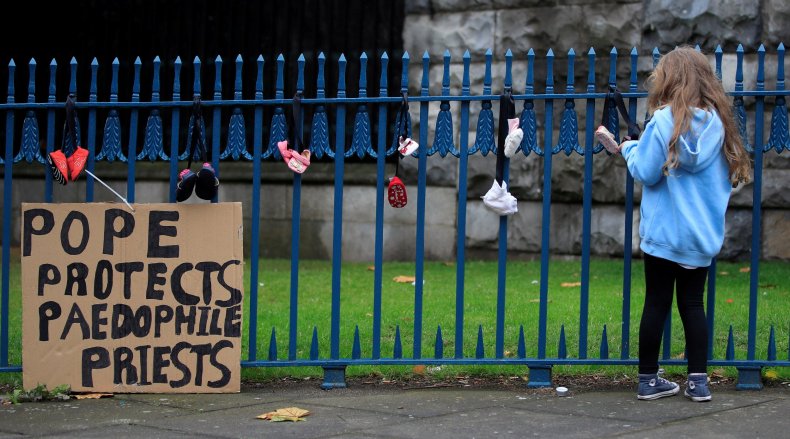 Vigano claimed he told the pope about suspected abuse by McGarrick as early as 2013. The cardinal faced numerous allegations of sexual assault on low-ranking seminarians and priests throughout his career. Vigano, noted the BBC, said Francis "knew that he was a corrupt man, he covered for him to the bitter end." Vigano added, "Pope Francis must be the first to set a good example for cardinals and bishops who covered up McCarrick's abuses and resign along with all of them."
Ireland, where the Catholic Church once held enormous sway over all areas of life, has been deeply scarred by abuse scandals in recent years, significantly contributing to the erosion of the Vatican's influence there. During his weekend visit, the pope apologized several times for the church's past inaction. On Sunday in Dublin, Francis begged forgiveness for the "abuses in Ireland, abuses of power, conscience and sexual abuses" by senior church figures.
Vigano, who served as the Vatican envoy to Washington, D.C., has not yet presented any evidence that he informed the pope about McGarrick's activities. Vigano also said he wrote a memo to other senior Vatican officials as early as 2006, warning that McGarrick was facing abuse allegations from his time as a bishop in New Jersey between 1981 and 2001. McGarrick went on to serve as archbishop of Washington from 2000 until 2006.
The letter penned by Vigano demonstrates the internal Vatican schism between reformers and traditionalists, divisions exacerbated since Pope Francis was elected in 2013. Francis's informal style of leadership and surprising level of candor have made him a target of the Vatican old guard and the timing of the letter may suggest a coordinated attack on the Argentinian.
Vigano is no stranger to controversy. In 2012, he was embroiled in what became known as the "Vatileaks" scandal, when Pope Benedict's butler leaked confidential documents to the press. The leaks showed Vigano accusing multiple senior officials of corruption and a campaign against him.