President Biden affirmed his commitment to replacing retiring Justice Stephen Breyer with the court's first Black woman on Thursday, setting off a flurry of media speculation over who the potential nominee may be.
On the periphery of potential future Justice nominees sits Sherrilyn Ifill, a civil rights attorney who serves as president and director-counsel of the NAACP Legal Defense and Educational Fund. Ifill's name appeared in a tweet from Democratic Representative and Congressional Black Caucus Parliamentarian Sheila Jackson Lee of Texas, who said she should be "weighed and considered."
Ifill boasts a strong resume. Before joining the NAACP LDF, she worked as a law professor at the University of Maryland School of Law in Baltimore for 20 years. She was named 2020 Attorney of the Year by The American Lawyer, won the 2021 Spirit of Excellence Award from the American Bar Association, and was included in TIME magazine's 2021 100 Most Influential People list.
She also boasts a Twitter following of almost 380,000—but that could be wherein the problem lies.
Unlike other top names being floated, many of whom do not even have Twitter accounts, Ifill is quite active on the platform and makes her opinions known. She has offered critiques of former President Donald Trump and accused Republicans of "national racial disenfranchisement" in regard to their handling of the 2020 election. She also used the platform to spark conversations about defunding the police.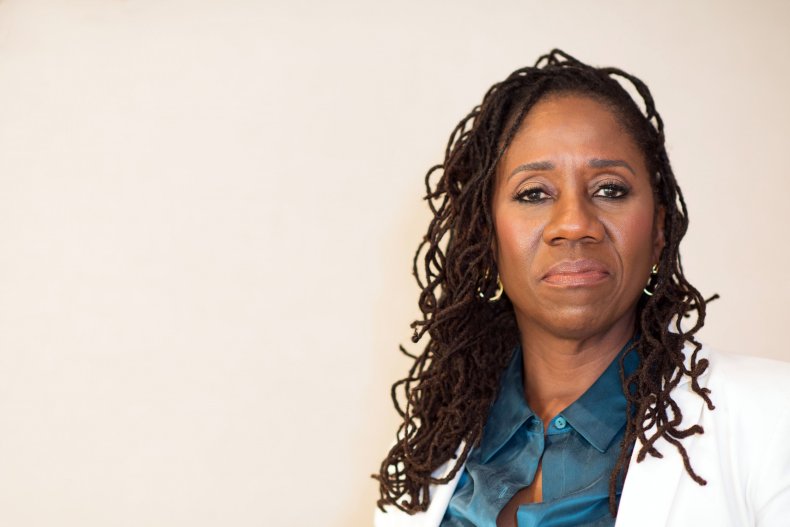 Ifill spoke extensively about the movement during a June 2020 episode of The Late Show. "It's been interesting to see how this phrase 'defund the police' makes people very anxious and very nervous," she told host Stephen Colbert. "This is our opportunity to do something that's long overdue, which is to fundamentally re-imagine what public safety looks like in this country."
"What we have done is we have turned over armed law enforcement officers the right to enter our communities to solve a set of community conflicts that actually don't require an armed officer," Ifill continued. "Rather than turn the entire public safety regime over to armed law-enforcement officers, we need to look at that funding, reduce that funding, and use it to support these other services."
She added: "I think the anxiety is about the phrase and actually not anxiety about the concept. We should be looking at budgets. We should recognize that this over-reliance on police has given us a regime that we can see is not working."
Conservative media outlets began to issue reports on Ifill's stance this week, with Fox News running a piece titled, "Supreme Court vacancy: progressives push NAACP lawyer who backed 'defund police' movement" and Newsmax publishing an article with the headline "'Defund the Police' Activist Among Names to Replace Justice Breyer."
The Supreme Court has taken heat recently as critics have claimed the nonpartisan institution has acted in an increasingly partisan manner. Taking this into account, an Ifill nomination could face greater scrutiny than some of the other front runners.
Judge Ketanji Brown Jackson of the U.S. Court of Appeals for the District of Columbia Circuit, Justice Leondra Kruger of the California Supreme Court, and Judge J. Michelle Childs of the South Carolina U.S. District Court all have been floated as front runners. Each offers a compelling resume, fits Biden's requirements and has a far less partisan track record than Ifill.
With a 2021 USA Today/Ipsos Poll reporting that fewer than one in five Americans favor calls to "defund the police," Ifill's comments could prove to be the kind of issue that Republicans could use to ultimately keep Ifill off the court.
The NAACP Legal Defense and Educational Fund declined to comment on Ifill as a potential Supreme Court nominee when contacted by Newsweek.