What Rush Limbaugh Said In Final Show Of The Year
Rush Limbaugh thanked his family and expressed gratitude for still being alive after being diagnosed with stage-four lung cancer earlier this year, in his final radio show of 2020.
The conservative political commentator and radio host revealed in October that his cancer, had become terminal. He first announced his diagnosis in February.
During the show, his voice at points cracking with emotion, Limbaugh expressed thanked his family and wife Kathryn Adams for their support. Limbaugh married Adams—his fourth wife—in 2010.
"I wasn't expected to be alive today," he said. "I wasn't expected to make it to October, and then to November, and then to December. And yet, here I am, and today, got some problems, but I'm feeling pretty good today."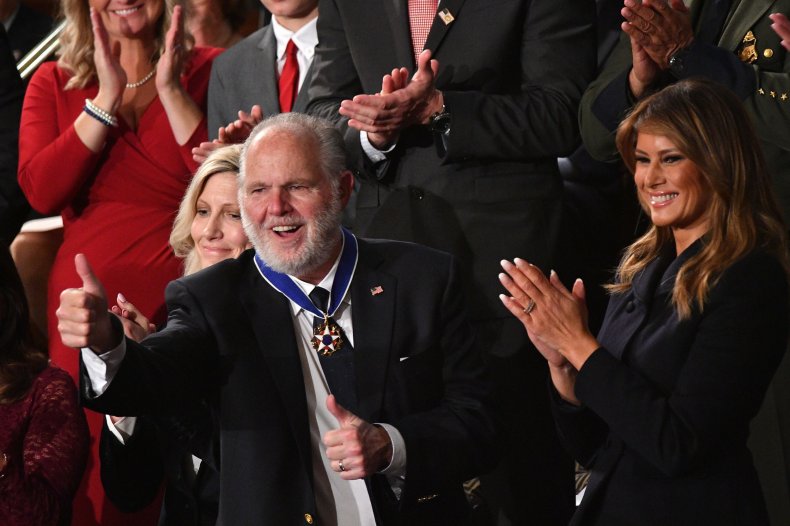 "My point in all of this today is gratitude. My point in all of this is to say thanks and tell everybody involved how much I love you from the bottom of a sizable and growing and still-beating heart."
Limbaugh revealed in October that treatments for his stage-four cancer were no longer working, meaning it had become a 'death sentence'. He has not said publicly how long he expects to live.
However, he has continued to host his nationally syndicated radio show that launched in 1988. In October, he missed a number of shows for treatment.
"I feel extremely fortunate and lucky and because I have been able to outlive the diagnosis, I have been able to receive and hear and process some of the most wonderful, nice things about me that I might never had heard had I not gotten sick.
"Again think how many people who pass away might never hear the eulogies, might never hear the thank yous. I've been very lucky in I can't tell you how many ways."
Limbaugh has been a vocal supporter of President Trump. In February, President Trump awarded him the Presidential Medal of Freedom at the State of the Union address.
However, earlier this month, Limbaugh spoke out against Trump supporters looking to overturn the election and called on the President to show evidence of voter fraud.
He went to later predict that some states may break away from the rest of the US to declare independence, mirroring the events that led to the American Civil War.
"I actually thinkand I've referenced this, I've alluded to this a couple of times because I've seen others allude to this—I actually think that we're trending toward secession," he said at the time.
"I see more and more people asking what in the world do we have in common with the people who live in, say, New York? What is there that makes us believe that there is enough of us there to even have a chance at winning New York? Especially if you're talking about votes."
In his final broadcast of the year, he added: "I can't be self-absorbed about it, when that is the tendency when you are told that you've got a due date.
"You have an expiration date. A lot of people never get told that, so they don't face life this way."
He expressed hope that 2021 would be a better year for everyone, and signed off by saying: "I wish there were a way to say it other than thank you. You're just the best. My family is just the best. Thank you."