Rush Limbaugh Criticizes Trump Campaign for Hyping Up 'Blockbuster' Voter Fraud Evidence: 'Nothing Happened… Not Good'
On Monday, conservative radio host Rush Limbaugh criticized the re-election campaign legal team of President Donald Trump for not delivering its promised "massive bombshells" of alleged voter fraud that swung the election in favor of President-elect Joe Biden.
"They promised blockbuster stuff, and then nothing happened," Limbaugh said of the days following the legal team's much-discussed November 19 press conference. "And that's just, that's not—well, it's not good."
"You call a gigantic press conference like that, one that lasts an hour," Limbaugh said, "and you announce massive bombshells, then you better have some bombshells, there better be something at that press conference other than what we got."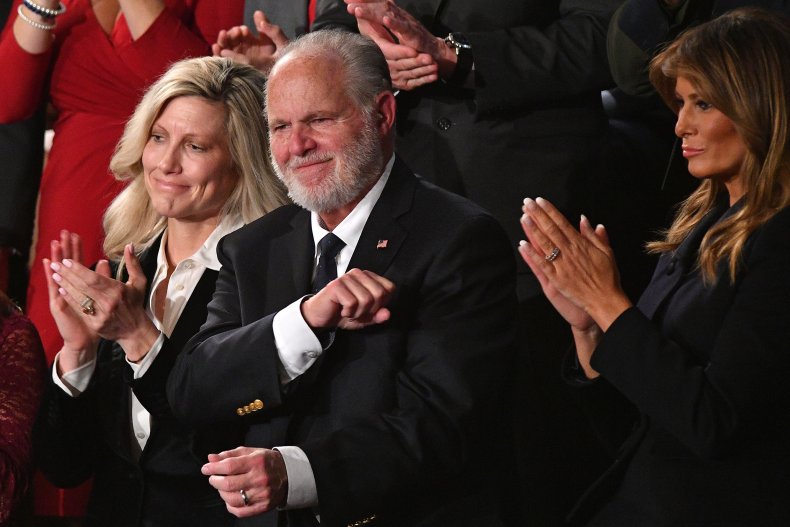 Among the claims made in the November 19 press conference, Sidney Powell, said that two large election software manufacturers—Dominion Voting Systems and Smartmatic—were used by "Venezuela, Cuba and likely China" to switch votes from Trump to Biden. These countries, Powell claimed, were additionally paid by individual candidates, both Democratic and Republican, to switch votes and get them elected.
Both companies have disavowed any such connections to the aforementioned countries.
Despite promising to "release the Kraken" of evidence proving her claims, Powell refused to provide any at the press conference and then refused to provide any to Fox News host Tucker Carlson because she considered him "insulting, demanding and rude."
"She never demonstrated that a single actual vote was moved illegitimately by software from one candidate to another. Not one," Carlson said on the Friday installment of his program.
On Saturday, Powell appeared on the right-wing conservative network Newsmax, claiming she had evidence that 7 million votes were fraudulently cast for Biden's benefit. She also accused Georgia's Republican Governor Brian Kemp and its Secretary of State Brad Raffensperger of accepting bribes to participate in the alleged vote-switching scheme.
"Sidney Powell accusing Governor Brian Kemp of a crime on television yet being unwilling to go on TV and defend and lay out the evidence that she supposedly has, this is outrageous conduct," former New Jersey Governor Chris Christie, a Republican supporter of Trump, told ABC's "This Week" on Sunday, adding, "Quite frankly, the conduct of the president's legal team has been a national embarrassment."
Powell's claim of Kemp and Raffensperger's corruption potentially undermined Republicans' chances in two key, upcoming runoff elections that will determine party control of the U.S. Senate.
By Sunday, Trump's re-election campaign said that Powell had no formal role as a campaign attorney, despite being introduced as such at the November 19 press conference.
Newsweek contacted Limbaugh for comment.