What States Did Donald Trump Win in 2016?
Donald Trump won the 2016 presidential election against Democratic candidate Hillary Clinton by collecting the majority of the U.S. electoral votes. However, the 2020 electoral college map could look very different as Trump faces Joe Biden, according to recent polls.
In 2016, the electoral college map turned red in 30 states as the Republican won 306 of the overall electoral college votes—compared to 232 electoral votes cast for Clinton. A candidate must secure at least 270 out of 538 electoral college votes to win the presidential election.
Ahead of the 2016 presidential election, there were eight key states to watch: Florida, Pennsylvania, Ohio, Michigan, North Carolina, Virginia, Arizona and Wisconsin.
Trump won all of those states except Virginia.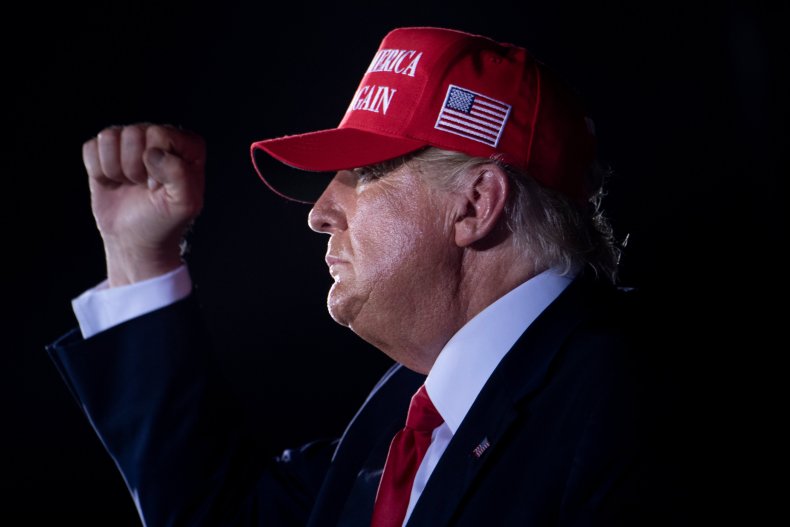 Alongside the swing states, there were another 22 states that voted Republican in 2016. This included: Alabama, Alaska, Arkansas, Idaho, Indiana, Iowa, Kansas, Kentucky, Louisiana, Mississippi, Missouri, Montana, Nebraska, North Dakota, Oklahoma, South Carolina, South Dakota, Tennessee, Texas, Utah, West Virginia and Wyoming.
This left 20 states that Clinton won in 2016. These states included: California, Colorado, Connecticut, Delaware, Hawaii, Illinois, Maine, Maryland, Massachusetts, Minnesota, Nevada, New Hampshire, New Jersey, New Mexico, New York, Oregon, Rhode Island, Vermont, Virginia and Washington. Clinton also won in Washington D.C.
However, the 2020 electoral college map could look very different. According to projections from recent polls, this year's Democratic candidate, Joe Biden, could win key swing states back from the Republican incumbent.
In the 2020 presidential election, there are now six swing states to watch: Arizona, Florida, Michigan, North Carolina, Pennsylvania and Wisconsin. Each of these states voted for Trump in 2016. However, data from recent polls forecasted Biden could be on track to win in 2020.
According to the most recent poll by The New York Times and Sienna College, Biden is leading Trump in Arizona, Pennsylvania, Wisconsin and Florida. The poll noted an 11-point lead for the former vice president in Wisconsin, followed by a six-point lead in both Pennsylvania and Arizona, and a three-point lead in Florida.
A survey conducted by CBS/ Change Research found that Biden is ahead in both Michigan and North Carolina as well.
The poll, which collected responses from 3,300 voters in Arizona, Michigan, North Carolina, Pennsylvania and Wisconsin, reported that Biden leads Trump in each state by a margin of 2 to 8 percentage points.
Final polling data from FiveThirtyEight also showed Biden as the national frontrunner, with projections that Pennsylvania will be the most likely tipping point state. In FiveThirtyEight's final forecast for the state, the polling tracker found that Biden leads Trump by about 5 percentage points.