What Time Is Britney Spears' Conservatorship Court Hearing Today?
Britney Spears could see her independence restored in just a few hours' time at a court hearing about her conservatorship.
Judge Brenda Penny of the Los Angeles County Superior Court will hear arguments today to determine whether the arrangement that has controlled the pop star's life for more than 13 years should end.
Spears scored a major victory in her bid to end the conservatorship in September when her father, Jamie Spears, was suspended from his role overseeing her financial affairs.
He has since called for the conservatorship's immediate termination but is facing scrutiny from his daughter's legal team over his conduct in relation to the arrangement, which began in 2008.
Britney Spears has repeatedly called for the conservatorship to end and, in damning testimony in June, explained how it had curtailed her personal freedom.
Among other claims, the 39-year-old said she had been forced to take medication and contraception, as well as being made to work against her will.
Her father has always maintained that he acted in his daughter's best interests.
What Time Is Britney Spears' Conservatorship Court Hearing Today?
The hearing is scheduled to begin at 1.30 p.m. PT at the Stanley Mosk Courthouse in Los Angeles on Friday, November 12. This is 4.30 p.m. ET and, for fans across the pond, 9.30 p.m. GMT.
The streets outside the courthouse are expected to be filled with fans and supporters of the #FreeBritney movement, who have organized rallies at all the star's recent court dates.
The movement has played a prominent role in publicizing Spears' bid to end the restrictions.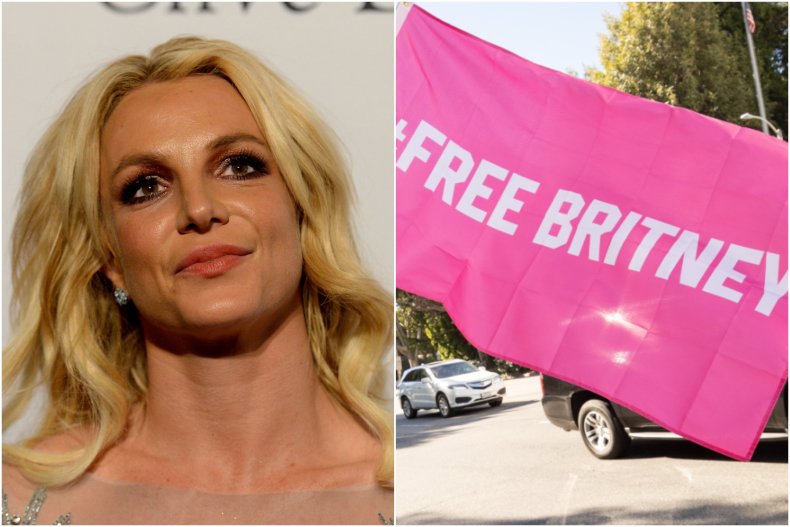 "For more than 13 years, Britney Spears has been denied basic human rights under a legal tool reserved for incapacitated individuals," the group posted on its website ahead of the hearing in Los Angeles.
"The conservatorship generates millions of dollars in revenue for her team, yet 39-year-old Britney has no access to her own money."
The singer shared a photo of herself wearing a #FreeBritney T-shirt on social media hours before the court appearance.
Earlier this week, Spears revealed to fans that she was praying harder than ever ahead of the vital hearing.
"This week is gonna be very interesting for me 🤭 !!! I haven't prayed for something more in my life 🙏🏼 !!!" the singer posted on Instagram.
"I know I've said some things on my Insta out of anger and I'm sorry but I'm only human … and I believe you'd feel the same way if you were me 🤷🏼‍♀️ !!!"