Britney Spears Wears '#FreeBritney' T-Shirt Hours Before Conservatorship Hearing
Britney Spears has been shown sporting a "#FreeBritney" T-shirt in the hours leading up to her crucial conservatorship hearing.
On Friday, a California judge will hear arguments to determine whether the pop star's controversial arrangement—which has seen personal and financial decisions taken out of her hands—will come to an end after more than 13 years.
And late Thursday night, Spears' fiancé, Sam Asghari, took to Instagram to share video footage of them posing in T-shirts emblazoned with the #FreeBritney hashtag, popularized by her fans as they protested the conservatorship.
With Spears' 2013 hit single "Work Bitch" serving as the soundtrack, the couple—who announced their engagement in September—struck a series of playful poses in their tops, which also included the words: "It's a human rights movement."
Captioning the footage, model, actor and personal trainer Asghari wrote: "Loading...."
Showing the support extended across the household, Asghari shared a photo on his Instagram Story of the couple's puppy, Porsha, also sporting one of the T-shirts.
The #FreeBritney movement gathered momentum this year, as the "Toxic" singer fought to be released from the conservatorship, which was implemented in 2008 amid concerns for her mental health.
Her father, Jamie Spears, oversaw the personal and financial arms of the conservatorship from 2008. Citing ill health, he stepped down from the personal branch in 2019, and was replaced by Jodi Montgomery.
In June, the star received an outpouring of support from fans and fellow celebrities alike, when she said in a court testimony that she had been forced to perform, take medication and wear a contraceptive device against her will, among other claims.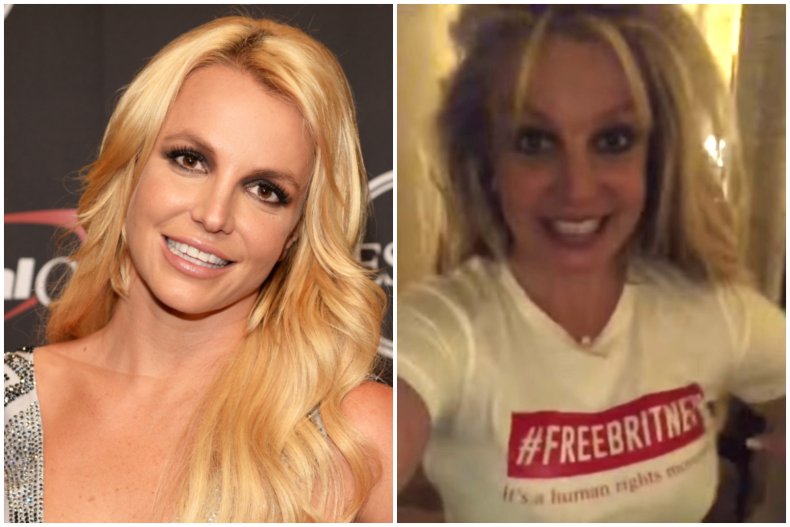 She scored a major victory in her bid to end the arrangement when her father was suspended from his role overseeing her financial affairs.
While Jamie Spears has called for the conservatorship to be terminated immediately, his daughter's attorney, Mathew Rosengart, has revealed he is facing scrutiny for his conduct during the arrangement.
"It's a great day for Britney Spears, and it's a great day for justice," Rosengart said outside the Los Angeles courthouse following Jamie Spears' suspension. "There's definitely something to celebrate, but it's also a solemn day. Britney Spears has been faced with a decade-long nightmare... orchestrated by her father and others.
"I'm so proud of her for her courage, her strength, and her poignancy. I've only been on this matter for a couple of months, but I'm proud to say that we've gotten to know each other very well."
"Jamie Spears and others are going to face even more serious ramifications for his misconduct," he went on. "I said at the outset that my firm and I were going to take a top-to-bottom look at what Jamie Spears and his representatives have done here. That's already in process, and it will continue for as long as [possible] to get justice for Britney."
Rosengart then cited The New York Times' report that the singer's home and phone had been bugged. The claims were also made in the publication's documentary, Controlling Britney Spears.
"I suspect law enforcement—and it's law enforcement's decision, not mine—will be taking a hard look at what The Times uncovered and reported on September 24," he said. "And I fully believe that that is why... his lawyer was fighting so hard against suspension.
"What happens now as a result of him being suspended is he is obligated under the law to turn over his files to the temporary conservator. Those files are also supposed to consist of attorney-client communications. Those attorney-client communications are, in other words, between Mr. Spears and his lawyers.
"It's a cliché, but one question we're going to be asking in regards to Mr. Spears' representatives, not just lawyers, [is] what did they know and when did they know it in regard to eavesdropping, putting a listening device under Britney Spears' bed in her bedroom—something that's very, very troubling.
"That's something that it is for law enforcement and not myself to make the ultimate conclusion on. But my firm will be looking into it."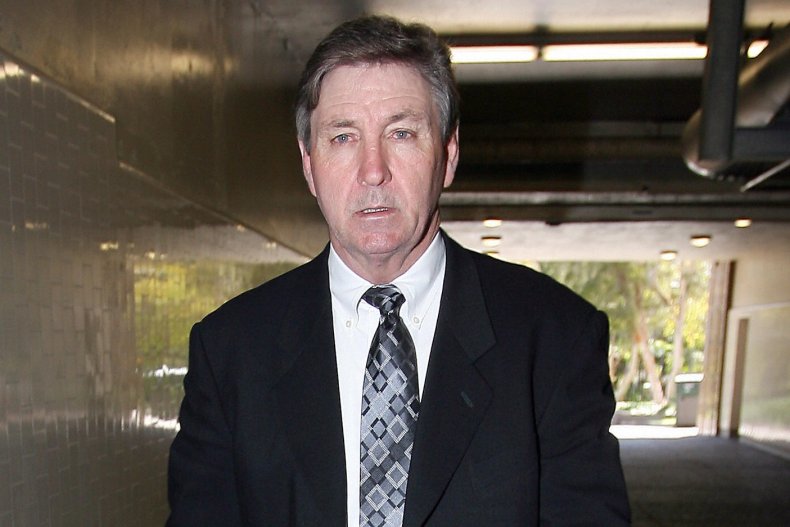 Last week, Britney Spears lashed out at her mother, Lynne Spears, in a now-deleted post on Instagram, accusing her of coming up with the idea to implement the conservatorship.
She wrote: "[M]y dad may have started the conservatorship 13 years ago ... but what people don't know is is that my mom is the one who gave him the idea !!!!"
"I will never get those years back .... she secretly ruined my life ... and yes I will call her and Lou Taylor out on it ... so take your whole 'I have NO IDEA what's going on' attitude and go f*** yourself 🖕🏼🖕🏼🖕🏼 !!!!" Britney Spears continued, also naming her former manager, Louise Taylor.
She added: "You know exactly what you did ... my dad is not smart enough to ever think of a conservatorship ... but tonight I will smile knowing I have a new life ahead of me !!!!"
The same week, the star took aim at her family in another Instagram post, in which she accused them of "hurting me deeper than you'll ever know."
She wrote: "I know the conservatorship is about to be over but I still want justice !!! I'm only 5'4" and I've played the bigger person my entire life ... do you know how hard that is ???"