Britney Spears' Dad Facing 'Serious Ramifications' After Court Battle—Lawyer
Britney Spears' father, Jamie Spears, is facing "serious ramifications" after he was suspended from the star's conservatorship, according to her lawyer.
Judge Brenda Penny ruled in Los Angeles County Superior Court on Wednesday that Jamie Spears should be removed from the conservatorship, in which he had been overseeing the singer's professional and personal life since 2008.
The order came after a long-running battle, during which Britney Spears had alleged to be under heavy restriction with how she could live her life, while also stating that she had been forced to perform and take medication against her will.
And Britney Spears' attorney, Mathew Rosengart, addressed the journalists and supporters gathered outside the courthouse on Wednesday, as he suggested that Jamie Spears will be facing more consequences in the fallout from his removal.
"It's a great day for Britney Spears, and it's a great day for justice," said Rosengart. "There's definitely something to celebrate, but it's also a solemn day. Britney Spears has been faced with a decade-long nightmare... orchestrated by her father and others.
"I'm so proud of her for her courage, her strength, and her poignancy. I've only been on this matter for a couple of months, but I'm proud to say that we've gotten to know each other very well."
Addressing Britney Spears' fans, many of whom held banners emblazoned with the words "Free Britney," the attorney went on: "She's so pleased and she's so thankful to all of you, and I am as well.
"In terms of what happened today, I'm so pleased and proud to say Jamie Spears is no longer a conservator. Jamie Spears has been suspended and he will be formally removed shortly.
"Jamie Spears and others are going to face even more serious ramifications for his misconduct. I said at the outset that my firm and I were going to take a top-to-bottom look at what Jamie Spears and his representatives have done here. That's already in process, and it will continue for as long as [possible] to get justice for Britney."
Rosengart went on to mention The New York Times' recent report that his client's home and phone had been bugged. The claims were also made in the publication's newly released documentary, Controlling Britney Spears.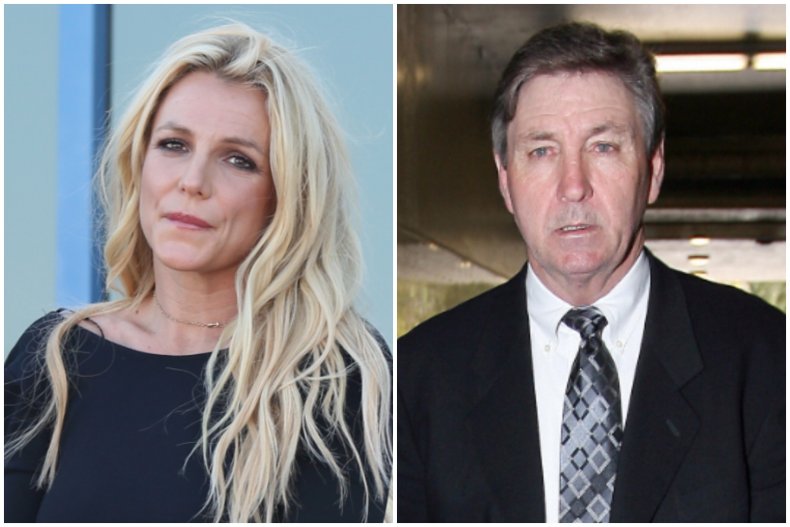 "I suspect law enforcement—and it's law enforcement's decision, not mine—will be taking a hard look at what The Times uncovered and reported on September 24th," he said. "And I fully believe that that is why—and I believe Judge Penny agreed with me—his lawyer was fighting so hard against suspension.
"What happens now as a result of him being suspended is he is obligated under the law to turn over his files to the temporary conservator. Those files are also supposed to consist of attorney-client communications. Those attorney-client communications are, in other words, between Mr. Spears and his lawyers.
"It's a cliché, but one question we're going to be asking in regards to Mr. Spears' representatives, not just lawyers, [is] what did they know and when did they know it in regard to eavesdropping, putting a listening device under Britney Spears' bed in her bedroom—something that's very, very troubling.
"That's something that it is for law enforcement and not myself to make the ultimate conclusion on. But my firm will be looking into it," Rosengart added.
Newsweek has contacted a representative of Jamie Spears for comment.
Britney Spears was placed under conservatorship in 2008 amid concerns for her mental health, with her father overseeing her personal and financial affairs. In 2019, he stepped down from overseeing her person, citing health reasons.
Jodi Montgomery succeeded Jamie Spears in taking care of the personal arm of the star's conservatorship, and continues to hold that position.
Weeks before Jamie Spears was removed from the conservatorship, he had petitioned to step down and also stated his support for the arrangement to end altogether. Citing his intention to step away, Jamie Spears' lawyer, Vivian Thoreen, attempted in vain to appeal the suspension on Wednesday.
It has since been announced that certified public accountant John Zabel has been appointed as Jamie Spears' temporary successor, while a petition to terminate the conservatorship altogether will be heard on November 12.