What Time Does 'Yellowstone' Start on Paramount and How Many Episodes Are in Season 4?
Yellowstone's schedule returns to normal for Season 4 after airing the explosive two-hour premiere event on Paramount Network.
The Dutton family are all back for Season 4, with John (Kevin Costner), Kayce (Luke Grimes), Beth (Kelly Reilly) and Jamie (Wes Bentley) all returning. Episode 1 and 2 aired back to back but from here on out, each episode of Yellowstone will air weekly, one at a time.
There's still plenty more to come from Taylor Sheridan's American drama series, so read on to find out everything you need to know about how to watch the remainder of Yellowstone Season 4.
What time is Yellowstone on Paramount Network?
Each episode of Yellowstone Season 4 airs on Sunday nights at 8 p.m. ET, 7 p.m. CT. Episodes will likely air one at a time weekly for the remainder of the season.
Season 4 of Yellowstone will contain 10 episodes in total. The first two already aired, meaning there are eight episodes left until the season finale.
Episode 3 is confirmed to air on Sunday, November 14 at 8 p.m. ET, 7 p.m. CT on Paramount Network.
If each episode from then on airs weekly then the finale, Episode 10, would air on the first weekend of the new year, Sunday, January 2, 2022.
If Paramount decide to delay the release of an episode, it could run longer, or if they decide to air a double bill again then the finale would arrive sooner.
The first three seasons of Yellowstone are available to watch on Peacock. Season 4 will not be available on streaming services until the season is over, and will not be available for next day viewing on Paramount+.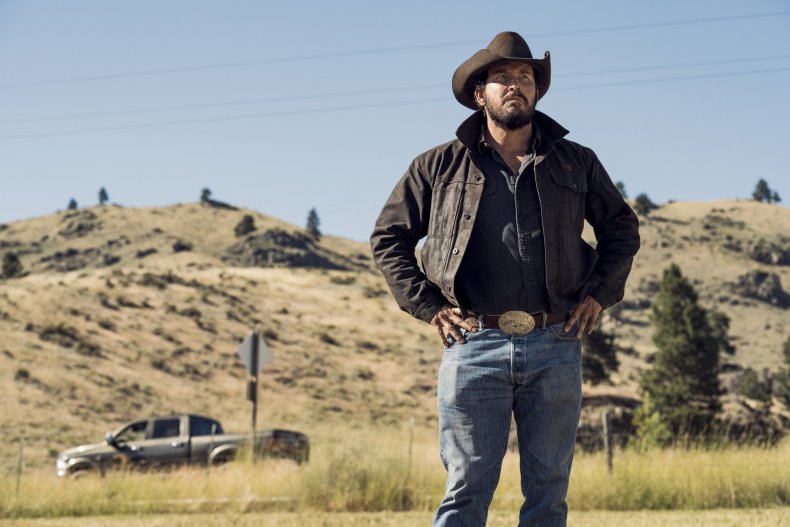 Yellowstone Season 4 episode titles
While the TV scheduling hasn't been confirmed, each of the episode titles have been revealed. Taylor Sheridan, the series co-creator and showrunner, is credited as the writer for all ten episodes in Season 4.
The episode titles are as follows:
Episode 1 - "Half the Money"
Episode 2 - "Phantom Pain"
Episode 3 - "All I See Is You"
Episode 4 - "Winning or Learning"
Episode 5 - "Under a Blanket of Red"
Episode 6 - "I Want to Be Him"
Episode 7 - "Keep the Wolves Close"
Episode 8 - "No Kindness for the Coward"
Episode 9 - "No Such Thing as Fair"
Episode 10 - "Grass on the Streets and Weeds on the Rooftops"
The theme for Yellowstone Season 4
After it was revealed in Yellowstone Season 4, Episode 1 that John, Kayce and Beth all survived the assassination attempts on their lives, the hunt begins to find out who was responsible.
Jamie Dutton actor Wes Bentley told Newsweek that the theme for Season 4, as it often has been, is "revenge." He said: "It's a fight, a real deeper fight. The stakes are rising higher and higher. Then there's riffs that are getting deeper and deeper and more ominous."
Yellowstone continues exclusively on Paramount Network on Sunday, November 14 at 8 p.m. ET, 7 p.m. CT.