What Trump Has Said About Putin Since Russian Invasion of Ukraine Began
Donald Trump has made headlines for his comments about Vladimir Putin during Russia's invasion of Ukraine.
The former U.S. president received backlash from Democrats and Republicans after describing the Russian president as "very savvy" for declaring two separatist regions of eastern Ukraine—Donetsk and Luhansk—as independent days before launching a full-scale attack.
"I went in yesterday and there was a television screen, and I said, 'This is genius.' Putin declares a big portion of the Ukraine—of Ukraine—Putin declares it as independent," Trump said on The Clay Travis and Buck Sexton Show on February 22.
Even close Trump allies like House Minority Leader Kevin McCarthy and former Vice President Mike Pence have split with his views on Putin. McCarthy last week condemned the Russian leader as "evil."
But Trump has doubled down on his remarks since February 24, when Russian forces entered Ukraine on three fronts. He also has accused the media and RINOS (Republicans in name only) of distorting his comments about Putin.
Here's everything Trump has said about Putin since the Ukraine invasion began.
"Of course he's smart...but...our leaders are dumb"
At the annual Conservative Political Action Conference on February 28, Trump repeated his praise of Putin as a clever leader and claimed that the crisis in Ukraine wouldn't be happening if he was still in the White House.
"The problem is not that Putin is smart, which of course he's smart, but the real problem is that our leaders are dumb," Trump said, prompting cheers and applause from the audience. "So dumb. They so far allowed him to get away with this travesty and assault on humanity. That's what it is, an assault on humanity."
Trump also said Putin was "playing Biden like a drum" and that he got along well with Putin as well as China's Xi Jinping and North Korea's Kim Jong Un.
Not the "same Putin I was dealing with"
During an interview with Fox News' Sean Hannity on March 10, Trump said the situation unfolding in Ukraine was "sad," but he repeatedly avoided Hannity's encouragement to call Putin evil.
"When you look, this doesn't seem to be the same Putin I was dealing with," Trump said. "But I will tell you, he wouldn't have changed if I were dealing with him."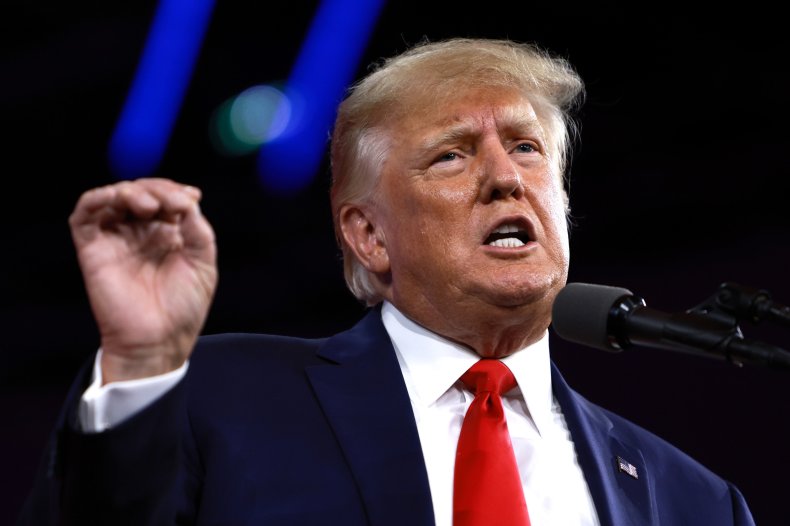 "We don't have anybody to talk to him"
Trump said at a rally in Florence, South Carolina, on March 12 that the conflict is going to get worse.
"The fake news said my personality is going to get us into a war...but actually my personality is what kept us out of war," Trump said.
"This could lead to World War III," Trump continued. "I see what's happening. Because if you think Putin is going to stop, it's going to get worse and worse. He's not going to accept it, and we don't have anybody to talk to him. You had somebody to talk to him with me."
But he also appeared to paint Putin a more positive light, saying: "It happens to be a man that is just driven, he's driven to put it together."
"He's got a tremendous ego and he wants to save face"
Trump discussed Putin's motive for the invasion with Jeanine Pirro on March 13.
"They wanted to rebuild the Soviet Union," he said. "That's what this is all about to a large extent. And then you say, what's the purpose of this? They had a country. You could see it was a country where there was a lot of love and we're doing it because, you know, somebody wants to make his country larger or he wants to put it back the way it was when actually it didn't work very well."
But the former president also offered some criticism of Putin, saying the Russian leader is "in a very bad position in many ways" but warned that he will continue to "go forward and continue to get more and more ruthless."
"He's got a tremendous ego and he wants to save face," Trump added.