What Trump Said During His Deposition, According to His Lawyer
Former President Donald Trump invoked his Fifth Amendment right against self-incrimination multiple times during a deposition at the New York attorney general's office on Wednesday.
Trump's lawyer, Ronald Fischetti, told NBC News that Trump answered just one question - confirming his name - and invoked the Fifth Amendment for all subsequent questions.
New York Attorney General Letitia James is investigating allegations that the Trump Organization may have misstated the value of certain assets and properties in order to obtain loans and other financial benefits.
Fischetti said that James attended about half of the deposition, which lasted four hours.
Trump also read from a prepared statement during his testimony under oath in James' Manhattan office on Wednesday and called the probe "the greatest witch hunt in the history of our country."
Fischetti said the former president's statement also accused James, who is a Democrat, of "openly campaigning on a policy of destroying me."
Kevin Wallace, an attorney in James' office, reportedly asked Trump about the valuations of a number of assets including golf courses as well as his signing of documents relating to mortgages and loans, and the size of his apartment.
NBC News reported that the former president had pleaded the Fifth Amendment more than 440 times, citing a source with knowledge of the deposition.
Trump had issued a statement on Wednesday as he arrived for the deposition explaining that he would be invoking the Fifth Amendment, which is his constitutional right and does not serve as evidence of wrongdoing.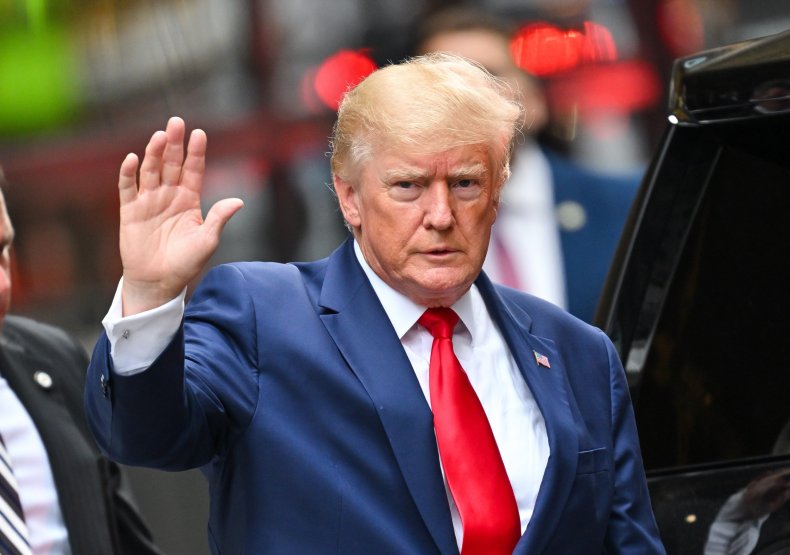 "I once asked, 'If you're innocent, why are you taking the Fifth Amendment?' Now I know the answer to that question," Trump said.
"When your family, your company, and all the people in your orbit have become the targets of an unfounded, politically motivated Witch Hunt supported by lawyers, prosecutors, and the Fake News Media, you have no choice," the former president said.
"Accordingly, under the advice of my counsel and for all of the above reasons, I declined to answer the questions under the rights and privileges afforded to every citizen under the United States Constitution," he added.
Trump also called James "a renegade and out-of-control prosecutor."
Newsweek has reached out to Trump's office for comment.
A spokesperson for James' office told NBC News in a statement on Wednesday that they would not "comment on specific details" but confirmed that the deposition had taken place and Trump had invoked the Fifth Amendment.
"Attorney General James will pursue the facts and the law wherever they may lead. Our investigation continues," the statement said.
Trump's deposition took place two days after the FBI raided his Mar-a-Lago residence in Palm Beach, Florida as part of an investigation into the handling of presidential documents.
The former president suggested on his Truth Social site on Wednesday that agents involved in the raid may have been "planting" evidence. The FBI declined to comment on those remarks when contacted by Newsweek.