What's At Stake for U.S., Turkey, Russia and Iran As Tensions Rise in War-Torn Syria
Syria's final insurgent-held province, Idlib, is witnessing a surge in violence involving factions in the country's nearly nine-year civil war as well as the international powers backing them, with civilians caught in the crossfire.
The Turkish Ministry of Defense announced Thursday that two of its soldiers had been killed and five more injured in an airstrike in Idlib, a statement soon followed by the announcement that 50 Syrian troops were killed and 10 pieces of equipment were destroyed in retaliatory strikes. The flare-ups, which raise the possibility of a wider, regional conflict, came after recent deadly clashes between entrenched Turkish forces and advancing Syrian soldiers.
Turkish President Recep Tayyip Erdogan warned Wednesday that it was only a "matter of time" before his forces launched a cross-border operation to halt rapid gains by the Syrian military and its allies against rebels and jihadi groups in Idlib. The restive northwestern province is the last bastion of a 2011 uprising to overthrow Syrian President Bashar al-Assad, who has vowed to retake the entirety of his country in a campaign backed by Russia and Iran.
Turkey supports some Syrian opposition groups and has already deployed troops to Idlib in hopes of maintaining a cease-fire deal brokered with Moscow in 2018.
Dmitry Peskov, spokesman for Russian President Vladimir Putin, described a potential full-scale Turkish attack on Syria as "the worst scenario" on Wednesday, according to the state-run Tass news agency. "We are determined to continue to use our working contacts with our Turkish counterparts to prevent the situation in Idlib from escalating further," he said.
Russian Foreign Ministry spokeswoman Maria Zakharova confirmed the two sides were in contact Thursday in an effort to prevent further hostilities. On the ground, however, the situation has proved to be increasingly volatile, and two rival international players—the United States and Iran—are seeking to stake their own claim in the crisis.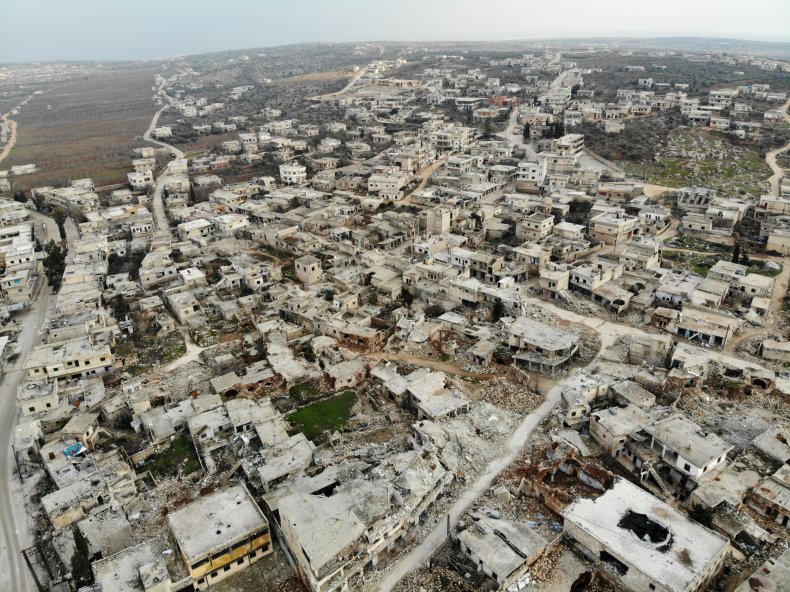 United States
Despite deploying hundreds of troops to Syria, the Pentagon has largely stayed on the sidelines of the fight for Idlib. The U.S. initially supported efforts to oust Assad, training and arming various opposition groups, but it largely abandoned this cause in recent years in favor of defeating the Islamic State militant group (ISIS) and containing the spread of groups aligned with Iran.
The U.S. has occasionally conducted operations in Idlib targeting both Al-Qaeda and ISIS targets, including an October raid that resulted in the death of ISIS leader Abu Bakr al-Baghdadi. Speaking Thursday on Sky News, Army Colonel Myles Caggins, the U.S.-led coalition's spokesman, called Idlib "a magnet for terrorist groups" that are a "nuisance, a menace and a threat" to hundreds of thousands of civilians just "trying to make it through the winter."
President Donald Trump and his officials have also repeatedly accused Assad of committing war crimes in his military campaign against insurgents. The White House has twice ordered limited strikes against Syrian government targets in response to allegations of chemical weapons use, including in Idlib.
The U.S. mainly backs the Syrian Democratic Forces, a majority-Kurdish force focused on battling ISIS and securing autonomy from the central government in Damascus. In October, weeks before the operation against Baghdadi, the Trump administration shifted its Syria policy toward maintaining control over oil and gas facilities in the country's northeast, leaving the U.S.-backed SDF to strike security deals with the Syrian government and the Russians.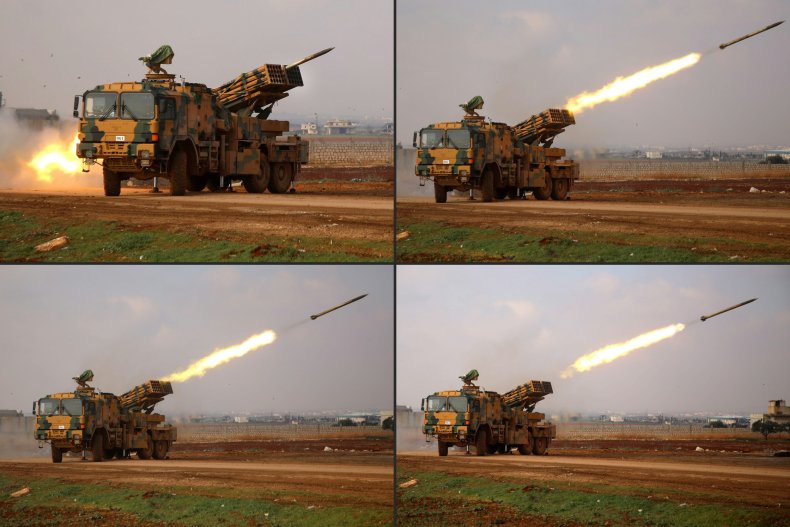 Turkey
Turkey considers the SDF's Kurdish militias to be terrorists because of their alleged ties to banned separatists at home, and it originally deployed troops to northern Syria to combat them. Ankara has more recently turned its attention toward Syrian pro-government forces as they have quickly retaken border areas in Idlib and the neighboring province of Aleppo, especially after tit-for-tat clashes in recent weeks caused fatalities on both sides.
As with the U.S., Turkey's military presence and support for non-state actors are considered illegal by Syria. Assad has called on both countries to withdraw immediately and has asked for the SDF to join his military in routing the last of the insurgents and reclaiming the Turkey-occupied border.
Since 2017, Turkey has been a part of trilateral peace talks along with Russia and Iran, but cease-fire deals have frequently unraveled, with the Syrian government frequently coming out on top. Facing additional gains in Idlib and Aleppo, those refusing to reconcile with Damascus have nowhere else to run but Turkey, which already hosts over three and a half million Syrian refugees.
"We will not abandon Idlib to the regime, which is still unable to grasp Turkey's determination on the issue, or to those who encourage it," Erdogan said during his speech Wednesday.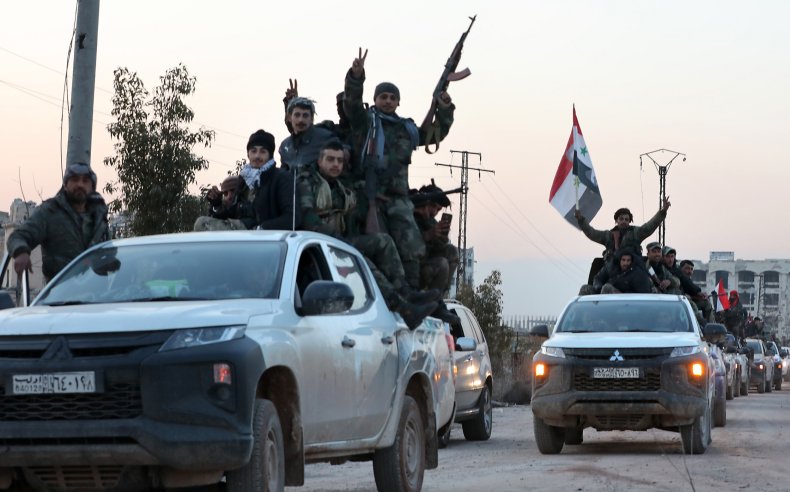 Russia
Moscow has accused Ankara of failing to honor its commitments to ensure the withdrawal and disarmament of jihadi groups such as the Hayat Tahrir al-Sham coalition in Idlib. As a result, Russian forces have continued to conduct airstrikes in Idlib, including fresh raids that took place against militant positions Thursday.
Russia's 2015 intervention on Assad's behalf proved decisive for the Syrian armed forces, which soon began to reverse rebel and jihadi gains nationwide. Putin aimed to match military might with diplomatic prowess by courting his Iranian and Turkish counterparts. But recent violence in Idlib has overshadowed U.N.-endorsed efforts to establish a constitutional committee that world powers, including the U.S., hoped would put an end to the war.
When members of the U.N. Security Council proposed on Wednesday a humanitarian cease-fire in Idlib, Russia's U.N. ambassador, Vasily Nebenzya, protested. "We will not stop supporting the legitimate government which is conducting a legitimate fight against international terrorism," the diplomat said. He called for other representatives to support the lifting of sanctions against Syria and back reconstruction efforts for the war-torn country.
Elsewhere in Syria, Russian forces were increasingly running into their U.S. counterparts, culminating in tense encounters between the world's leading military powers in the country's northeast. On Wednesday, about a week after a firefight between Syrian pro-government troops and U.S. personnel, a video widely circulated on social media Wednesday showed a U.S. armored personnel carrier ramming a Russian military police vehicle off a road, reportedly near the northeastern city of Qamishli.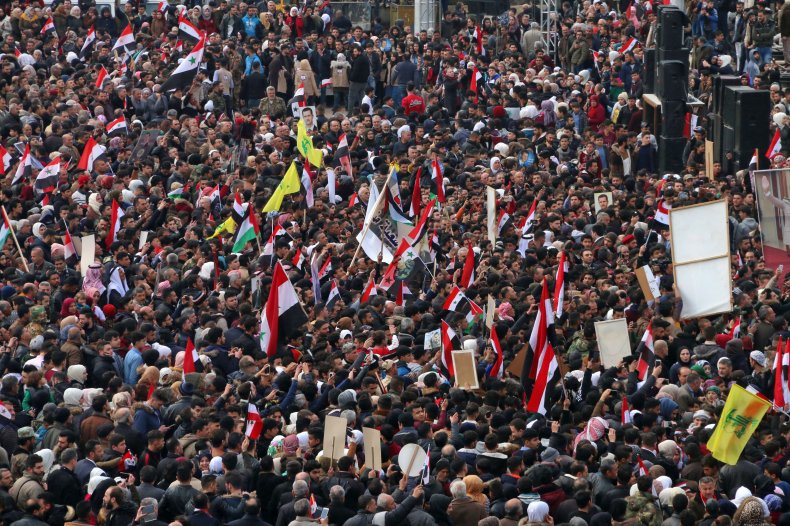 Iran
The Islamic Republic has played a muted role in the battle for Idlib and its peripheries, but Iran-aligned groups such as Lebanon's Shiite Hezbollah movement continue to fight on the front lines against the mostly Sunni insurgency. Such militias have proved vital in defending government positions since the early days of the war, but they have also attracted unwanted intervention from a longtime adversary of both Tehran and Damascus.
Israel has conducted hundreds of airstrikes against positions said to be associated with Iran and partnered forces across the country. Russia has at times served as a buffer zone between the two archenemies, though it has amplified its public criticism of Israel's campaign, which Moscow considers a violation of Syria's sovereignty.
Iran too has tried its hand at mediation between belligerents. Foreign Minister Mohammad Javad Zarif told the semiofficial Tasnim News Agency on Wednesday that Iran was "prepared to hold talks with our Syrian and Turkish brothers about Idlib at various levels." He offered his country's "good offices" to help the two powers avoid a collision course.
Tehran has also offered to host representatives from Ankara and Moscow for a new round of their three-way peace talks sometime in early March. The meeting was still in the process of being arranged, Tass reported Thursday.