What Was John Mahoney's Cause of Death? 'Frasier' Actor Who Played Kelsey Grammer's Dad Martin Crane Dead at 77
Updated | Jane Leeves, who played Martin Crane's housekeeper and physical therapist Daphne Moon in Frasier, has issued a statement mourning Mahoney.
"John was the dearest, sweetest man I have ever known," Leeves told Rolling Stone. "His wicked sense of humor, usually whispered in your ear or spoken just loud enough that only you could hear could bring you to tears. And his smile. Oh my God. He was lit from within. How lucky I am to have had him in my life. I loved him so much and will miss him so terribly."
Previously: John Mahoney, who played Kelsey Grammer's father in the hit sitcom Frasier, has died aged 77.
The English-born actor died in Chicago Sunday, his publicist told The Hollywood Reporter. The Chicago Tribune reported Mahoney died from complications with throat cancer.
Mahoney played Martin Crane, the cantankerous father of Grammer's Frasier and David Hyde Pierce's Niles, in the popular NBC during its 11 season run from 1993 through 2004.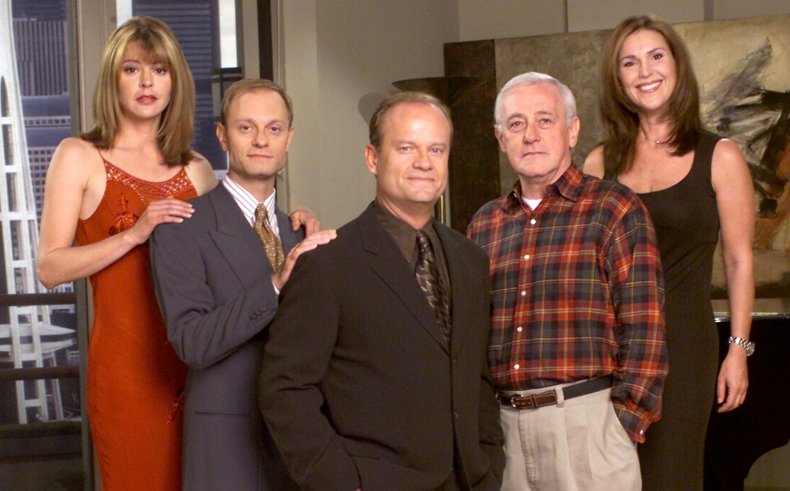 His role in Frasier earned Mahoney two Emmy nominations for best supporting actor in 1999 and 2003. He was also nominated twice in the same category at the Golden Globes and the Frasier cast were regularly nominated for best ensemble in a comedy series at the Screen Actors Guild Awards.
Mahoney won a Tony award in 1986 for his stage work in the play The House of Blue Leaves.
Peri Gilpin, who played Roz Doyle in Frasier, led the tributes to Mahoney on Monday night.
She tweeted:
Scrubs star Zach Braff said he was "honored" to work with Mahoney and "he could not have been a kinder man."
Ben Stiller tweeted Mahoney had an "incredible wicked sense of humor."
Modern Family actor Jesse Tyler Ferguson and more also honored Mahoney: