'What We Do in the Shadows' Kayvan Novak Perfected Matt Berry's Voice in the Shower for Season 3
What We Do in the Shadows has some really funny moments, but none quite as amusing as seeing Nandor the Relentless try and find love in Season 3.
The vampire, played by Kayvan Novak, is going through a "mid-life" crisis over the course of the season, and he is desperate to find someone to spend the rest of his eternal life with.
To do this, Nandor decides to use the Cloak of Duplication, imploring lothario Laszlo (Matt Berry) to chat up a human woman he likes at his local gym using the forbidden artifact that allows the latter to disguise himself as the other.
In the second episode, which is named after the aforementioned cloak, Laszlo, Colin Robinson (Mark Proksch) and even Nandor's familiar Guillermo (Harvey Guillén) all take on the vampire's disguise to help him court gym receptionist Meg (Lauren Collins).
The whole thing, as one might expect, goes catastrophically wrong for Nandor; Laszlo offends Meg, Colin Robinson bores her, and Guillermo confesses his own feelings for the vampire, making her think that Nandor is interested in seeking love elsewhere.
But what made it all the more amusing was that Novak had to do impersonations of his co-stars to pull it off, admitting in an interview with Newsweek that he'd even practiced the voice of Matt Berry in the shower to get it right.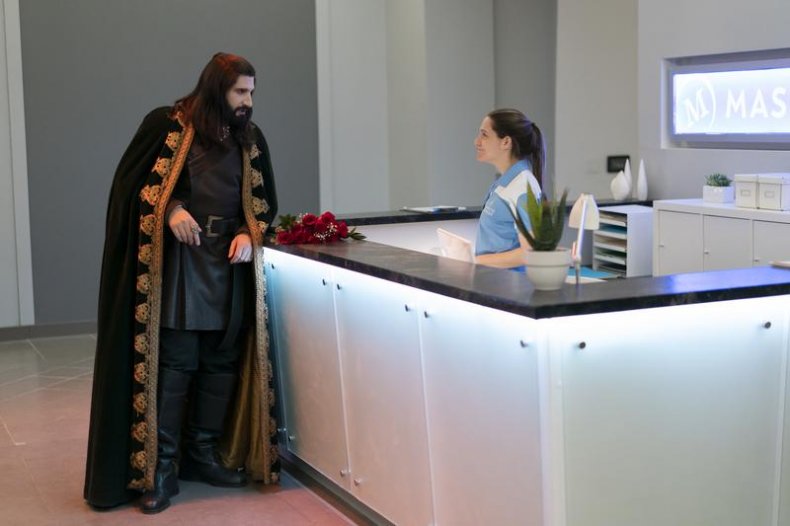 Impersonating his co-stars
"Talking about that episode where I had to do an impersonation of the rest of the cast, that was quite daunting for me," Novak said over Zoom. "I thought 'oh this is different, this is something new', this is a new layer of something.
"I love playing Nandor but this is like next level, I'm going to be judged on my ability to mimic other cast members, not 'oh he plays Nandor, and that's what he looks like, and that's what he acts like' its like 'oh no' they've got something to compare it to now."
He went on: "Luckily Matt, Mark, Natasia [Demetriou, who plays vampire Nadja], Harvey, they were all so generous.
"I went through my lines with them where I had to be them, [and] they had to record my lines for me so I got a real sense of their rhythms.
"I thought I'm playing, I'm not doing impressions of them as people I'm doing impressions of them as their character, and their character would say these things in a specific way and I felt I needed to honour that because ultimately you're watching their characters, not me.
"I had to really embody their characters, but then there's also a physicality that goes with it and that was down to me to find."
Going on to talk about impersonating Berry, Novak added: "For Matt it was actually... the voice is specific but it's easy to go overboard with it, then I was started doing this pointing thing with my hand and leaning over a bit."
To make his point, Novak adopted Berry's voice as he went on: "And suddenly I was like 'oh yea, getting that, it's coming' with what he sent me of him doing the audio. I was taking showers as Matt Berry, and they were great showers!"
On Nandor's non-existent love life
Nandor's "mid-life" crisis storyline is one that Novak enjoyed being able to dive into in Season 3 and, as he reflected on what fans might expect this time around, he joked that if viewers didn't like his character then they were "f*****d".
"I've been spoiled this season as far as things for Nandor to do and at the end of last season I did express a desire [of] 'wouldn't it be fun if Nandor was looking for love outside of his relationship with Guillermo?' Which is such a dysfunctional, manipulative, duplicitous, yet unrequited love story almost.
"So, the writers went to town, bringing people back from my past, girls I was in love with that broke my heart, rekindled romances, girls Nandor want[s] to get together with but he doesn't know how to chat anyone up anymore, he's useless being a Don Juan.
"He's on the ropes from the beginning which I kind of love, it was very exciting to portray Nandor as heartbroken, as desperate, as vulnerable, as well as a pillaging warrior of the 15th century," Novak explained, adopting Nandor's voice for the final part of his sentence.
He then joked: "So, I think if you're into Nandor then you're going to have a great time this season, if you're not into Nandor and you're just waiting for Jackie Daytona to turn up then you're f****d."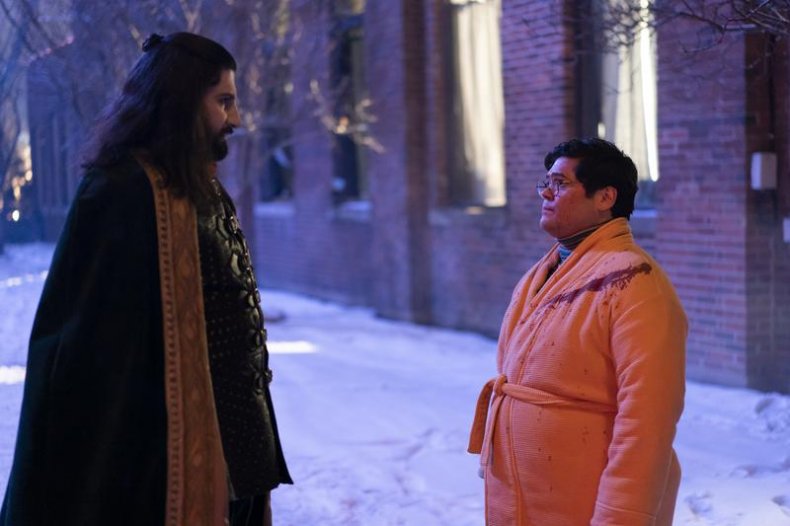 What about Guillermo?
Nandor's love life may be in shambles, but he still has his familiar Guillermo to rely on, even if the human has revealed himself to be a descendant of Van Helsing who is a skilled vampire killer.
It's no secret that Guillermo is in love with Nandor, and Novak detailed how their relationship has changed now the human's origins have been unveiled.
"It was definitely something that I felt quite acutely at the end of last season, that in fact Nandor and Guillermo's relationship would never be the same again because he's now revealed himself to be a vampire killer," Novak said.
"So it's like woah he's not just this vulnerable kid who wants to be a vampire, and I'm never going to turn into a vampire, who has to do everything I say.
"I was excited and apprehensive about our relationship and where it could go from here, would it still take on all those qualities that I think people enjoy about their relationship? The fact that it is dysfunctional, Nandor is manipulating Guillermo, Guillermo is manipulating Nandor, and the two of them there's a push and pull thing going on.
"I think everyone who has been in relationships can appreciate and recognise this dysfunctionality, you know. But, I think this season it's maintained.
"The love they have for each other has trumped everything else, so they're still locked in this push and pull, will they won't they.
"I think Guillermo still wants to be a vampire but he still wants to serve Nandor, make Nandor happy, and Nandor knows this. There's lots more good stuff between Nandor and Guillermo this season."
Season 3 of What We Do in the Shadows premieres on Thursday, September 2 at 10:00pm on FX, streaming the next day on FX on Hulu.