What We Know About Michigan State Suspected Shooter
A gunman opened fire at Michigan State University on Monday night before fatally shooting himself miles away during a confrontation with police, authorities said.
The suspected shooter was a 43-year-old man, authorities said, but his name was not immediately released.
Police announced his death early on Tuesday—about four hours after shootings broke out at Berkey Hall, an academic building, and later nearby at the MSU Union. Three people were killed and five more remain in critical condition in hospital.
Hundreds of officers had scoured the East Lansing campus for the suspect, described by police as a short Black man wearing red shoes, a jean jacket and a ball cap. Videos appearing to showing the suspect walking on the campus are circulating on social media.
"The suspect in this incident was located outside of the MSU campus and it does appear that that suspect has died from a self-inflicted gunshot wound," Chris Rozman, interim deputy chief of the campus police department, said during a 12:30 a.m. news briefing.
"This truly has been a nightmare that we're living tonight, but we have remained laser focused on the safety of our campus, our students and the surrounding community. We are relieved to no longer have an active threat on campus."
At a later briefing, Rozman said the man was not affiliated with Michigan State "in any way."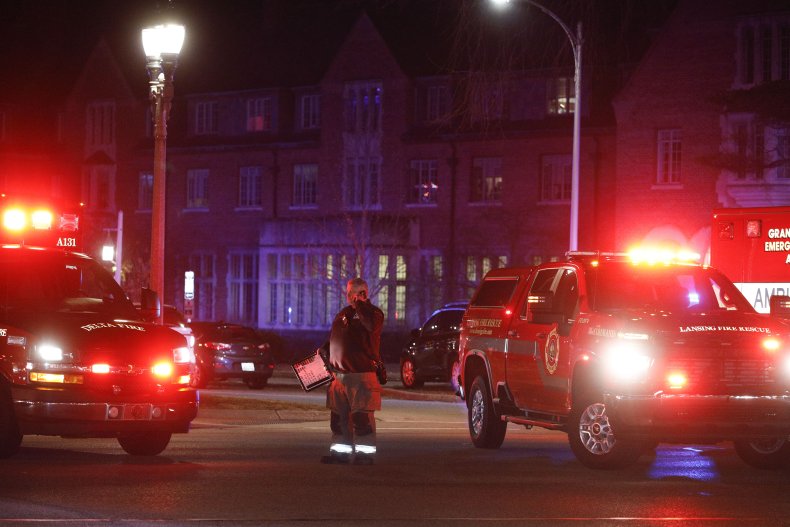 "We have no idea why he came to campus to do this tonight," he said. "That is part of our ongoing investigation."
Police first responded to multiple 911 calls about gunfire at Berkey Hall at 8:18 p.m. and a shooting was reported at the MSU Union building immediately afterwards, Rozman said.
Two people were killed at Berkey and another was killed at the Union building, Rozman said.
A shelter-in-place order for the campus community, implemented shortly after the shootings, was lifted at around 12:30 a.m. on Tuesday.
Michigan State University has canceled all classes, as well as athletic events and all other campus activities, for at least 48 hours, according to a message on the university's website.
The shooting is the latest in a deadly new year in the U.S. At least 100 people have died in mass shootings so far in 2023, according to the Gun Violence Archive. They include 11 people who were killed during Lunar New Year celebrations at a dance hall popular with older Asian Americans in Monterey Park, California, on January 21.
The 72-year-old suspect in that shooting was found dead of a self-inflicted gunshot wound following an attempted second shooting that was thwarted by a young man.
And Tuesday marks five years since a gunman murdered 14 students and three staff members at Marjory Stoneman Douglas High School in Parkland, Florida.