What We Saw at Art Basel Miami Beach, Ranked From Least to Most Ridiculous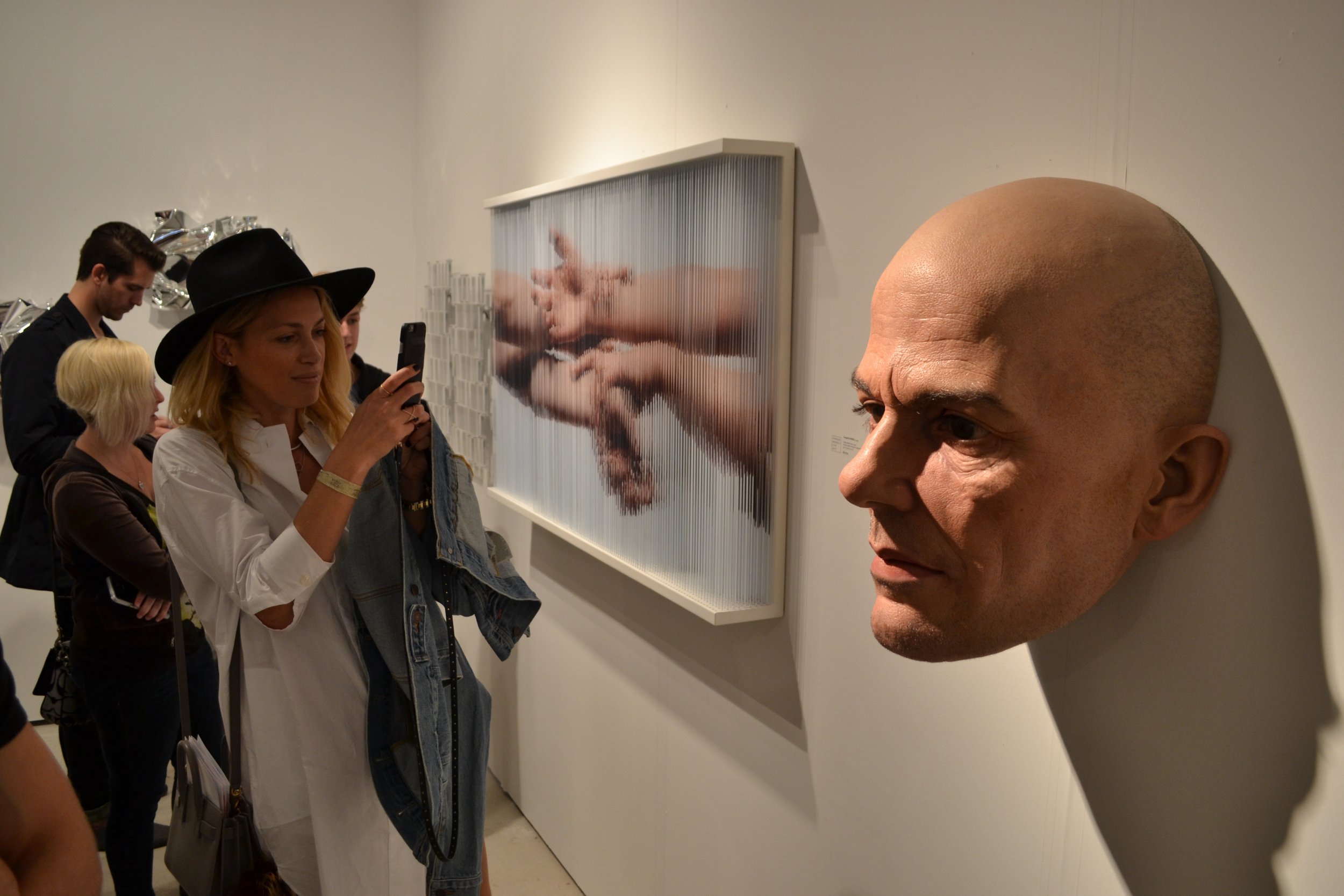 Every December since 2002, the art world has descended on Miami Beach, Florida, for Art Basel. In the summer the art world heads to Basel, Switzerland, where the conference was founded in 1970, and in the spring to Hong Kong, but it's the beachside edition that has attracted the most attention—known as much for its lavish, celebrity-stocked parties as it is for its art, of which there is a lot. This year Art Basel Miami Beach featured 267 galleries from 110 countries to go along with over 77,000 attendees. There are satellite fairs, panels, private exhibitions, public installations, and there are Ubers crissing and crossing over the Biscayne Bay like Ping-Pong balls. We saw as much of it as we could.
1. Trevor Paglen and Jenny Holzer Shine Light on What's Dark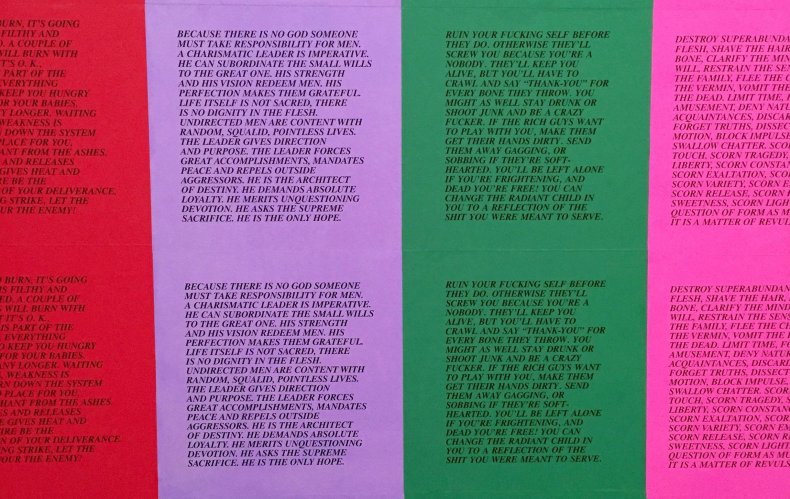 There is a lot of bullshit at Art Basel Miami Beach, but one bastion of enlightenment was the conference's series of salons, which featured notable voices from the art world discussing just that. Two artists who, unlike a large portion of those at Basel, see their art as public service are Trevor Paglen and Jenny Holzer, both of whom united onstage to discuss their shared mission of exposing what the government is trying to keep from its people. Paglen, who won an Oscar as part of the team that produced the Edward Snowden documentary Citizenfour, focused on his latest project, which involves rendering Internet surveillance visually by taking pictures of the network of underwater Internet cables the NSA can easily tap (he even led a scuba diving expedition to show people one of the cable choke points off the coast of Florida). Holzer showed a variety of her public work, which often involves projecting declassified material and/or redacted government material, often dealing with torture, onto buildings and landscapes. Stay woke.
2. The 'Day to Night' Photography of Stephen Wilkes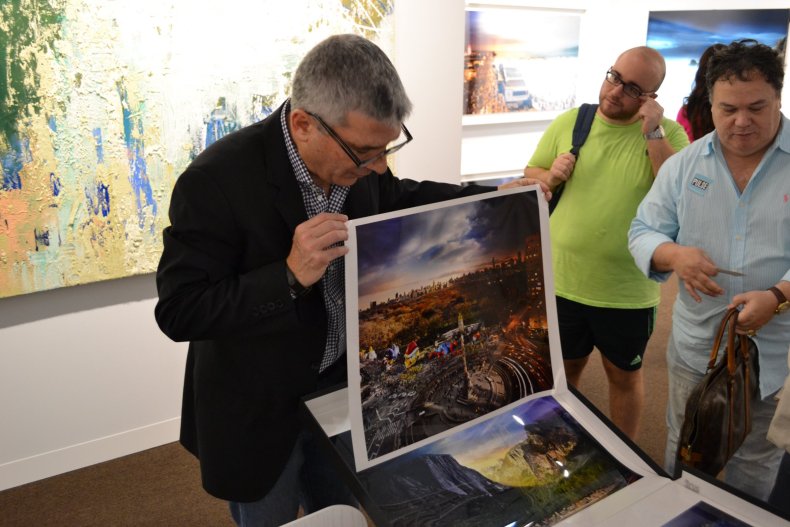 Most people are able to take a picture in the time it takes to press a button. For Stephen Wilkes, it takes around 18 hours. The images of the photographer's "Day to Night" series, on display at the Pulse satellite fair, chronicle the passage of time in a way that would seem to run counter to the nature of the medium, and each piece contains multitudes. One particular image of Yosemite National Park that will be featured on an upcoming cover of National Geographic involved Wilkes staking himself out on a slippery rock outcropping with two assistants for 26 hours. He says that the image's moonlight sections were taken using hourlong exposures.
3. Rachel Rossin's VR Art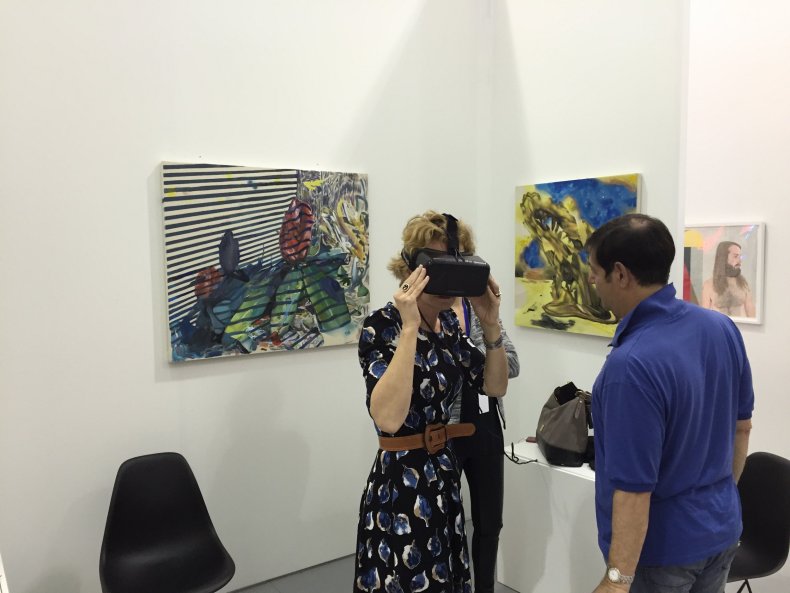 VR and Oculus Rift has enjoyed a resurgence lately thanks to a $2 billion acquisition by Facebook in 2014 and The New York Times's decision to adopt the technology, even sending out cardboard headsets with a recent edition of its Sunday paper. The possibilities for VR extend well beyond news media, though, as demonstrated by artist Rachel Rossin, whose work plays with the idea of what we lose and gain through digitization. She recently wrapped up an exhibit at New York gallery Zieher Smit & Horton titled "Lossy," part of which the gallery brought to the Untitled satellite fair. The portion that involved strapping on an Oculus Rift for a 2-minute journey through a stunning, fragmented, 360-degree landscape was one of the most mind-bending experiences available at this year's event.
4. A Portal to Another World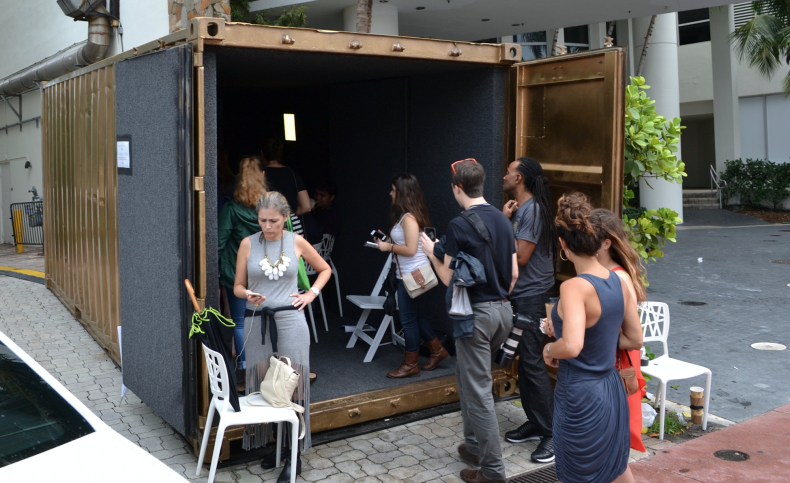 One night outside the Sagamore Hotel on Miami Beach's famed Collins Avenue, I notice a shipping container covered in gold. The next morning, the doors to that container were open, and inside a handful of people were asking a girl in Bolivia how she celebrates Christmas. Shared Studios has set up other "portals" in locations around the world, offering those who enter the container an immersive face-to-face interaction with someone standing in another container halfway around the world. In September, Shared Studios dropped a portal in the U.N., allowing visitors to interact with a Zaatari refugee camp.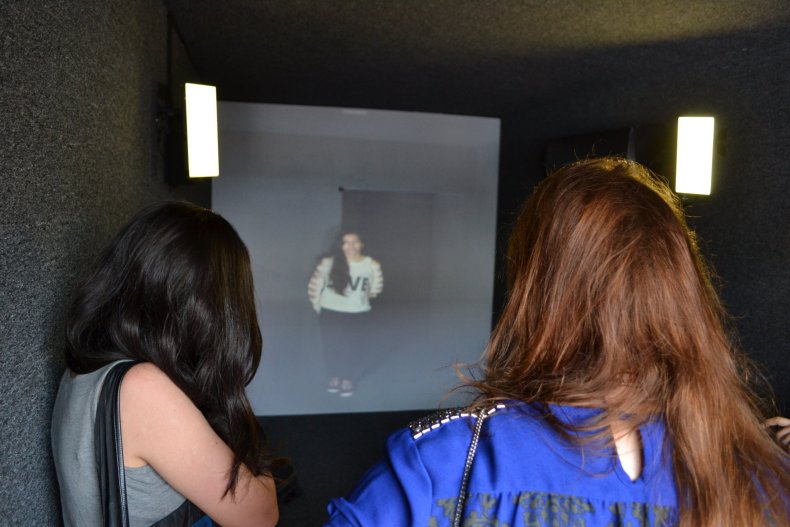 5. Thread Art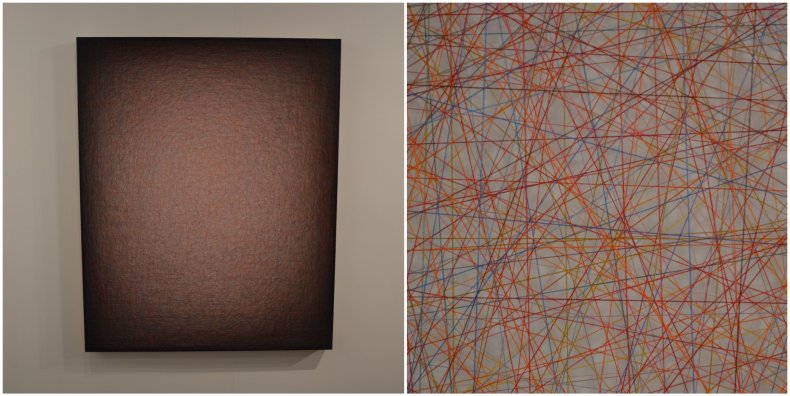 If it exists in the physical form on this planet, you can bet there's an artist at Miami Art Week using it as a medium. For Emil Lukas, whose work was on display at the Pulse satellite fair, it's thread. From a distance, his works looks like someone took a blurry picture and jacked up the Vignette tool on Instagram, but upon closer inspection.…
6. The United States of Vinyl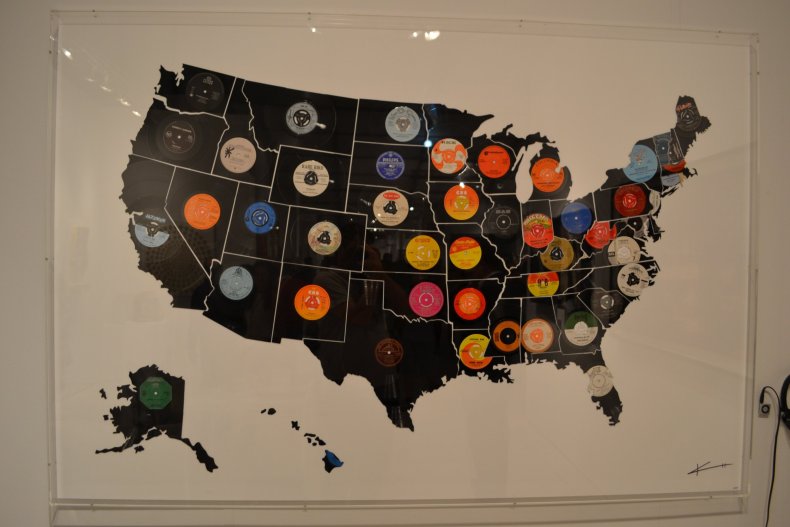 For Hitsville USA, on display at the Context satellite fair, Keith Haynes found a single for every state. Literally. Each of the 50 states on the artist's music-centric map of America is represented by a 7-inch record with the corresponding state's name in the title. From Johnny Horton's 1960 hit "North to Alaska" to Joe Simon's groovy "Georgia Blue," each and every state is covered. Even South Dakota, although Haynes had to settle for Doris Day's "The Black Hills of Dakota" (from the movie Calamity Jane), which does indeed refer to the mountain range in the southernmost Dakota. But though South Dakota was the only state for which Haynes couldn't find the full name in a track title, the hardest to track down might have been Iowa, for which he ultimately found Janis Ian's "Jenny (Iowa Sunrise)."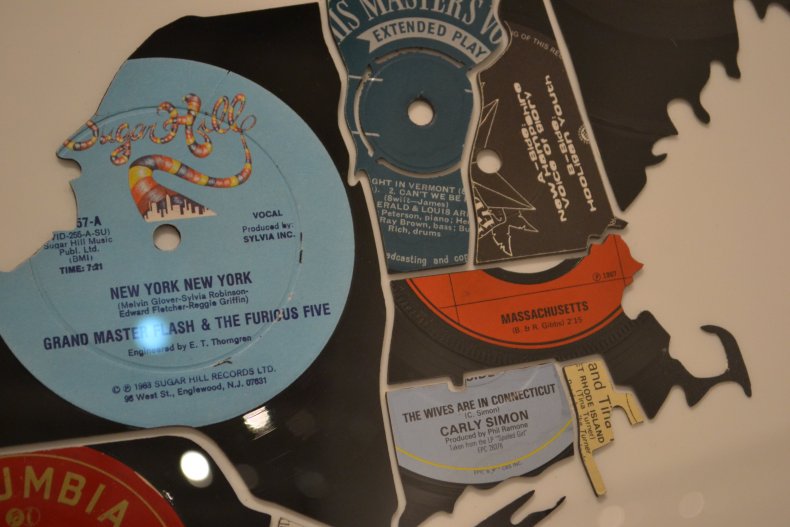 7. Dev Hynes and Ryan McNamara Interpret the Night at the Perez Art Museum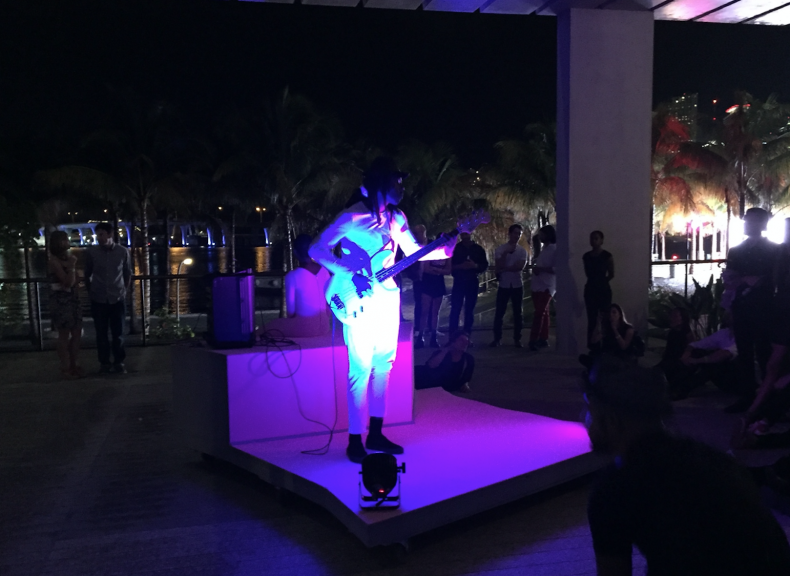 Dev Hynes of Blood Orange and artist and dancer Ryan McNamara collaborated on an interpretive performance that surrounded Miami's beautiful Perez Art Museum. On small, white stages set around the building's patio, Hynes, McNamara and a number of dancers and musicians improvised a mellow soundtrack to the night while bathed in soft blues, oranges and purples. Eventually, the stages were wheeled together to create a single performance space, fusing the experience's disparate energies into a single, unified expression.
Here's McNamara before the stages were combined:
8. The Art Awakens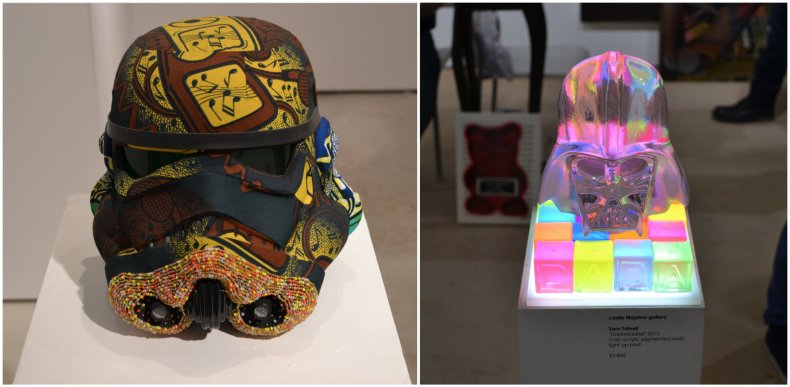 Because out of God knows how many individual pieces on display around Miami during Art Week, you knew some of it would be Star Wars themed. The flair-heavy Stormtrooper helmet, showing at the Context satellite fair, is by Yinka Shonibare. The translucent Vader head, also showing at Context, is by Sam Tufnell. This was also on display at Untitled: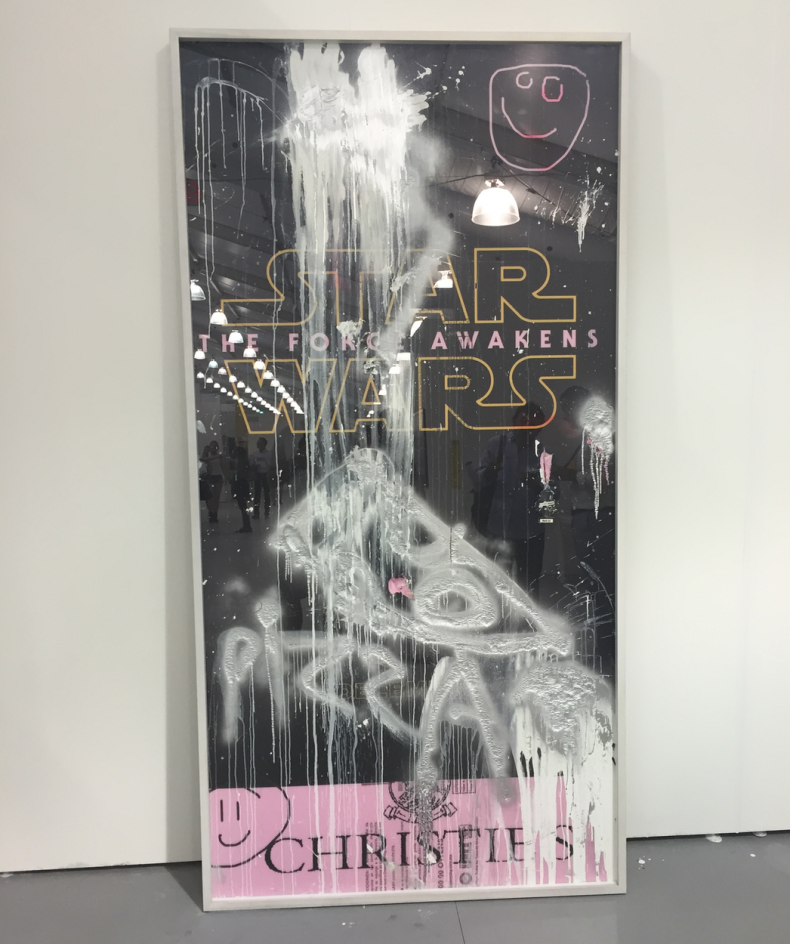 9. This Fake Weed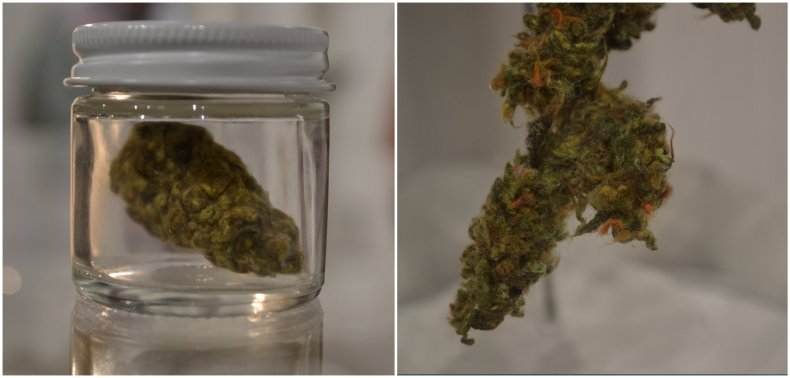 If you're a weed dealer trying to scam some clueless teens, you might want to ditch the oregano and hit up Andrei Koschmieder. Using paper, glue and little pieces of wire, the artist created astonishingly lifelike replicas of a variety of marijuana strains, confusing passersby to no end.
10. This Wall of Ceramic Donuts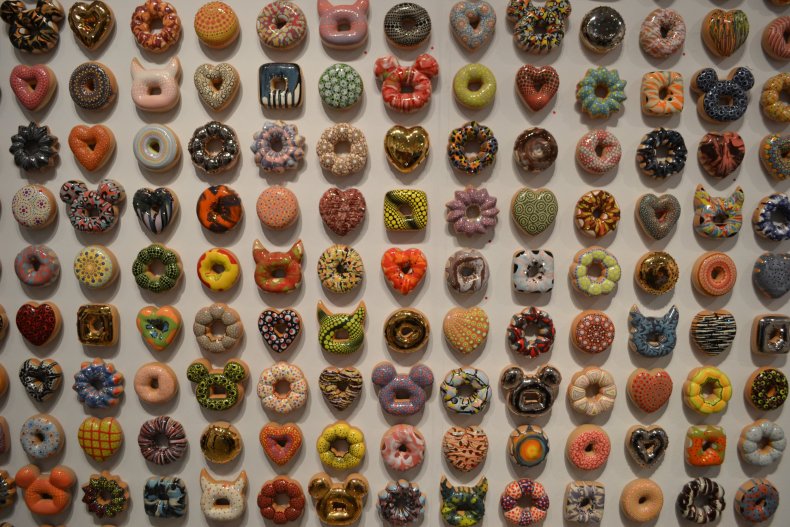 Fake donuts on dispaly at the Context satellite fair, to satisfy your fake munchies from all that fake weed.
11. There Are Orgies Among Us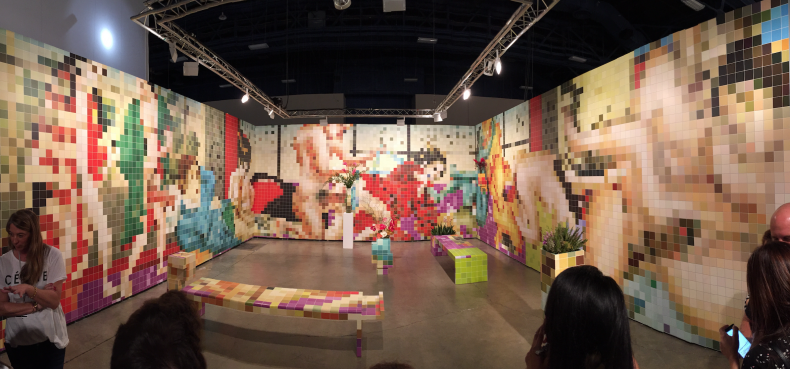 One of the most popular pieces on display at the Miami Beach Convention Center came with a warning label: "Due to explicit content, viewer discretion advised." Staring into Thomas Rehberger's cordoned-off tile installation with the naked eye, it was hard to understand what the advisory was referring to. But because of an optical illusion that was at play, when the setting was viewed through a camera and a picture was snapped, it was obvious: We were all looking at porn.
12. Adrien Brody's Debut Exhibit, 'Hot Dogs, Hamburgers and Handguns'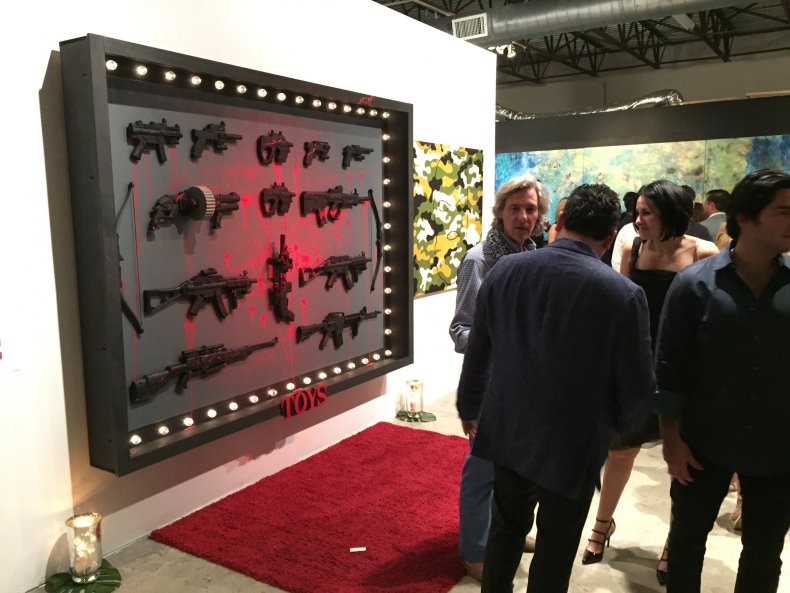 Yes, Adrien Brody is an artist now.
13. This Woman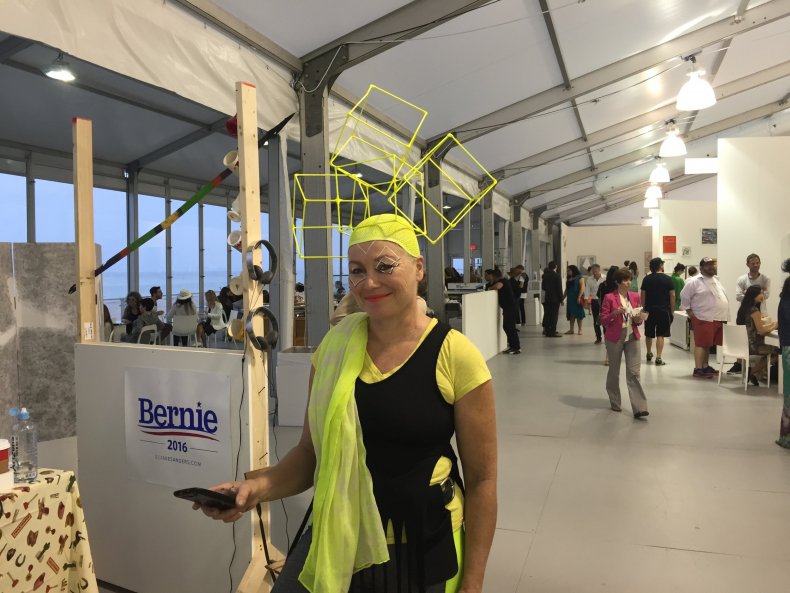 14. Target Takes Basel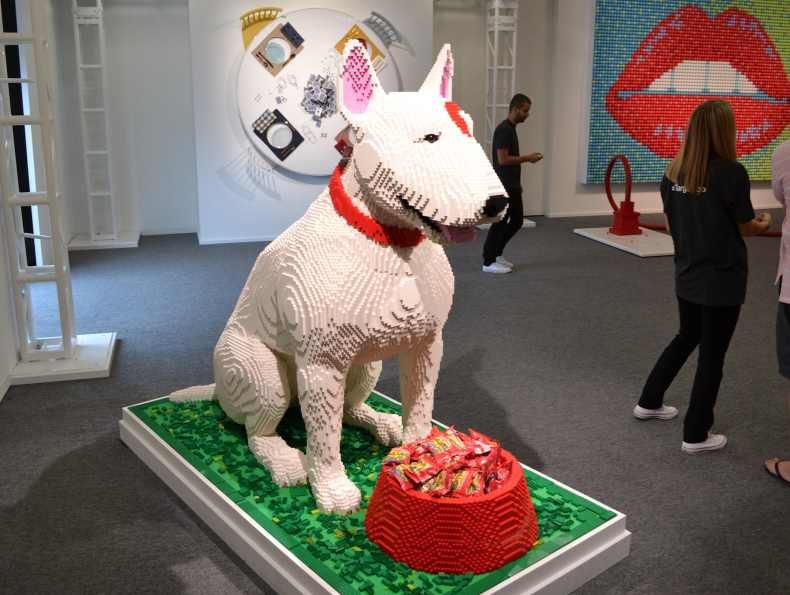 Plenty have lamented how Miami Art Wee has been overrun by branding and commercialism as it has grown in popularity. Nowhere was this more apparent in 2015 than at the Pulse satellite fair, which featured a special "Target Too" section featuring "art" made out of items that can be purchased in the store. For how sacrilegious this may seem, it was entertaining enough (they also were giving out Animal Crackers), and if any of the "works" were stripped of their branding and given their own staging area in the fair's main hall, no one would have thought twice. What is art? You're certainly not going to come away from Basel with a definitive answer.