What Will Kim Jong Un Eat in South Korea? 'Childhood' Swiss Potato Dish Included on Menu
South Korea has revealed the menu that will be served at the dinner following the first summit between North Korean leader Kim Jong Un and South Korean President Moon Jae-in on Friday.
North and South Korea have finalized preparations for their leaders' meeting at the Peace House on the southern side of the Panmunjom truce village down to the smallest detail, including the time of their very first handshake, Yonhap news agency reported.
The dinner between the two leaders has been thoughtfully prepared to reflect the meeting's historic significance. "This menu was selected so as to honor those who have endeavored to achieve peace and unification on the Korean Peninsula over the past many years," South Korean presidential spokesperson Kim Eui-kyeom said at a press briefing.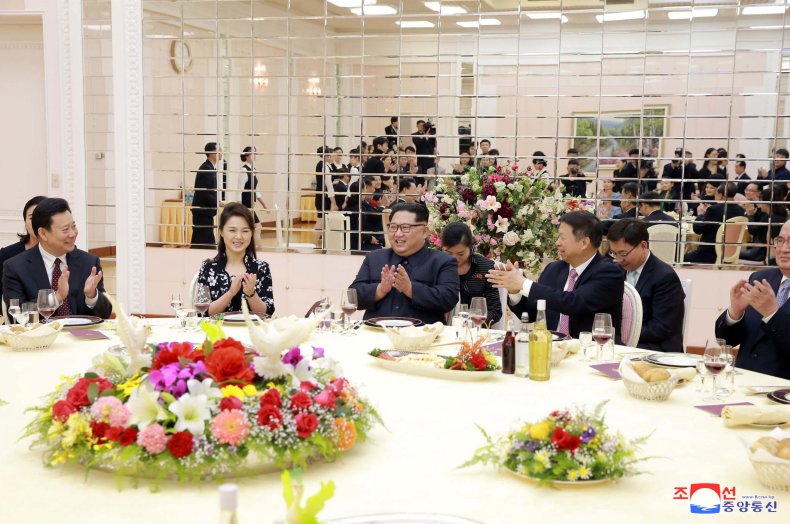 Details of the menu were published on Tuesday on a South Korean government website launched last week entirely dedicated to covering the inter-Korean summit, which was given the slogan "Peace, a new start."
Two dishes in the menu—the John Dory fish and the Swiss potato fritters known as rosti—are respectively meant to symbolize the childhoods of Moon, who grew up in the coastal city of Busan, and Kim, who attended boarding school in Switzerland as a teenager.
Other dishes are associated with people and places who have contributed milestones to the inter-Korean peace process. One such example is the steamed square dumplings filled with croaker and sea cucumber from Gageodo Island, the hometown of former President Kim Dae-jung. He received the Nobel Peace Prize in 2000 for his reconciliation efforts with Pyongyang.
The charcoal-grilled beef comes from the Seosan Beef Farm, the ranch from where Chung Joo-young, the former honorary chairman of Hyundai Group, gifted a number of cattle to North Korea in 1998 in what was dubbed "Operation Rawhide."
The octopus in the naengchae (a traditional Korean cold salad) is sourced from the hometown of Korean composer Yun Isang, who traveled to North Korea numerous times to develop the country's classical music scene and eventually led a group of South Korean musicians to Pyongyang for a joint performance with North Korean artists in 1990.
At Moon's request, North Korea will send a group of chefs from the Okryu-Gwan restaurant in Pyongyang which, according to NPR, has branches in China, Nepal, Thailand and Dubai. The chefs will set up a noodle-making machine near the summit venue to deliver freshly made cold noodles, a North Korean trademark dish, to the leaders' dinner table.
The dessert will display the idea of reconciliation will most blatantly, decorating a mango mousse with the unification flag. The meal will be washed down and toasted with two different types of traditional Korean alcoholic drinks, the Myeoncheon Dugyeonju liquor brewed from azalea flowers and glutinous rice, and the Moonbaesool, a liquor that has been distilled on the peninsula for centuries.