What Will Putin and Merkel Discuss at Berlin Meeting?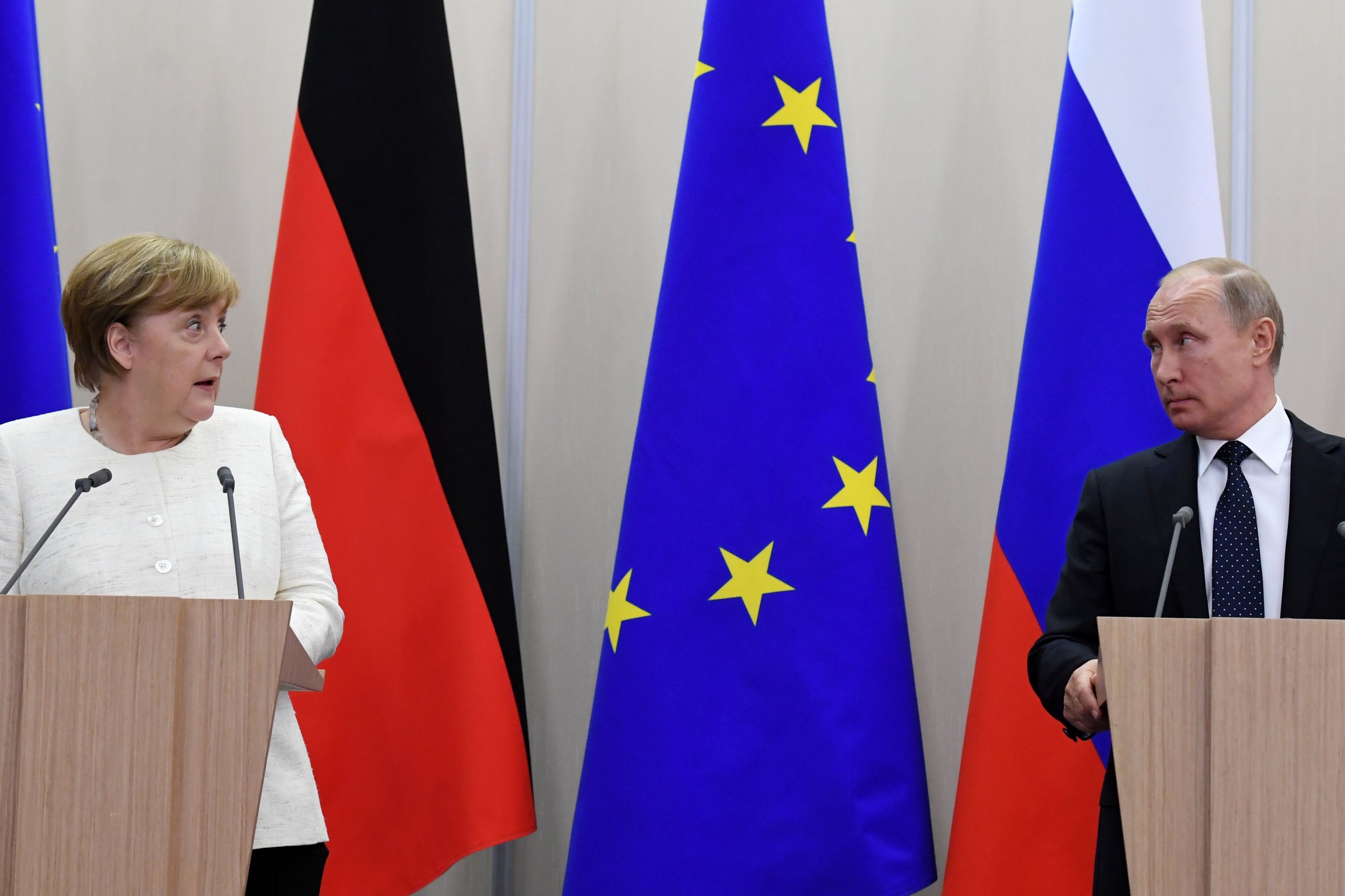 Russian President Vladimir Putin will raise the issue of U.S. sanctions and the natural-gas pipeline project, which the White House continues to oppose, in his upcoming visit to Germany, the Kremlin said.
The Russian leader will meet German Chancellor Angela Merkel in Berlin over the weekend, following her visit to Russia two months ago. The German government announced the upcoming meeting on Monday, and said that Putin's visit would be aimed at "synchronizing their watches on all of the most important problems," state news agency RIA Novosti reported.
"Indeed on Saturday, Putin will be in Berlin, he will conduct negotiations with Chancellor Merkel and they will give an address to journalists," Putin's spokesman Dmitry Peskov said Tuesday, confirming what matters would be on the two leaders' agenda. "These are of course international matters—Ukraine and Syria—but also it is the restrictions, which one way or another, a lot of countries are facing now," Peskov added, seemingly referring to U.S. sanctions against Russia as well as to steel and aluminum tariffs.
"I mean of course [the] Nord Stream 2 [pipeline] and other questions, which the countries consider necessary to discuss," he said.
Putin will meet the German leader in her official retreat, Schloss Meseberg—a Baroque palace 40 miles north of Berlin. It will be the pair's first meeting since Putin's controversial summit with President Donald Trump, days after the U.S. leader publicly raged about Nord Stream 2 at NATO.
The Trump administration's new sanctions on Russia leave a question mark looming over whether they could affect German companies involved in the pipeline. A spokeswoman for the German economy ministry has expressed confidence that the country would be exempt from fallout from the sanctions, stating in June that Berlin had "received assurances that gas pipeline projects will be excluded from the sanctions."
In July Trump's aides, however, sat uncomfortably as they watched the U.S. president tell NATO Secretary General Jens Stoltenberg that Germany was "totally controlled by Russia" because of Nord Stream, despite the fact that the NATO official has little to do with German energy policy. Trump subsequently met with Merkel at the summit and refrained from speaking in the same way, affirming that the pair had a "very, very good relationship."
Read more: Russia's super rich lost $3 billion in a day after reports of new Kremlin tax plan
Russia's Gazprom and five European companies are funding the 9.5 billion euro ($10.8 billion) Nord Stream 2 project, whose aim is to pump Russian gas directly to northwestern Europe across the Baltic Sea, bypassing Ukraine.