Who Plays in a World Cup of Unrecognized States?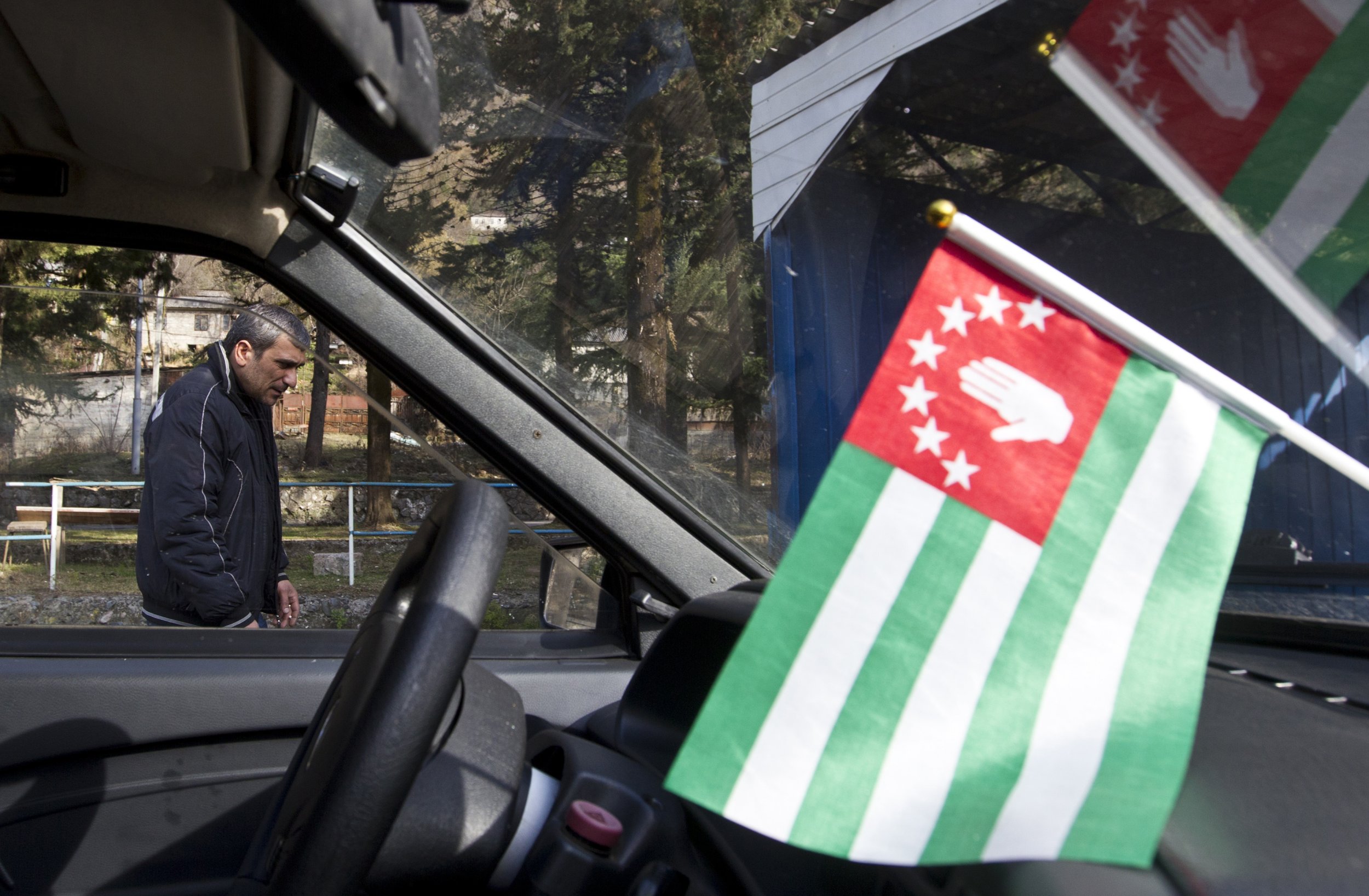 The keeper was still yelling at his wall of three when the free kick flew past them, the ball curling beautifully into the top right corner, sending the crowd in the stadium into a frenzy. Padania were one up against Kurdistan. A brace from Kurdistan would later put them ahead, before an equaliser from Padania took the game into one of the tensest penalty shootouts ever played underneath the blazing Abkhazian sun.
Both teams were battling for the honor of becoming the second ever winner of the World Cup for unrecognized states, hosted in the region of Abkhazia—formally a part of Georgia, but effectively autonomous for nearly a decade with Russian support. Teams such as Padania, Kurdistan, Panjab, Raetia, the Chagos Islands and, of course, hosts Abkhazia are probably names more familiar to political scientists than football fans. But CONIFA, the tournament's organizer, seeks to change that.
"The tournament has been absolutely overwhelming and amazing," Sascha Düerkop, General Secretary of CONIFA says. The final is due to be played on Sunday, while a handful of matches for already eliminated teams is also scheduled so as to give experience to some sides who may not get many opportunities to raise their profile before the next tournament, likely in two years time.
"I knew we would have all the support from the local government and the Abkhazian FA but the locals have done a fantastic job. Last tournament, for some matches, we had 0 spectators. Here the people have been really behind it. They have opened two fan zones in the capital of Sukhum and Abkhazia matches are always well attended," he says. "At least 1,000 locals are in attendance for every other match too, even when Abkhazia aren't playing."
While teams such as Padania, hailing from the region formally in northern Italy, benefit from the availability of many leagues and local tournaments, as well as good infrastructure, quality football has been on display in matches all week.
The Panjab team's wonderful opening goal against Western Armenia on Thursday found the blue-clad back four sleeping and one masterful chip over the goalie later, they were on their way to victory. That said, some matches have been landslide victories, with scores such as the 12 - 0 in the Western Armenia v Chagos Islands match not entirely surprising to organizers.
"The quality of the teams is very diverse and we have two groups," Düerkop says. "The difference between the strongest and the weakest is extremely big. Some teams play in the equivalent of what in England is called Sunday league football; other teams like Abkhazia have league professionals who play in Russia for example. But for the fans this is the people's World Cup. This is definitely the first time they can see their national team lift a trophy."
To qualify for CONIFA membership a team must send an application to the organization but unlike with the bigger organizations such as FIFA and UEFA, there is no requirement that the team's region is recognized by the U.N. or any other country. The decision on whether or not to admit a new member is taken by a vote among the teams that are already members.
"This is not a decision we take," Düerkop says. The organisation charges each team a 500 euro ($568) annual fee and operates on a not-for-profit basis. "We are a small group of people. There are 10 of us working voluntarily—we have day jobs. A couple of us are mathematicians, one of us is a business adviser. I am doing my PhD in production theory optimization."
Tournaments are also paid for by the self-declared autonomous states and CONIFA finds local sponsors for the events and local TV providers to show the matches. Currently, if you live outside Abkhazia, you can stream the 2016 World Cup online.
Beyond this tournament they are planning a European championship next year and another World Cup in two years' time. An Asian cup, possibly in Japan's Okinawa region, is also being considered.
"We are trying to get a regional tournament started and we need to introduce a qualification process. So far there is no qualification organized but we encourage our teams to do weekend tournaments," he says. "We hope to organize continental tournaments in the future and we have some interest in a European Cup from members. We are very willing. Northern Cyprus has expressed interest in hosting it."
The most obvious issue that keeps the tournament from expanding is that many countries, largely the ones that the secessionist regions are formally part of, would object to making any sign of recognition of their independence. Düerkop says that this is not CONIFA's intention.
"Is there a political message? Yes and no. We are all aware that it can be controversial on a political level if we put up an Abkhazian flag for an event broadcast to the world. But we think that no matter what, whether you support that personally or not, we are here mainly for sport," he says. "We have very clear rules that you can put up your flag, sing your anthem but then you play football. For the outside world it could look like there is a political message, but it is not our main intention."
"Our main intention is to look at these places like de facto republics for other reasons except the politics. Look at Abkhazia: it deserves to be seen as a more than just a war zone," he says. "Here there are people, there are good guys and bad guys."
Düerkop says the biggest fun is yet to come in the tournament, with the semi-finals, final and celebrations, in which everyone participates, not just the winners.
"If I could recommend anything from the tournament, definitely watch any Abkhazia match because it's totally crazy. There were 7,000 people for one of them so the stadium wasn't just full, it was overcrowded," Düerkop says. "There was music in the stadium, choreography and flags everywhere. Other than that, the closing ceremony will also be great."
"The closing banquet after that will bring all the teams together. Most of the players didn't drink alcohol during training and the tournament but that night will be just a big party. I know it will be great."