A Wheel of Fortune contestant who missed out on winning an Audi due to a technicality has received a brand-new set of wheels from the car manufacturer.
Charlene Rubush received an outpouring of support from outraged fans last month, when she was seen being denied the Bonus Round prize, despite correctly solving the puzzle. At the time, host Pat Sajak explained that she had paused before completing the answer.
As video footage of the controversial decision circulated on Twitter, Audi USA tweeted that the company would be giving her an Audi Q3 after all—and the company has revealed weeks later that it has made good on its promise.
Posting a photo of Rubush smiling as she stood before her gray bow-wrapped vehicle, the company stated: "You all did it! You helped #GiveHerTheQ3. Charlene, welcome to the Audi family! We are so happy to see you in the driver seat."
Former Jeopardy! champ Alex Jacob, who led the call for Wheel of Fortune bosses to give Rubush the prize anyway, was tagged in the post by Audi USA.
"Couldn't have done it without you," read a tweet from Audi USA to Jacob, as he praised the company for following through on getting the car to Rubush.
According to TMZ, Rubush picked up the $40,000 car on January 17 from an Audi dealer in Henderson, Nevada, four weeks after her episode hit screens.
Rubush told the outlet: "The car drives so well. I'm loving it. Much needed since my husband and I have been sharing one car since we moved here three years ago!"
During the episode in question, Rubush was faced with the category "What are you doing?," during which she added her own choice of letters to the customary R, S, T, L, N and E, before incorrectly guessing that the answer: "Choosing the right card."
Toward the end of the nail-biting 10-second countdown, Rubush jumped in with another attempt, correctly answering: "Choosing the right... word."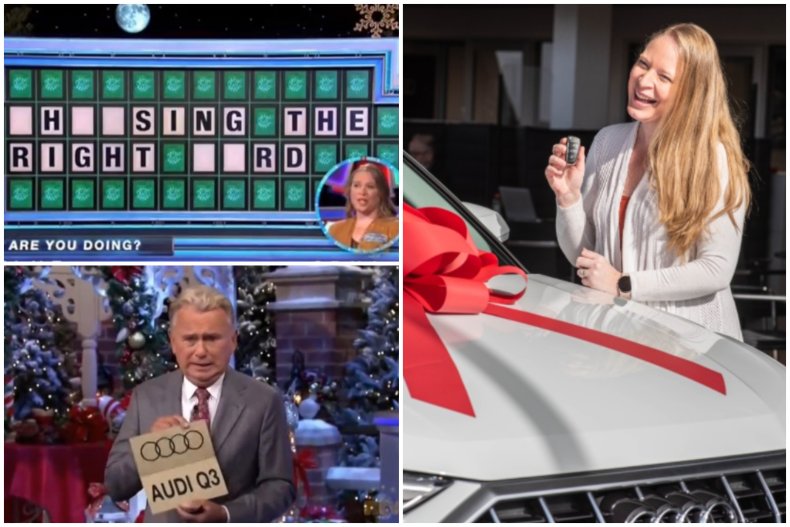 Her correct answer was met with a muted response, as Sajak explained that she had paused before saying "word."
"You know, this one's tough because you said all the right words, including the word 'word,' but as you know it's got to be more or less continuous," he said.
"We'll allow for a little pause, but not four or five seconds," he added. "I'm sorry, you did a good job in getting it, but we can't give you the prize and it was an Audi."
Jeopardy! star Jacob shared a video clip of the moment online, before sharing screenshots he had sent to the official Twitter accounts of Wheel of Fortune and Audi USA about the situation.
In the midst of Rubush's moment going viral, Audi USA tweeted: "You're a winner in our eyes, Charlene. Now, let's get you a prize. Time to #GiveHerTheQ3."
Hours later, a tweet from Audi read: "There's no community like the Audi community. With your help, we tracked down Charlene! More to come as we help #GiveHerTheQ3."
At the time, a spokesperson for Audi of America confirmed to Newsweek that Rubush would be the recipient of an "all-new Audi Q3."
The spokesperson said: "[We] saw Charlene's Wheel of Fortune episode on Monday and were collectively disappointed that she missed out on the opportunity to take home an Audi Q3 due to a technicality. So in the spirit of the holidays, Audi of America will be gifting her with an all-new Audi Q3."
Newsweek has contacted a representative of Wheel of Fortune for comment.