When Do Kids Get A Polio Vaccine? What to Know Amid New Detection
Polio is being detected in the UK and the US as health officials are urging people to receive vaccinations to slow any chance of a spread.
The U.K. Health Security Agency (UKHSA) identified polio in sewage samples taken in London, the first alert of polio being raised in June. On Friday, the New York State Department of Health (NYSDOH) and the New York City Department of Health and Mental Hygiene (NYCDOHMH) alerted New Yorkers that poliovirus had been detected in wastewater and sewage samples in the city.
The news comes a few weeks after the first case of polio was detected in the U.S. in over a decade.
New York health officials are now urging anyone unvaccinated to get their polio vaccines, as UK health officials have begun rolling out booster doses for all children ages 1 to 9.
With the new detection of the poliovirus in several global communities, here is everything you need to know about polio vaccines:
When Do Kids Get The Polio Vaccine?
The Centers for Disease Control and Prevention (CDC) recommends that all children receive four doses of the polio vaccine as part of their routine childhood vaccines. Kids should receive one dose at each age: 2 months old, 4 months old, 6-18 months old, 4-6 years old.
Kids who are behind on their vaccinations or have not started the series are encouraged to do so right away.
Do Children Have To Be Vaccinated?
While there is no federal requirement that children have to receive the vaccination, though, all 50 states and the District of Columbia have state laws requiring children who are entering childcare or public schools to have the polio vaccine.
However, experts have stated that the vaccine is incredibly important in combating polio, especially with the uptick in detection.
"There is simply nothing more essential than vaccinating our children to protect them from this virus, and if you're an unvaccinated or incompletely vaccinated adult, please choose now to get the vaccine," said New York City Health Commissioner Dr. Ashwin Vasan.
What Are the Types of Polio Vaccines?
There are two types of poliovirus vaccine that are used: Inactivated poliovirus vaccine (IPV) and oral poliovirus vaccine (OPV). While the OPV is used in many different parts of the world, the IPV is the only one used in the US since the year 2000.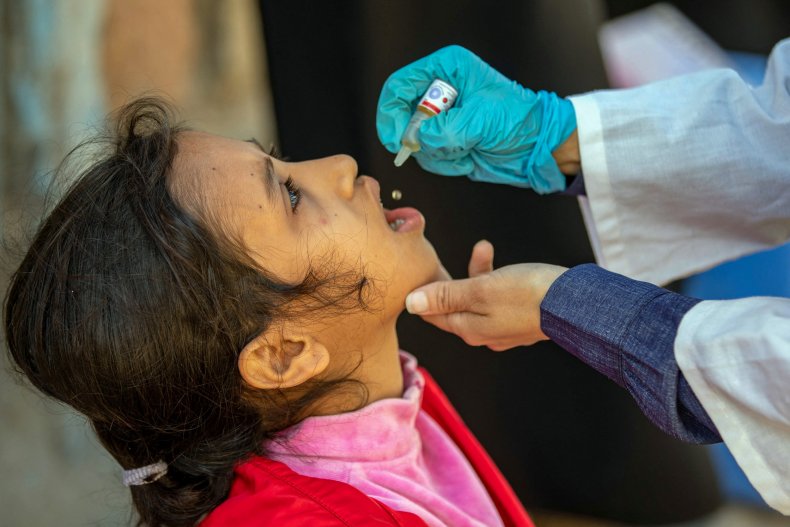 Although, some experts believe that the OPV can be more effective than IPV at mitigating the spread of polio between two people because the OPV vaccine contains live polio virus in a weakened form.
How Effective Is the IPV Vaccine?
The CDC states that IPV provides at least 90 percent protection if one has received two doses, and three doses can provide at least 99 percent protection from polio.
The vaccine can protect against severe poliovirus in almost everyone (99 out of 100) who has received all the recommended doses.
I'm An Adult Who Hasn't Received A Vaccine: What Now?
While most adults have most likely received their polio vaccines as children, the CDC says that adults who are unvaccinated, incompletely vaccinated, or at high risk should still receive their vaccines.
Adults can receive the first dose of the vaccine at any time, the second dose 1-2 months later, and the final dose 6-12 months after the second.
If you are an adult who has received all of the polio vaccination series but is at a high risk of contact with poliovirus, one booster dose is available.
Newsweek reached out to a pediatrician for additional comment.