When Is the 'West Wing' Special Coming to HBOMax? Bill Clinton and Michelle Obama Make Special Appearances
The West Wing is coming back! The trailer for the highly anticipated reunion of the political drama has premiered on Thursday. Fanatics will rejoice to learn that the show will air sooner than you think. A West Wing Special to Benefit When We All Vote will premiere on HBO Max on October 15, in partnership with When We All Vote, a nonprofit, nonpartisan organization whose goal is increase participation in every election.
HBOMax's parent company, WarnerMedia, will be making a donation to the nonprofit in honor of the special.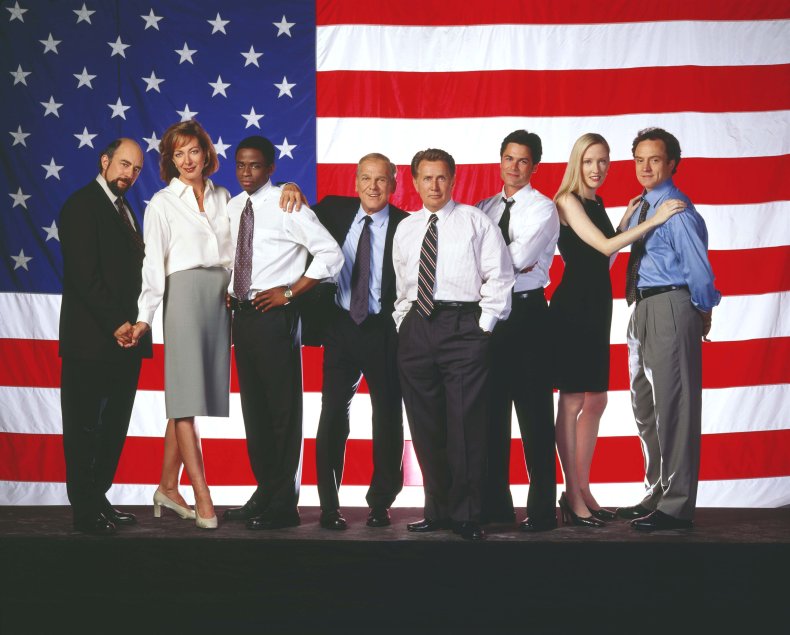 The show's stacked talent of Martin Sheen (President Bartlet), Bradley Whitford (Josh Lyman), Allison Janney (CJ Cregg), Janel Moloney (Donna Moss), Richard Schiff (Toby Ziegler), Rob Lowe (Sam Seaborn), and Dulé Hill (Charlie Young) will be returning for the special.
Sterling K. Brown will also be joining the reunion in place of the late John Spencer's Leo McGarry. Elisabeth Moss is also expected to reprise her role as the president's favorite daughter, Zoey, for a brief moment.
The cast reunites at the Los Angeles Orpheum Theater to recreate the third season episode, "Hartsfield's Landing" (obeying covid-19 protocol with PPE, of course).
The episode originally premiered in 2002. The official synopsis, as per TV Line, reads: "Bartlet engages both Sam and Toby in intricate chess matches that mirror the wily game of brinksmanship that Bartlet is playing with the Chinese, who are conducting war games in the Taiwan Strait. The Chinese threaten real war if Taiwan begins test firing its new U.S.-made Patriot defense missiles. Meanwhile, Josh is nervous about the 42 votes in a remote New Hampshire town's election, which are counted immediately and always predict the winner of that state's primary. Mischievous C.J. tries to upset Charlie by hiding his copy of the President's top-secret daily schedule — prompting a spate of playful tricks."
In between breaks, former First Lady Michelle Obama (who co-chairs When We All Vote), former President Bill Clinton, Samuel L. Jackson, and Lin-Manuel Miranda will be making appearances.
West Wing creator Aaron Sorkin and executive producer/director Thomas Schlamme, will also be part of the reunion special. "Tommy and I are incredibly excited to be getting The West Wing cast back together for this staged reading and to support When We All Vote in their efforts to get all of us involved in this election," Sorkin said in a press release.
The West Wing ran from 1999 to 2006. During its tenure, the White House drama won 26 Emmys including four consecutive Best Drama Series trophies.