When Will Americans Receive Their Second Stimulus Check?
After months of delay, Congress approved a raft of coronavirus bailout measures earlier this week, including a long-awaited second round of stimulus checks, additional unemployment benefits and federal rent assistance.
The $600 stimulus checks provided in the stimulus package are worth half the $1,200 direct payments offered under the CARES Act in late March, and have been called an "insult" and insufficient by lawmakers on both sides of the aisle.
But, whatever their view on the size of the checks, Americans will be wondering when the direct payments will be deposited in their accounts, particularly after the delivery of the first round of stimulus checks was marred by delay.
Speaking to CNBC on Monday, Treasury Secretary Steven Mnuchin said checks could be sent out within a matter of days—a shorter timeline than the distribution of checks in the spring.
"People are going to see this money the beginning of next week. So it's very fast," Mnuchin told Squawk on the Street. "It's money that gets recirculated in the economy, so people go out and spend this money and that helps small business. That helps getting more people back to work."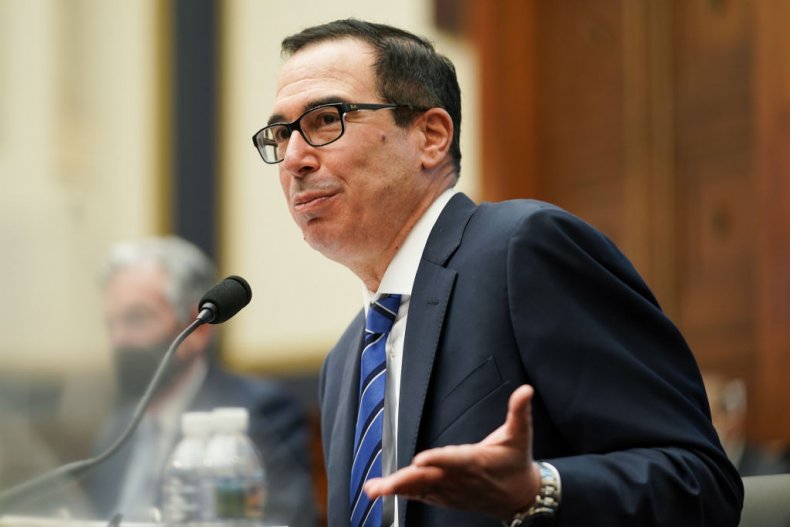 However, President Donald Trump threatened to veto the stimulus bill on Tuesday night as he demanded the inclusion of $2,000 individual checks, and called the proposed $600 checks a "disgrace" after the long delay to the package.
In a video statement, the commander-in-chief said: "The bill they are now planning to send back to my desk is much different than anticipated. It really is a disgrace."
A presidential veto of the second coronavirus relief bill could set back Mnuchin's planned timeline for the delivery of the $600 stimulus checks if Congress is forced to vote on overriding the veto.
Trump could wait until Wednesday before deciding to sign or veto the bill—a move that would prevent checks from being sent out early next week as Mnuchin promised earlier this week.
Newsweek has contacted the Treasury Department for comment. This article will be updated with any response.
Under the terms of the $900 billion stimulus package, January 15 is the deadline for sending out the $600 relief checks. The Wall Street Journal reports that anyone seeking direct relief after that date may have to wait receive it in their 2020 tax return.
The $600 stimulus checks have been a point of contention on Capitol Hill over the past few weeks, with several lawmakers arguing the relief payment will be too small for Americans who face unemployment, rent arrears and food poverty.
President-elect Joe Biden told reporters on Tuesday that he would push Congress to pass a third stimulus package with a third round of checks after he is inaugurated on January 20.
After calling the latest deal "far from perfect" and a "down payment" on further relief, Biden said: "Congress did its job this week. And I can, and I must, ask them to do it again next year."