Grab your Mickey Mouse ears and Hogwarts robes! Theme parks in Orlando, Florida may open sooner than you think.
On May 20, it was revealed that theme parks in Florida—including Universal Orlando and SeaWorld Orlando—will start presenting their reopening proposals to the Orange County Economic Recovery Task Force on Thursday, May 21. Details about what the plans may include have yet to be shared with the public.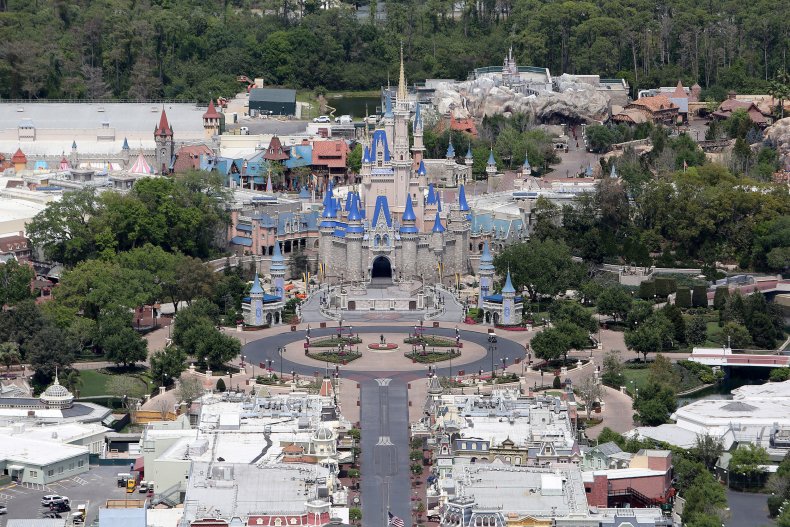 An Orange County spokesperson said that Disney would also release plans on Thursday, but a Disney spokesperson later said that information was not accurate.
Disney World has been closed since March 16, due to the coronavirus pandemic. The resort is currently accepting hotel reservations starting July 1. They are also encouraging guests with reservations up to June 30 to change or cancel their previously made hotel reservations.
Florida previously reopened non-essential businesses, including stores and restaurants, in early May as part of phase one. When phase two will happen, which includes theme parks, remains unclear.
"Theme parks may consider re-opening with capacity limits, strict social distancing and proper measures to clean and disinfect," the plan states. The parks will be expected to open at 50 percent capacity, and keep guests six feet apart when waiting for rides. Other sanitizing measures would also need to be enforced to ensure the safety of guests.
Most recently, on May 20, Disney Springs reopened. The shopping and restaurant complex in Orlando is located outside of Disney World, and has enforced several safety measures for guests and staff alike.
Not all stores and restaurants have opened yet. So far, Anthropologie, Pandora Jewelry, UNIQLO, and Zara, and can dine at restaurants including Blaze Fast-Fire'd Pizza, Earl of Sandwich, and Planet Hollywood, among others are open and ready for business. Soon enough more businesses will do the same.
Face masks were required for entry, and guests' temperatures were taken at the entrance. If someone registered with over 100.4 degrees F, they were barred from the complex.
The Disney Springs website warns prospective guests that their entry into the complex could lead to exposure of the coronavirus. "An inherent risk of exposure to COVID-19 exists in any public place where people are present. COVID-19 is an extremely contagious disease that can lead to severe illness and death," it states.
"According to the Centers for Disease Control and Prevention, senior citizens and guests with underlying medical conditions are especially vulnerable. By visiting Disney Springs you voluntarily assume all risks related to exposure to COVID-19."
Additionally, Disney World Shanghai reopened on May 11. They have set up social distancing measures, taken guests temperatures and are constantly sanitizing surfaces to ensure the safety of their guests. The Chinese government also asked the park to limit their guests to 30 percent of capacity (24,000 guests).
Correction 5/20/20 5:12 p.m. ET: This story and headline have been updated to reflect that Disney is not releasing plans to reopen on Thursday.