As surreal as it might seem, summer is zipping by and some restless Americans are looking for an escape beyond a domestic road trip. While the E.U. travel ban has made a European vacation off-limits, there are countries that are or will be welcoming U.S. tourists—but not without restrictions.
For more than four months, Americans have been navigating varying degrees of restrictions as the country—and the world—combat the COVID-19 pandemic. New York City, which at one point was the epicenter of COVID-19 in the U.S., reached a milestone Monday of a full 24 hours where no one died from the virus.
Beyond the city, New York state has continued to see a steady decrease in coronavirus deaths and hospitalizations, along with other states such as Connecticut and New Jersey. Unfortunately, other states such as Arizona, Florida and Texas have seen their numbers spike in recent weeks. On Sunday, Florida reported 15,300 new cases of coronavirus—a record increase in daily reported cases in the nation.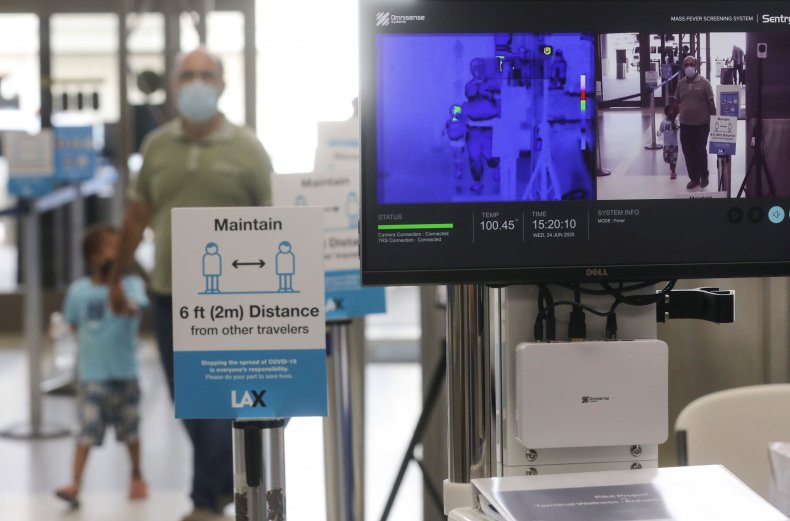 Due to these increases in cases in various parts of the country, when the E.U. opened its borders to over a dozen non-EU countries at the beginning of the month, travelers from the U.S. were left off that list. The restrictions are not just coming from overseas, the State Department still advises against all international travel from the U.S., sticking to a Level 4 Health Advisory that has been in place since March.
In addition to the E.U.'s decision, which will be in effect indefinitely, Canada has also closed their borders completely to the U.S. and Mexico continues to restrict its land borders between the two countries. Despite this, some countries have begun allowing in U.S. travelers.
Each country has unique, and specific restrictions, so it is important to check back with the local governments and tourism boards before packing your bags. It's also a good idea to check in with individual hotels as well—as they might have their own set of rules.
Updated: December 14, 2020.
This list will continue to be updated as new information becomes available.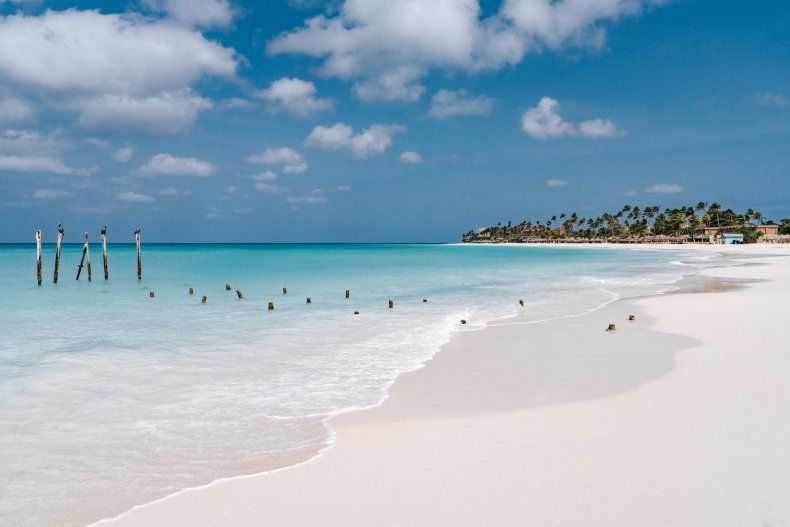 ARUBA
"The happy island" started welcoming visitors from the U.S. on July 10. Tourists will have to complete and submit the online Embarkation/Disembarkation card process which includes a personal health assessment that needs to be submitted prior to arrival as well as present a negative PCR test (or schedule one for when they arrive on the island.) Results are to be submitted online at least 12 hours prior to departure. Though, if a visitor lives in one of these 24 states, noted by the Aruba Tourism Authority, the option to test upon arrival is not available and all testing must be done and submitted prior to the trip. Masks are not required once you're on the island but are, of course, still recommended when social distancing is not easily possible.
ANGUILLA
Starting at the beginning of November, Anguilla began welcoming pre-approved visitors — meaning tourists who have filled out all proper documentation to keep Anguilla COVID-free. All visitors must provide a negative COVID-19 PCR test result conducted 3-5 days prior to arrival. Upon arrival, tourists will be required to take another COVID-19 test and undergo a health screening. Travelers must wait in their respective accommodations until their new test results come available.
ANTIGUA AND BARBUDA
Flights from the U.S. resumed into Antigua and Barbuda at the beginning of June requiring passengers to provide a negative COVID-19 RT-PCR test taken within seven days of departure upon arrival. Tourists will also undergo testing upon arrival which costs $100 per person. Prior to arrival, travelers are asked to register with the Ministry of Health Wellness and the Environment and complete a Health Declaration Form. Masks must be worn in all public areas and through July 31, a curfew of 11 p.m. will be in place.
BAHAMAS
All arriving passengers must have a negative RT PCR test result received within 5 days prior arrival to The Bahamas. If any symptoms are exhibited throughout the duration of a visitor's stay, a rapid antigen test will be required. If the stay lasts longer than four nights and five days, tourists will need to take a rapid antigen test as well. Not abiding by these rules, as well as failure to wear a face covering while on the islands, can result in a fine or even imprisonment, according to their tourism website.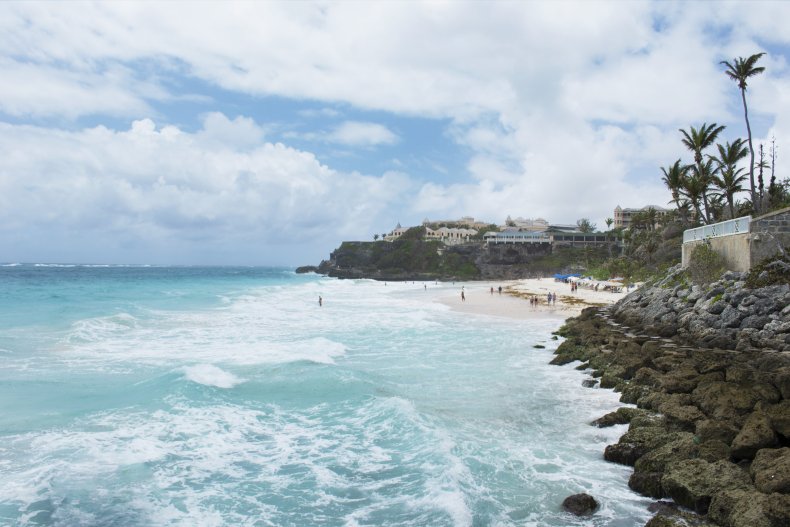 BARBADOS
Barbados will begin opening up their borders to tourists on July 12. Visitors who would like to be considered for "process fast-tracking" need to present a negative COVID-19 PCR test taken no more than 72 hours prior to departure. Those who do not, will be required to take a test upon arrival in Barbados either at the airport or a designated satellite testing hotel. All travelers will undergo a health screening and must complete a Pre-Arrival online Embarkation/Disembarkation form prior to arrival.
BELIZE
Belize is taking a bit more time before welcoming back tourists. They are on track to open Belize airport on August 15 with restrictions. Visitors will need to download the "Belize Health App" (not yet available to download) prior to the trip and fill out required forms 72 hours prior to boarding the plane. Visitors are encouraged to take a COVID-19 test 72 hours prior to the trip and present a negative result upon arrival; those who do not, will be required to undergo testing at the airport in Belize.
BERMUDA
Bermuda is enacting tighter restrictions to those choosing to travel to the British territory now that their borders are open to tourists. Travelers must complete the Bermuda travel authorization process online within 48 hours of departure. A $75 fee will also be charged to each traveler which will cover the cost of PCR COVID-19 testing in Bermuda.
Travelers aged 10 and up must have a PCR COVID-19 negative test result from no more than five days prior to departure, and must be entered as part of the authorization process. Upon arrival, everyone must retake a PCR COVID-19 test and isolate themselves in their hotel rooms until the result is ready—usually around 6-8 hours. Travelers must take their own temperature twice a day during their visit and report it online as well as be tested for the virus on Day 3, 7 and 14 of their trip. A nightly curfew is also in place from midnight - 5 a.m.
BRAZIL
Brazil opened their borders, by air, to travelers from the U.S. earlier this summer. Though, Brazil still remains at a Level 4 Advisory for U.S. citizens as they continue to have high daily COVID-19 cases.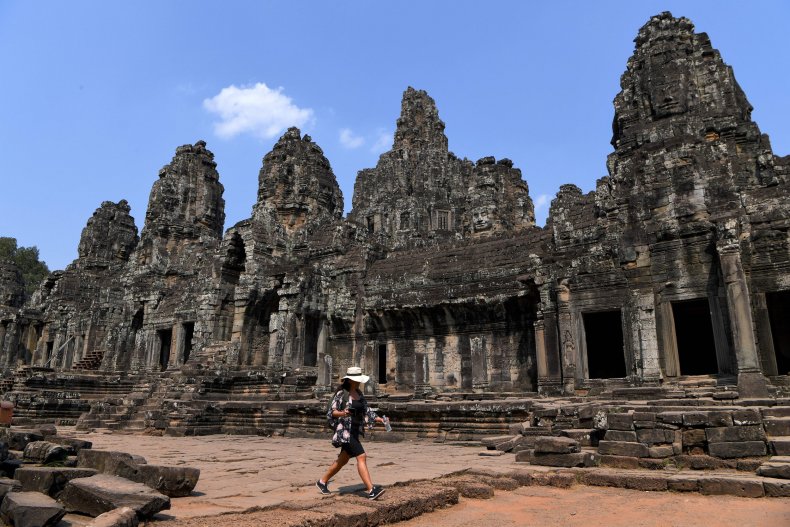 CAMBODIA
Get ready to open your wallets if you are planning on traveling to Cambodia any time soon. Though their borders have opened to tourists, visitors will be required to pay a $3,000 travel deposit before arrival to cover any potential coronavirus related expenses.
Upon arrival, all visitors will be required to show a negative COVID-19 test from no more than 72 hours before traveling as well as proof of medical insurance coverage for at least $50,000.
Everyone is required to be tested after arrival in Cambodia and if tested negative should only be responsible for about $165 for the test, with the rest of the deposit being returned to the traveler. But, if someone on an arriving flight tests positive for the virus, all passengers must remain quarantined at a location decided upon by the Cambodian authorities which could end up costing $1,281. Even if all travelers test negative, everyone is required to self-isolate for two weeks in their respective lodging accommodations.
A minimum of approximately $3,255 could be accrued for treatment and quarantine if you were to test positive upon arrival.
CHILE
After months of keeping their borders closed to visitors, Chile began welcoming in tourists on November 23. Visitors must present proof of a negative PCR test taken no longer than 72 hours before arrival. If a negative test is presented, there is not quarantine requirement, but with no test, travelers will have to quarantine for 14 days. Travelers must also complete an "Affidavit of Travelers" 48 hours before arrival online. There is a national curfew in place from 12:00 a.m. to 5:00 a.m. each night.
COSTA RICA
Costa Rica has opened its borders to U.S. citizens and does not require any negative COVID test. Despite not needing a test, tourists will need to fill out appropriate epidemiological health forms prior to their visit. If someone arrives with any COVID-19 related symptoms, a test might be administered upon arrival.
CROATIA
Despite the EU travel ban, as of July 10, U.S. citizens are permitted to enter Croatia for tourism as long as a negative PCR test no older than 48 hours is presented upon arrival. Visitors must fill out a form prior to entry that includes proof of accommodation.
Travelers who present tests older than 48 hours or with no test at all will still be allowed to enter the country though a mandatory 14 day self-isolation will be required at their own expense. The length of isolation can be shortened if a test is taken locally and a negative result is received. A local test will cost approximately $230 with an expected turnaround time of 24-48 hours. Once a negative result is received, tourists will need to contact a local epidemiologist to approve their exit from self-isolation.
Social distancing protocols are expected to be followed once in the country and masks are to be worn in all public settings including public transportation.
DOMINICA
All incoming travelers to Dominica will need to provide a negative COVID-19 test taken between 24 to 72 hours prior to arrival. Additionally, everyone must submit a health questionnaire online 24 hours prior to arrival as well as show the notification for clearance to travel. Upon arrival, travelers from the U.S. will be subject to further screening including a rapid COVID-19 and a health assessment and temperature check. If the rapid test is positive, a PCR test will be administered immediately and the visitor will be required to await the result at a government facility at their own expense. If the rapid test comes back negative, the visitor will be required to isolate for a minimum of five days either at a government quarantine facility or a "Safe in Nature" certified property.
THE DOMINICAN REPUBLIC
Commercial flights resumed to the Dominican Republic on July 1. Now tourists can travel to the country with little restriction. Upon arrival, passengers might have their temperatures' checked at the airport.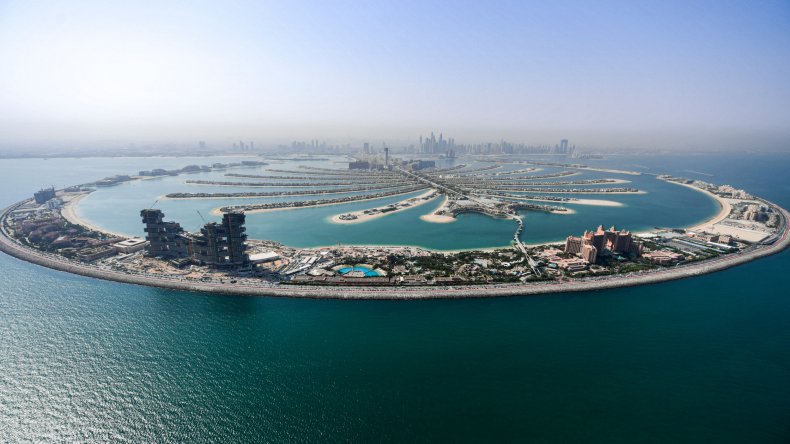 DUBAI
Dubai, located in the UAE, started allowing international tourists back in on July 7 while other emirates including Abu Dhabi remain closed. All visitors to Dubai must download the DXB app and register. Tourists will need a negative PCR test result taken no more than four days prior to departure or will be required to get tested upon arrival at the airport. Everyone is subject to thermal screenings at the airport and if a passenger is suspected to be infected, the airport has the right to re-test.
EGYPT
U.S. citizens are allowed to enter Egypt with a negative PCR test for COVID-19 taken at most 96 hours prior to entering Egypt. As is always the case when traveling to Egypt, a tourist visa must be obtained either prior to arrival or shortly thereafter.
ENGLAND
In early July, the United Kingdom opened up their borders to tourists from dozens of countries, including the U.S. But — for those coming from the U.S. a mandatory 14 day quarantine is enforced. Those who do not self-isolate can be fined £1,000 and if accurate contact information is not provided that can result in a fine of up to £100.
FRENCH POLYNESIA
The 118 islands that makeup French Polynesia, including Bora Bora and Tahiti, will open their borders to tourists on July 15. Visitors must present a negative test result received three days before departure before boarding a flight as well as a receipt of completion of a "sanitary entry form." On the fourth day of your stay, a self-test consisting of an oral and nasal swab, will need to be carried out which is provided by French Polynesia upon arrival.
IRELAND
U.S. citizens are now allowed to visit Ireland, though, expect for limited exceptions, must self-isolate for 14 days upon arrival. There is no negative test result required when passengers arrive, though the Irish Government still advises against non-essential travel into the country.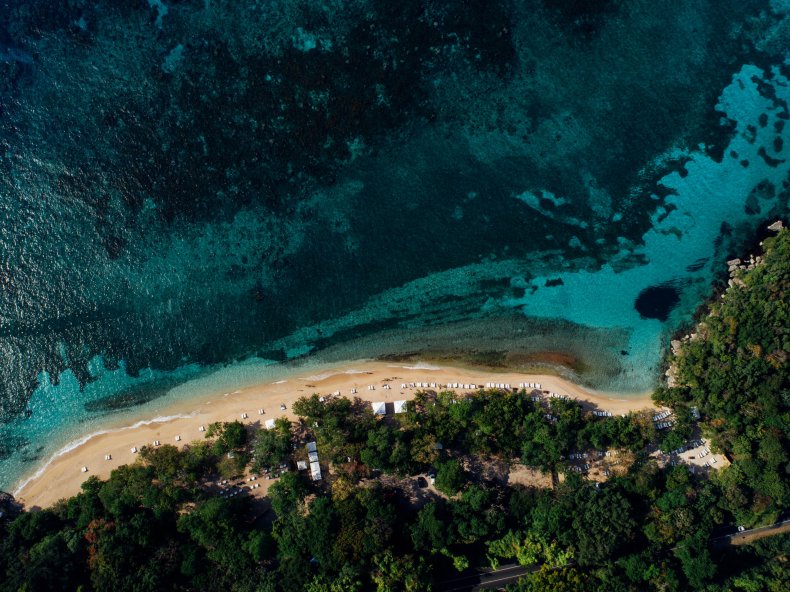 JAMAICA
Jamaica started welcoming back travelers quite some time ago, well in the scheme of coronavirus-timelines that is, on June 15. All passengers must complete the travel authorization prior to their trip and as of July 15, tourists traveling from Arizona, Florida, New York and Texas will be required to upload a negative COVID-19 PCR test result taken within 10 days of the arrival as part of that process. If upon arrival, the traveler is considered high risk after a health assessment, a test may be given at the airport or another designation facility. Visitors, who have received a clean bill of health, are required to stay within the "Resilient Corridor" which is a special zone designated for tourism in adherence to COVID-19 protocols.
KENYA
Tourists from the U.S. are allowed to enter Kenya given that a negative PCR-based COVID-19 test conducted within 96 hours before travel is provided. Additionally, the passenger needs to have a body temperature below 99.5°F as well as the absence of any flu-like symptoms.
MALDIVES
This island nation will begin welcoming tourists to their islands on July 15. As of June 23, when the reopening announcement was made, tourists are not responsible for any additional fees or providing a negative test result. Resorts, liveaboards and hotels located on the uninhabited islands will be the first to open followed by the inhabited islands on August 1.
MEXICO
Though the land borders between the U.S. and Mexico remain closed until at least December 21, American citizens can travel to Mexico by air without a negative COVID-19 test in hand.Tourists arriving at Mexican airports may be subject to health screenings including temperature checks and if you're exhibiting symptoms, you might be subject to additional health screening and/or quarantine.
Though in early December, The Centers for Disease Control and Prevention has recommended that Americans should avoid travel to Mexico as their cases continue to climb. There have been 108,173 deaths as of December 4 in Mexico due to COVID-19 — the fourth highest death toll in the world.
MOROCCO
Tourists coming from the U.S. are now allowed to enter Morocco with a negative PCR test result administered no more than 72 hours prior to boarding. Travelers must also have a confirmed hotel reservation before arriving in Morocco. In Casablanca, there is a curfew of 9 p.m. that extends until 6 a.m.
NORTHERN IRELAND
Much like other countries in the United Kingdom, Northern Ireland requires tourists traveling from the U.S. to quarantine for 14 days upon arrival. Failure to do so, as well as failure to properly document contact information can result in fines.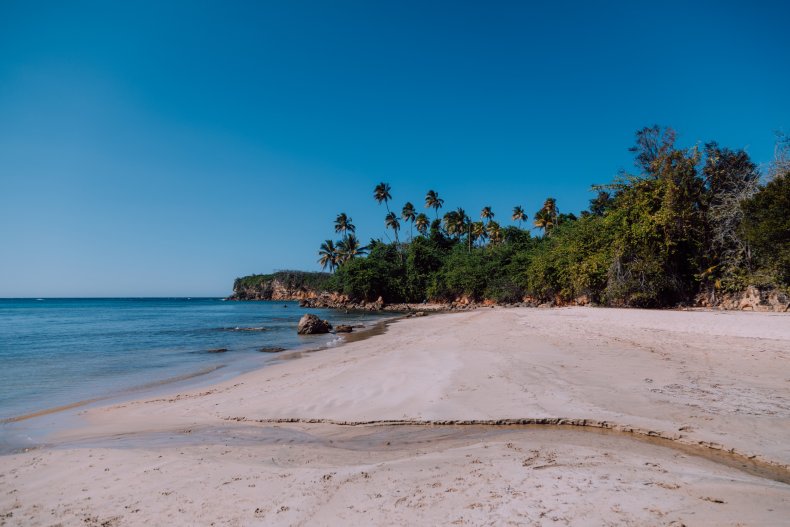 PUERTO RICO
On July 15, borders will open to international tourists choosing to travel to Puerto Rico. Passengers must have a negative COVID-19 test result from no more than 72 hours prior to departure to be allowed on the island. If passengers arrive without proper documentation, a rapid test will be offered to them at the airport and then a required quarantine period will begin—at the expense of the traveler. Even if that rapid test is negative, they will be required to quarantine for 14 days or until they are able to provide proof of a negative molecular test (which is different than the rapid-test administered in the airport.) Tourists must also complete a travel declaration form. Once in the airport, face masks are mandatory and thermographic cameras are in place to monitor temperatures.
RWANDA
Starting June 17, international tourism resumed in Rwanda via chartered planes. Though there are no direct flights from the USA to Rwanda, connecting flights are available. Visitors are expected to have a negative test result from 72 hours prior to arrival and might also be asked to take a second test prior to visiting any tourist attraction.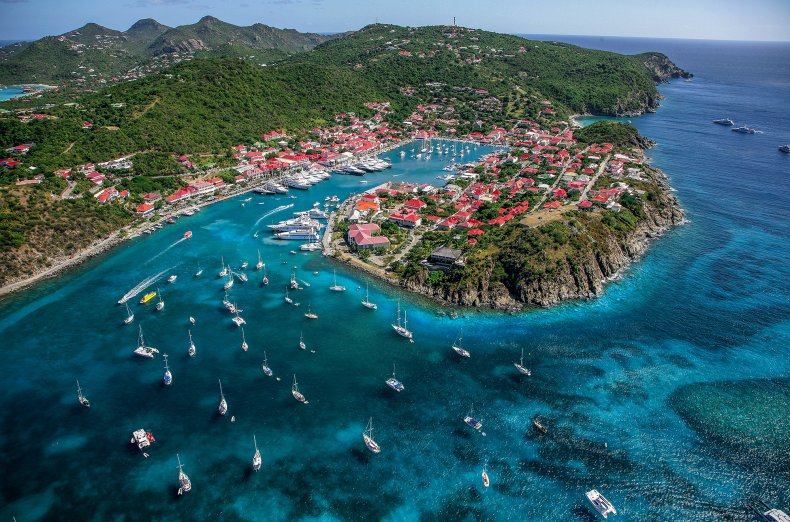 SAINT BARTHS
St. Barths reopened to international tourists in late June. Upon arrival, visitors are required to present a negative PCR test result taken within 72 hours of arrival. Visitors "can perform" seven days of quarantine upon arrival and if the trip lasts more than seven days, tourists will be required to take another test at their own expense.
SAINT LUCIA
Saint Lucia has been welcoming tourists for about a month now, but not without restrictions. Upon arrival, visitors need to present a negative test taken within seven days of travel—unless arriving from within the "Caribbean bubble." All travelers must complete a Pre-Arrival Registration Form prior to arrival. Anyone who arrives without proof of a negative test result will have to immediately enter isolation and receive testing —at the expense of the traveler.
ST. VINCENT AND THE GRENADINES
Upon arrival, tourists will need to have a completed COVID-19 questionnaire and will be tested for the virus at the airport. While awaiting the test result, there will be a mandatory 24-hour quarantine completed in the respective accommodation. If visitors arrive with a negative antibody test—results received in the past five days—and negative COVID-19 result—with results received within the last two days—there will be no quarantine requirement.
SINT MAARTEN
Despite an earlier ban on flights coming in from the U.S. when the airports first opened, Sint Maarten is now open to tourists from the U.S. Visitors from the U.S. must upload a negative COVID-19 test received within 120 hours prior to departure. Alternatively, travelers coming from a country that is categorized as high or moderate risk can receive an antigen test within 48 hours prior to departure — though it must be from a list of approved antigen tests. Visitors must have health insurance coverage, and must fill out a pre arrival form — which can take up to 12 hours to process. Those arriving from high-risk countries, which the U.S. is considered, are required to self monitor body temperature and flu-like symptoms for 14 days after arrival.
SCOTLAND
To enter Scotland from the U.S. travelers will need to quarantine for 14 days as well as provide details of your journey and contact details upon arrival. If proper information is not provided, or the passenger refuses to self-isolate, fines can be imposed.
SERBIA
Serbia has lifted all travel restrictions for international tourists. No negative test result required nor are there any requirements to self-isolate upon arrival. Though it is important to keep in mind, these restrictions can change with little or no notice. As of July 13, there were 4,294 registered active cases in Serbia.
SOUTH AFRICA
Starting November 12, tourists were able to resume travel to South Africa with a few guidelines. Each traveler needs to present a negative PCR test result from no more than 72 hours prior to the time of departure from the origin country. Passengers will be screened for COVID-19 symptoms upon arrival and if any are present, will be expected to take a mandatory COVID-19 test — at the tourist's expense. If the test comes back positive, or a passenger arrives without proof of a test, there will be a mandatory quarantine — also at the tourist's expense.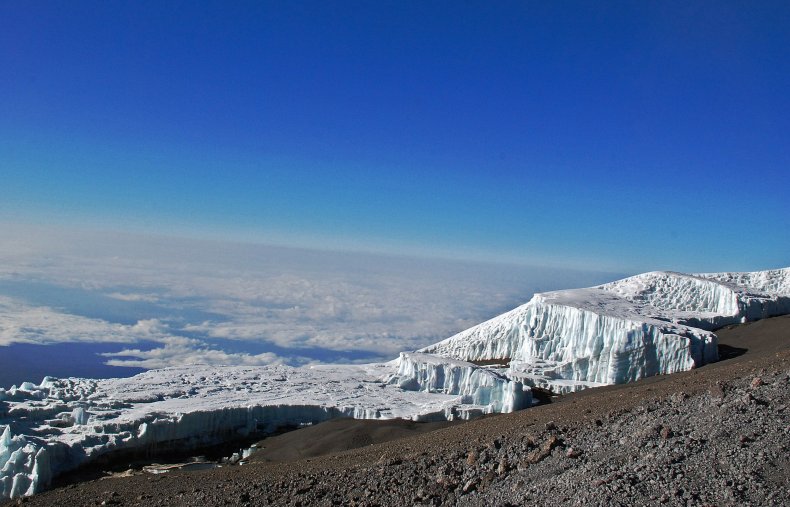 TANZANIA
There are also no major restrictions on entry of international travelers into Tanzania. Tourists should fill out The Health Surveillance Form on the plane and will be screened upon arrival—and when necessary, a COVID-19 rapid test.
TURKEY
In Turkey, though there is no specific health documentation needed to enter, tourists are subject to a screening once they arrive. They will be required to complete an information form and to be checked for symptoms. Anyone who is suspected of having COVID-19 will be transported to a hospital to be further checked out.
The information forms will be used in the event that one passenger on an airplane is found to have the virus. If this is the case, those who came in contact with the person will be contacted and subject to a 14-day quarantine or isolation period. Masks must be worn at all times when out and about and people under the age of 18 are not allowed out unless in the company of a parent. People above the age of 65 are only allowed out between the hours of 10 a.m. and 8 p.m.
TURKS AND CAICOS
Entry from international tourists is set to resume July 22 in the Turks and Caicos islands. Though, cruise ships will remain unable to dock through the end of August. Tourists will need to present a negative COVID-19 test result taken within five days of travel— recently changed from 72 hours. Visitors will also need to complete a health screening questionnaire and posses medical/travel insurance that covers medical evacuation, any quarantine-related costs, ambulance care or care at the local hospital. As of now, masks will be required in all public areas until December 31, 2020.
UKRAINE
Ukraine has opened up their borders to American tourists but asks anyone who visits to download the app "Dii Vdoma" and select one of three options for how they want to enter safely: be observed in a designated isolation unit, isolate for 14 days at their destination or have a negative COVID-19 test result administered shortly after entering the country. Though, isolation can be excused if a tourist comes in with a negative result from no later than 48 hours prior to arrival. Travel health insurance is also required.
U.S. VIRGIN ISLANDS
On June 1, borders reopened for visitors to any of the U.S. Virgin Islands. Currently, there is no documentation required upon arrival, though authorities caution tourists to keep a lookout as the situation might change down the road. Temperature checks and health screenings are being conducted at ports of entry but there is no quarantine is required for healthy travelers.
WALES
Visitors from the U.S. must self isolate for 14 days. If self isolation is refused, you can be fined £1,000. Additionally, if proper contact information is not provided, or if there is failure to update information in the rare case where the place of self-isolation changes, the fine can increase.