Where Is Taliban Leader Haibatullah Akhundzada?
As the Taliban prepares to formally take the reins of government in Afghanistan following their rapid advance and the fall of Kabul on Sunday, attention has turned to the organization's secretive leader, Haibatullah Akhundzada.
While Abdul Ghani Baradar is widely expected to become president of the country, Akhundzada remains the Taliban's top leader and may be expected to play a major role. Mystery surrounds Akhundzada's whereabouts.
In February there were reports that Akhundzada had been killed months earlier in an explosion in Pakistan but these reports were not confirmed and a senior Taliban leader, Ahmadullah Wasiq, said they were "false news and baseless rumors."
Akhundzada became leader of the Taliban—called the emir—in 2016 following the death of the previous leader, Akhtar Mohammad Mansour, in a drone strike on May 21 that year.
Mansour named Akhundzada as his successor in his will. He had served as Mansour's deputy until his death.
Mansour became leader following the death of the Taliban's founding leader, Mullah Omar, who died in 2013 but whose death was not announced until 2015.
Akhundzada is a religious scholar and hardliner from Afghanistan's Kandahar province and was a senior figure in Taliban courts for years before his elevation to leadership of the group.
In that role, it is believed Akhundzada handed out rulings that favored punishments like public executions for murderers and adulterers, as well as amputations for those convicted of theft.
He also had been involved in the Islamic resistance to the Soviet invasion of Afghanistan in the 1980s but is regarded more as a religious scholar than a military commander. In May 2016, Akhundzada reportedly disappeared and there has been significant secrecy about where he's been.
Tricia Bacon, associate professor at the School of Public Affairs at American University in Washington, D.C. and the author of Why Terrorist Groups Form International Alliances, explained Akhundzada's importance to Newsweek.
"As emir of the Taliban, Akhundzada is known as Leader of the Faithful, as his predecessors were. This is the title of the leader of the so-called Islamic Emirate," Bacon said.
"Akhundzada has proven savvy at maintaining unity within the Taliban during this delicate time of negotiations and military conquest. He is unlikely to be involved in day-to-day decision making, but significant strategic decisions would need his buy in."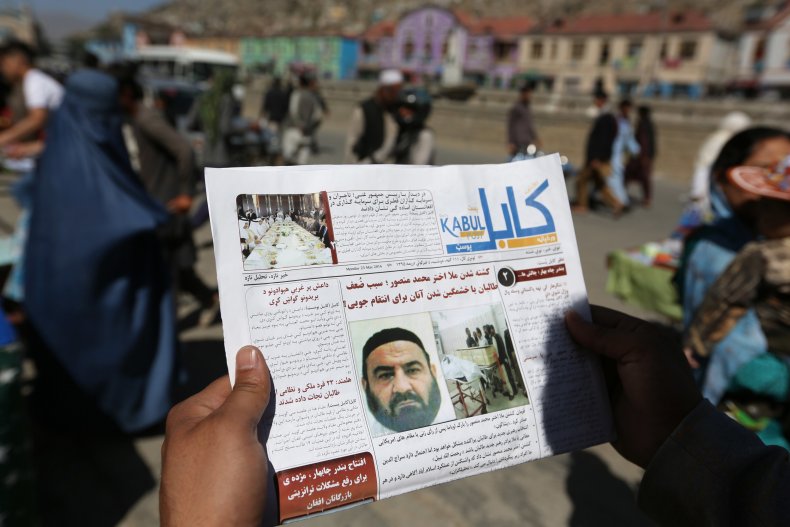 "Akhundzada enjoys respect among his followers in particular for being a religious scholar and sits of the helm of the Taliban's massive structure and its leadership shura. As far as we know, he has been in Afghanistan, which means he has not been in Doha with the political commission or under his neighbor's thumb in Pakistan," Bacon went on.
"It is not unusual for the Taliban's leader to have a low public profile, only appearing occasionally in highly symbolic events. Having said that, there is speculation that he was ill or even dead.
"My analysis on this cuts both ways: hiding yet another leader's death, as occurred with Mullah Omar would risk sowing divisions at a pivotal moment; conversely if he is dead, there would be the risk of jockeying for power at this delicate moment. I lean towards him being alive," she said.
"Al-Qaida and all of al-Qaida's affiliates swear an oath of loyalty to him as well as [Al-Qaeda leader Ayman al] Zawahiri," Bacon said.
"Akhundzada has taken an evasive posture towards this—neither embracing or rejecting such pledges as the Taliban has tried to have it both ways on its relations with foreign militants."
It remains to be seen if Akhundzada will make any public appearances as the Taliban establishes itself as the government of Afghanistan.