Where Is Tulsi Gabbard? Hawaii Congresswoman Didn't Qualify for Third DNC Presidential Primary Debate
As 10 Democratic presidential primary candidates take the debate stage tonight in Houston, some fans of Congresswoman Tulsi Gabbard, who drew significant attention and interest during the first two debates, may be wondering why she isn't standing behind one of the podiums.
Gabbard, along with more than 10 other Democratic 2020 hopefuls, didn't make the cut, due to the Democratic National Committee's (DNC) more stringent requirements. However, Gabbard, who represents Hawaii, has called out the DNC for lacking "transparency" when it assessed whether candidates met the standards required to appear in the third debate.
In order to be part of the third DNC debate broadcast by ABC News and Univision, candidates were required to garner contributions from 130,000 different donors in at least 20 states. Additionally, they had to have at least 400 contributions from each of those states. Every candidate to make the cut also had to have polled at 2 percent or higher in four DNC-approved polls conducted between the end of June and late August.
According to the DNC, the representative from Hawaii didn't meet the 2 percent threshold in enough polls, although she did have enough donors. Gabbard has disputed that, questioning the DNC's decision to accept some poll results and not others. Prior to the late August deadline to qualify for the third debate, her campaign released a statement pointing out that she had "exceeded 2 percent support in 26 national and early state polls, but only two of them are on the DNC's 'certified' list."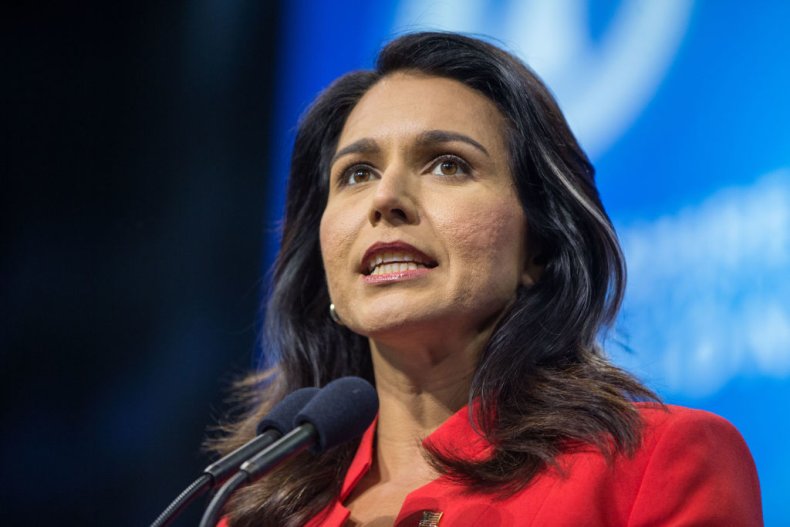 After she failed to qualify, Gabbard did an interview with Fox News host Tucker Carlson, arguing that the DNC's process of selecting polls lacked "transparency."
"People deserve having that transparency, because, ultimately, it's the people who will decide who our Democratic nominee will be and ultimately who our next president, commander in chief will be," Gabbard said. "And when you see that lack of transparency, it creates, you know, a lack of faith and trust in the process."
The next day, she did an interview with Jim Sciutto on CNN, who pushed back a bit more against her arguments. He pointed out that the DNC had been transparent in announcing early on which polls it would accept, and which it would not.
"We could get into a whole of details about, you know, demographics and where exactly these polls are taking place, and more importantly where they're not taking place. I don't think we have the time to get into that here," the congresswoman responded.
Gabbard's presidential campaign press team did not immediately respond to Newsweek's request for comment for this article.
The progressive representative grabbed viewers attention during the second DNC primary debate at the end of July. She was the most-searched candidate while the event was aired live by CNN. During the first round of debates in June, she also drew attention after she fact-checked fellow presidential hopeful Representative Tim Ryan of Ohio live on stage after he inaccurately claimed that the Taliban had attacked the U.S. on September 11, 2001.
"We cannot keep U.S. troops deployed to Afghanistan thinking that we're going to somehow squash this Taliban that has been there, that every other country that has tried has failed," the congresswoman, who is a veteran of the Iraq War, said.
Ryan then responded by arguing: "When we weren't in there, they started flying planes into our buildings. So I'm just saying right now, we have to–"
Gabbard, with a smirk, replied: "The Taliban didn't attack us on 9/11. Al Qaeda did." Although Ryan tried to walk back his remark, Gabbard continued, saying: "Al Qaeda attacked us on 9/11. That's why I and so many other people joined the military, to go after Al Qaeda. Not the Taliban."
The Hawaii congresswoman is still a member of the National Guard, and took time away from her campaign in August to serve. She has strongly opposed involving the U.S. in more interventionist conflicts, and has supported efforts to withdraw American troops from Iraq and Afghanistan. However, her efforts to avoid foreign intervention have also drawn criticism after she traveled to Syria in 2017 and met with embattled and heavily sanctioned Syrian President Bashar al-Assad.
When it comes to domestic policy, Gabbard supports Medicare-for-all, and is part of the congressional caucus backing the policy proposal. During her time in Congress, she has also supported legislation that would eliminate tuition at public universities and colleges for students from families earning less than $125,000 per year.
Despite failing to qualify for the third debate, Gabbard has remained in the primary race.
"I started hearing from a lot of people in the media when they said, 'OK, you didn't make the third debate. Are you quitting?'" she said to voters during a town hall in Atlanta at the end of August.
"Hell, no!" she said to loud applause.
Where Is Tulsi Gabbard? Hawaii Congresswoman Didn't Qualify for Third DNC Presidential Primary Debate | U.S.