North Korean supreme leader Kim Jong Un is in unprecedented demand as the United States and Russia launch bids for face-to-face meetings with the young ruler, whose recent peace initiative has won over leaders of the two countries.
During his fourth trip to Pyongyang on Sunday, Secretary of State Mike Pompeo declared that "everything is great" between the U.S. and North Korea, two nations that have technically been at war for decades due to a failure to reach a peace treaty in the aftermath of a 1950s war. Pompeo added that a second summit between President Donald Trump and Kim would be organized "as soon as possible." The meeting would be a sequel to the first-ever bilateral summit between the two nations hosted by Singapore in June.
Trump, who described last week how he "fell in love" with the longtime U.S. rival, has displayed optimism toward Kim's promise to give up the nuclear weapons that North Korea has long argued were necessary to defend from outside aggression. In a bid for better ties and a lifting of international sanctions, Kim has frozen missile and nuclear tests, dismantled sites associated with such tests, released U.S. prisoners and returned the remains of U.S. veterans who died fighting in one of the first active battles of the Cold War.
Trump himself tweeted Sunday that Pompeo "had a good meeting with Chairman Kim" and said, "I look forward to seeing Chairman Kim again, in the near future."
Trump is not alone in wanting an audience with the head of state who, until earlier this year, had made no visits abroad and received no foreign leaders since taking over following his father's death in late 2011. Kim broke this streak in March, when he traveled in secrecy to Beijing to meet Chinese President Xi Jinping. The move, which came shortly after Trump accepted Kim's invitation to meet in person, also signaled a turn in a period of relative iciness between the two longtime allies and paved the way for two additional meetings between Kim and Xi.
Kim has also met with South Korean President Moon Jae-in three times, a record for two countries whose leaders have only met twice prior to this year. With North Korea's regional ties at a potentially all-time high and its relationship with the U.S. booming, another one of the notoriously elusive nation's neighbors is looking to get close to Kim.
Russia has long discussed the possibility of bringing Kim there to meet directly with Russian President Vladimir Putin, who has frequently weighed in on the issues of the Korean Peninsula and U.S. involvement there. The deputy foreign ministers of both countries agreed on closer security cooperation on Monday. That same day, Kremlin spokesperson Dmitry Peskov told reporters that "indeed, consultations on the possible date, place and format of such a visit are underway," according to the state-run Tass Russian News Agency.
"In case the details of such a visit are agreed on through diplomatic channels, we will make an announcement," he continued. "As of now, I cannot provide you with any specific information."
Like China, Russia has a history of supporting North Korea while at the same time opposing its possession of nuclear weapons. China and Russia voted alongside the U.S. to enact strict sanctions on North Korea after nuclear tests, but Moscow and Beijing have also expressed deep opposition toward U.S. military presence in the Asia-Pacific region and its installment of advanced missile defense systems in South Korea. The U.S. has also accused both countries of violating sanctions by secretly maintaining trade with North Korea.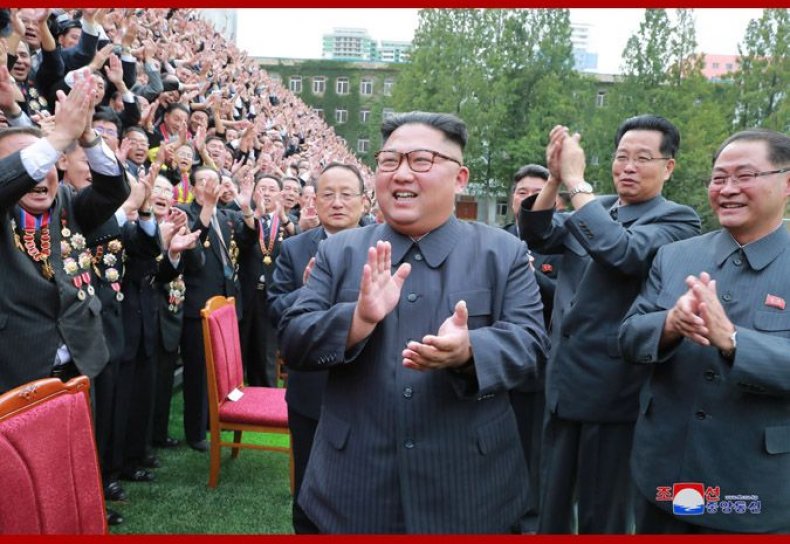 While Kim and Putin have exchanged messages of support for one another, they have yet to meet in person. Putin, who has led Russia as president or prime minister since late 1999, did meet Kim's father Kim Jong Il during a historic visit to Pyongyang in 2000. The two countries exchanged several more high-level visits, the last of which took place just months before the elder Kim's death in 2011.
In August, the Korean Central News Agency carried a telegram from Putin congratulating Kim on his country's National Liberation Day and saying, "I am ready to meet you at an early date to discuss urgent issues of bilateral relations and important matters of the region." The outlet also cited Syrian President Bashar al-Assad in a June message saying he was "going to visit the DPRK and meet" Kim, using an acronym for the country's official name, the Democratic People's Republic of Korea. No date or venue was set for either offer.
Moon, who has been seeking greater regional cooperation in his push for peace with North Korea, told a cabinet meeting Monday that "besides the second U.S.-North Korea summit, Chairman Kim Jong Un's visit to Russia and Chinese President Xi Jinping's visit to North Korea are expected to take place in the near future."
"In addition, it is possible that a Japan-North Korea summit will be held. A new order is about to take shape on the Korean Peninsula," Moon added. "This new order on the Peninsula will lead to a new order in Northeast Asia. I believe the entire process is both essential and helpful for the complete denuclearization of the Korean Peninsula and the establishment of a permanent peace regime. Proactive efforts should be made for cooperation with other countries concerned besides the United States so that the last remaining Cold War rivalry on Earth can be dissolved."