As the incidence of reported positive coronavirus cases continues to increase, countries across the globe are imposing stay-at-home orders in attempts to curb the disease's spread. In a live video address shared to Twitter on Tuesday, Prime Minister Narendra Modi announced India would become the latest to impose a three-week "complete lockdown," set to begin at midnight
India joins nearly a dozen countries facing extended national lockdowns. Hoping to counter the virus' spread, Italy, France, Spain, Belgium, the United Kingdom, South Africa, Colombia, Bolivia, Jordan and Tunisia have already implemented countrywide quarantine policies. After a surge in confirmed cases of COVID-19, New Zealand is expected to do the same starting Wednesday night. Italy, where the outbreak has killed more than 600 people, was the first to enforce a comprehensive lockdown on March 9. France, Spain and Belgium followed suit in subsequent days.
"If we have to stop the spread of corona, we have to break the cycle of infection," Modi said in his Tuesday statement, before outlining the terms of India's new mandate. "To save India, and every Indian, there will be a total ban on venturing out of your homes. Every state, every union territory, every district, every village and every locality is being put under a lockdown."
Modi called the directive "an essential step" toward mitigating COVID-19's impact across India, which—like dozens of countries worldwide—has become more prevalent in recent weeks, despite scattered statewide quarantine orders and curfews. According to the Washington Post, India has now reported 519 coronavirus cases and 10 deaths in total.
India's impending lockdown trails a series of similar announcements made earlier this week. In response to Britain's rising death toll (the country has reported 335 fatalities as a result of coronavirus, 54 of which occurred over the course of 24 hours), UK Prime Minister Boris Johnson implemented a lockdown policy during a press conference Monday night. The ban prohibits residents from leaving their homes except for "very limited purposes," Johnson explained. Basic shopping, independent exercise and certain occupational pursuits, particularly with regard to medical services, will be permitted.
President Cyril Ramaphosa announced South Africa's 21-day lockdown on Monday as well. "Immediate, swift and extraordinary action is required if we are to avoid human costs of this virus," Ramaphosa told citizens in a televised public address.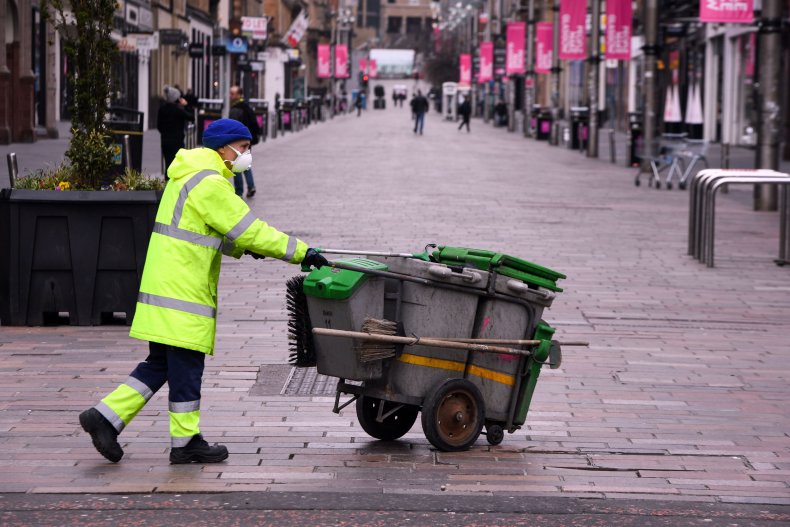 As of Monday, the World Health Organization (WHO) reported that 375,035 positive cases of coronavirus had been confirmed across the world. Figures suggested that 101.554 patients had recovered, while 16,359 had died.
Though the United States has yet to issue a federal lockdown ordinance, many states and cities have enacted stay-at-home orders. More than 46,000 positive cases of novel coronavirus have been reported across the U.S., with the fatality count now exceeding 500. According to new calculations from CNN, partial or total lockdown policies due to coronavirus will affect approximately 2.5 billion people—or 30 percent of the global population.