Which Countries Condemned Pelosi's Taiwan Visit
House Speaker Nancy Pelosi has gone ahead with her visit to Taiwan, defying threats from China and even recommendations from the U.S. military and the Biden administration against making the trip.
The controversial visit might not have sparked World War III—as many on social media feared —but it has certainly shown which countries Beijing can rely on for support in matters that challenge its proclaimed sovereignty and places the country is in conflict with the West.
In the aftermath of Pelosi's trip to the self-governing island that Beijing claims as part of its territory, Iran, Syria, Russia and the Palestinian Authority have all spoken out to condemn the House Speaker's visit, echoing China's outrage against the U.S.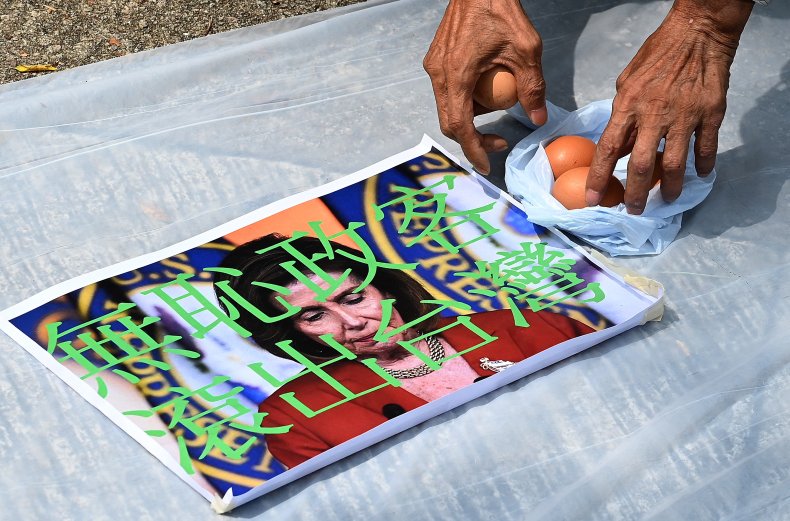 Syria's Ministry of Foreign Affairs called Pelosi's visit "an act of hostility which doesn't match with the international law, and doesn't respect the sovereignty, independence and territorial integrity of the People's Republic of China," according to the state-run news outlet SANA.
Iran's Foreign Ministry spokesperson Nasser Kanaani was reported by the official Islamic Republic News Agency (IRNA) as criticizing Pelosi's visit as yet another example of the U.S. failing to respect its foreign policy commitments and intervening abroad only to create instability and fueling existing differences in those regions.
Kanaani also reiterated Iran's support for Beijing's one-China policy. The comments come after a reported phone call between Iran's President Ebrahim Raisi and China's President Xi Jinping last week, according to IRNA, where the two leaders discussed improving their bilateral relations.
The Palestinian Authority also expressed its support for China in the Pelosi dispute, with the Palestinian presidency calling for a halt to any actions threatening China's proclaimed sovereignty and one-China policy, according to the Palestinian Authority's WAFA news outlet.
Most significantly at a time when Russia is involved in a brutal conflict in Ukraine, Moscow has also expressed its backing for Beijing, standing by the ally whose support has helped Russian President Vladimir Putin as he faces global pariah status due to his invasion of Ukraine.
Before Pelosi's visit was confirmed, Kremlin spokesman Dmitry Peskov told reporters that her possible trip to Taiwan was "purely provocative."
Maria Zakharova, Russia's Foreign Ministry spokeswoman, echoed Peskov's words, calling the U.S. "a state provocateur."
"Russia confirms the principle of 'one China' and opposes the independence of the island in any form," she said.
Russia's Foreign Minister Sergei Lavrov spoke even harsher words on Wednesday, accusing the U.S. of simply trying to irritate China with Pelosi's visit.
"I see no other reason to create such an annoyance almost out of the blue, knowing very well what it means for the People's Republic of China," Lavrov said during a visit to Myanmar, as reported by Reuters.
What Now?
Beijing had warned Washington for days, as rumors that the U.S. House Speaker would visit Taiwan grew, that there would be consequences to such a trip.
China, which claims the self-governing island of Taiwan as part of its own territory, has accused the U.S. of "provocation" and undermining Beijing's one-China policy, despite Washington reassuring Beijing that Pelosi's visit does not change the island's status quo.
Though it might not have challenged the way the U.S. approaches Taiwan —sharing unofficial diplomatic relations with the island but falling short of recognizing it as a country—, Pelosi's visit has been warmly welcomed by Taiwan's leaders, who praised and thanked the House Speaker for her bold gesture of support.
China's reaction to what it considers a provocation is still unclear and the situation is currently unfolding, as on Wednesday Taiwan's Defense Ministry reported that Beijing had started military drills which had encroached on the island's territory.