How China Social Media, Beijing Reacted to Pelosi's Taiwan Trip
Speaker of the House Nancy Pelosi briefly crashed one of China's largest social media websites when her congressional delegation landed in Taiwan for a historic visit on Tuesday.
The California Democrat and her entourage had kept their itinerary close to their chest despite leaks to the press, which threatened to further strain the U.S.-China relationship as both Washington and Beijing grappled with an appropriate response to a move that both governments appeared to disapprove of.
Weibo, the Chinese social media site with more than 580 million active monthly users, apologized after its mobile app went down for 30 minutes shortly after Pelosi's plane arrived at Songshan Airport in the Taiwanese capital at 10:40 p.m. local time.
Social media users, tens of millions of whom watched a live stream of the speaker's plane touching down, erupted in nationalistic fervor on the back of Beijing's repeated warnings that the visit must not happen.
Weibo users frequently described Pelosi as an "old witch," while trending hashtags created by China's state-run news outlets included "U.S.-Taiwan collusion and provocation; those who play with fire will perish by it"—a popular phrase borrowed from the Chinese Foreign Ministry.
"1.4 billion people disagree with interference in China's sovereignty issues," another popular hashtag read. Beijing claims Taiwan as part of its territory.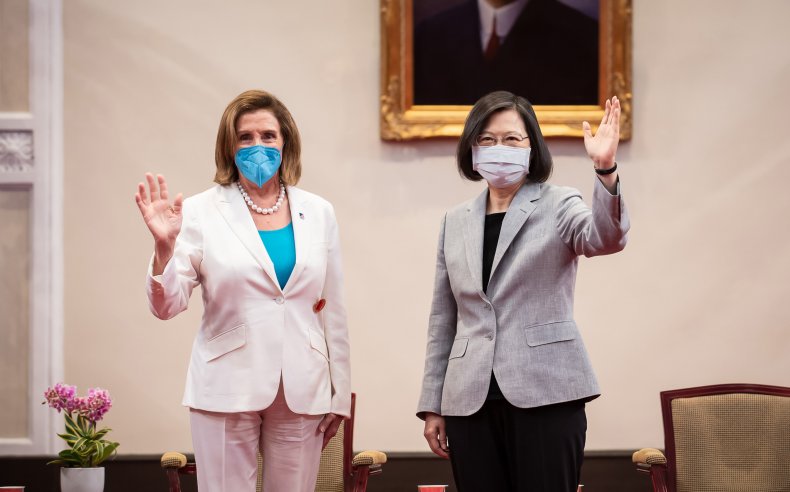 Among the discussions on Weibo were feelings of disappointment that the Chinese government hadn't reacted as strongly as its words suggested it would. In part, the expectation was created by nationalistic commentary from the likes of Hu Xijin, the former editor of China's state-run tabloid the Global Times, who in a now-deleted tweet suggested the Chinese military could "shoot down" the House speaker's aircraft.
After Pelosi landed in Taipei, Hu asked the public to remain confident in the Chinese leadership. "Taiwan is right next to mainland China, and we hold all the cards," he said in a Weibo post. "I urge everyone to have confidence in our party and our government, and have faith in the People's Liberation Army [PLA]. Pelosi cannot subvert China's sovereignty and territorial integrity."
Elsewhere on Weibo, anti-war comments appeared to be deleted within moments of being posted. Many also questioned whether Chinese authorities should continue to allow Hu to be perceived in the West as the country's de facto spokesperson.
Analysts argue that Hu's often inflammatory rhetoric, which mostly avoids censorship in China's highly regulated information environment, points to Beijing's tacit endorsement of his harder line. Chinese officials, meanwhile, are often more measured and less direct.
As Pelosi arrived in Taiwan on August 2 to become the most senior American elected official to visit the island in a quarter-century, China announced a ban on imports from over 100 Taiwanese businesses, a decision that could have far-reaching implications for the island's current trade dependency on its larger neighbor. On Wednesday, more boycotts of Taiwanese products were declared, as well as a restriction on the export of natural sand to Taiwan.
The PLA, which marked its 95th anniversary on Monday, was already preparing a series of military drills along the Chinese coast before Pelosi's historic trip. After she landed, more exercises were announced, including a series of live-fire tests surrounding the island's major ports—moves anticipated by the White House.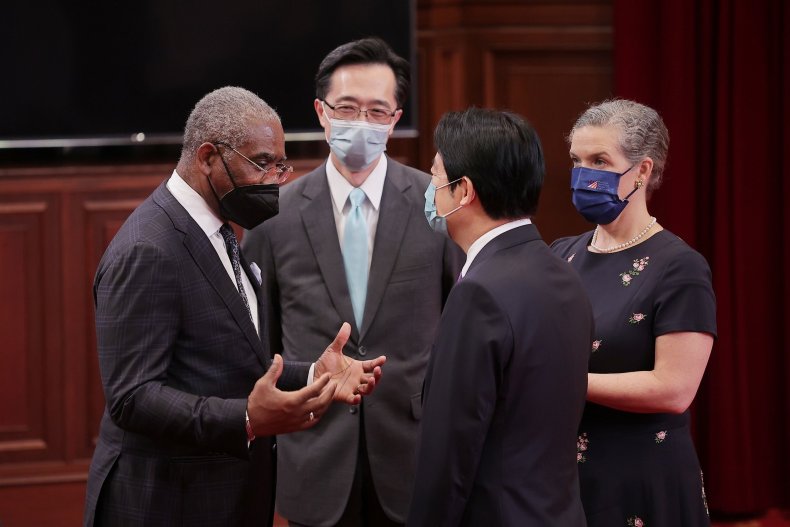 Diplomatic protests from Beijing have continued throughout the week and included a lengthy statement by China's Foreign Ministry late on Tuesday.
"The Taiwan question is the most important and most sensitive issue at the very heart of China-U.S. relations," it read. "The Taiwan Strait is facing a new round of tensions and severe challenges, and the fundamental cause is the repeated moves by the Taiwan authorities and the United States to change the status quo."
Beijing argues the Biden administration had the authority to prevent Speaker Pelosi's travel to Taipei. The White House says Congress is an independent and co-equal branch of the U.S. government, and its members make their own decisions.
The Taiwanese government, which didn't confirm Pelosi's arrival until minutes before her plane landed, welcomed the delegation as a demonstration of Congress' support for U.S.-Taiwan relations. Other lawmakers in her cross-Asia traveling party included Reps. Gregory Meeks (D-NY), Mark Takano (D-CA), Suzan DelBene (D-WA), Raja Krishnamoorthi (D-IL) and Andy Kim (D-NJ).
On Wednesday, Pelosi's itinerary included meetings with President Tsai Ing-wen of Taiwan and members of the island's legislature. She was scheduled to greet Taiwan-based human rights activists before departing Taipei in the afternoon.
The trip to Taiwan was her first in 22 years and also the first by a serving House speaker since Republican Newt Gingrich in 1997. In Washington on Tuesday, National Security Council spokesperson John Kirby said the U.S. anticipated a sustained response from Beijing.
"China has positioned itself to take further steps, and we expect that they will continue to react over a longer-term horizon," he said. "The United States will not seek and does not want a crisis. We are prepared to manage what Beijing chooses to do."
Taiwan's Defense Ministry said the island's armed forces were prepared to respond to contingencies as necessary.