Which States Have 'Red Flag' Gun Laws in Place?
Following Tuesday's school shooting in Uvalde, Texas, the idea of imposing a national "red flag" gun law is being discussed across the U.S.
Among the 21 victims shot by Salvador Ramos, 18, at Robb Elementary School, 19 were children and two were teachers, all of whom were in one classroom.
The shooting has prompted many politicians to discuss imposing new laws restricting access to guns, including "red flag" laws. According to Everytown for Gun Safety, "red flag" gun laws, officially known as extreme risk laws, allow family members or law enforcement officials to prevent an individual from accessing a gun if they believe the person is in crisis.
"These laws permit immediate family members and law enforcement to petition a civil court for an order—often called an extreme risk protection order (ERPO)—to temporarily remove guns from dangerous situations," Everytown for Gun Safety said in a fact sheet on April of 2021.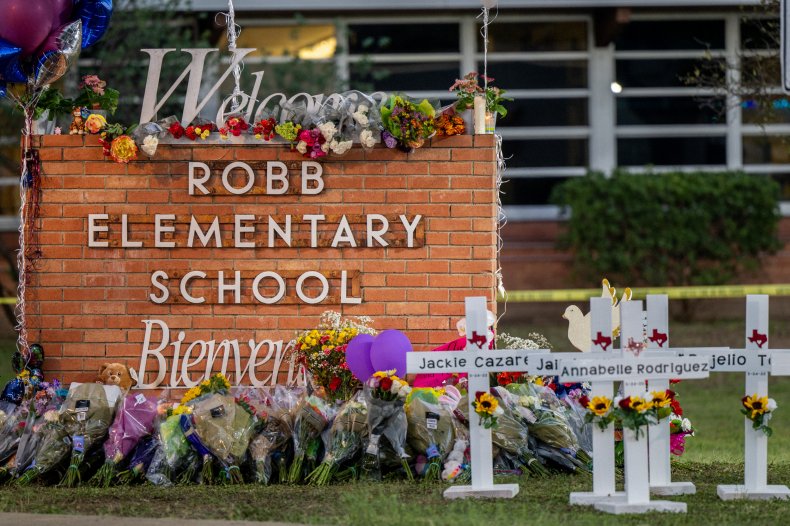 "If the court finds that someone poses a serious risk of injuring themselves or others with a firearm, that person is temporarily prohibited from purchasing and possessing guns. The guns they already own will also be held by law enforcement or another authorized party while the order is in effect."
According to data from Everytown for Gun Safety, as of April of 2021, at least 19 states and Washington, D.C. had "red flag" gun laws. The states are: California, Colorado, Connecticut, Delaware, Florida, Hawaii, Illinois, Indiana, Maryland, Massachusetts, Nevada, New Jersey, New Mexico, New York, Oregon, Rhode Island, Vermont, Virginia and Washington.
In April of 2021, U.S. President Joe Biden called on Congress to pass a national "red flag" gun law, but calls have increased in the past several days following the Uvalde shooting and the mass shooting in Buffalo, New York.
During a recent interview with PBS, Senator Chris Murphy, a Democrat from Connecticut, said that he has continued to speak with lawmakers on both sides of the aisle in hopes of finding "common ground" on gun safety legislation.
"We're talking about some minor expansions of background checks, getting more sales through the background check system. We're talking about red flag laws," Murphy said. "These are the laws that allow you to take weapons away from people who are showing signs of breaks with reality or are showing signs of future violence."
Republican Senator Rick Scott of Florida told Axios on Wednesday that he would be "OK with" a federal "red flag" gun law but noted that it he thinks it should be left up to states.
During a recent interview with WNRP radio in Florida, Scott further spoke about his thoughts on "red flag" laws, saying that he thinks "every state has to look at what fits their state," adding that Florida's "red flag" law has worked.
Newsweek reached out to Everytown for Gun Safety for comment.
Update 5/27/22, 3:17 p.m. ET: This story was updated with more information about Senator Rick Scott's views on "red flag" gun laws.