Updated: 8:34 p.m. ET— In an uncommon move, the office of special counsel Robert Mueller issued a statement in response to a report from Buzzfeed News that alleged President Donald Trump told his former lawyer Michael Cohen to lie under oath.
"BuzzFeed's description of specific statements to the special counsel's office, and characterization of documents and testimony obtained by this office, regarding Michael Cohen's Congressional testimony are not accurate," said Peter Carr, spokesman for the special counsel's office, in a statement to Buzzfeed News.
Buzzfeed's Editor-in-Chief Ben Smith said the outlet stood by it's reporting. He tweeted: "In response to the statement tonight from the special counsel's spokesman: We stand by our reporting and the sources who informed it, and we urge the Special Counsel to make clear what he's disputing."
Original story:
Buzzfeed dropped a bombshell article on Thursday evening that surfaced allegations that President Donald Trump had instructed his former attorney Michael Cohen to lie under oath—an allegation that if true would amount to obstruction of justice. Come Friday, the White House deputy press secretary, Hogan Gidley, repeatedly refused to deny that Trump had instructed Cohen to lie.
The report from Buzzfeed cited two unnamed federal law enforcement officials who said special counsel Robert Mueller had learned, through witnesses and documents, that Trump had instructed Cohen to lie and that Cohen—who cooperated with authorities and was sentenced to three years in federal prison for several crimes, including lying to Congress and violating campaign finance laws—confirmed that allegation.
Gidley first questioned Buzzfeed's credibility by bringing up its publishing a famous dossier on Trump's connections to Russia, which included explosive findings gathered by a former British spy.
Gidley said:
"This is absolutely ludicrous that we are giving any type of credence or credibility to a news outlet like BuzzFeed. They are responsible completely and totally for the release of a discredited, disproven, false dossier. And the author of the piece in question that you're taking about on air this morning and said he couldn't corroborate any of his own evidence. He ran it anyway. This is quite frankly the problem with the press and why the president continues to call them fake news repeatedly. Because there is nothing in that piece that can be corroborated."
After Fox host Bill Hemmer pointed out that Buzzfeed did not see the evidence but relied on trusted sources who had access to it, Gidley again criticized the media and claimed that Trump was routinely barraged by false stories.
"You're saying the president did not tell Michael Cohen to do that?" Hemmer asked in response.
"I'm telling you right now, this is exactly why the president refuses to give any credence or credibility to news outlets because they have no ability to corroborate anything they're putting out there," Gidley said. "Instead they're just using innuendo, shady sources."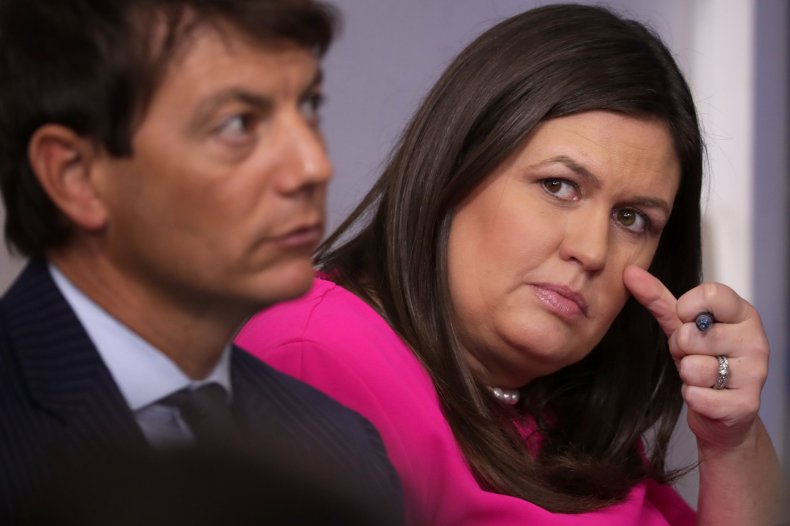 Pushing back, Hemmer responded: "That was not a denial of my question."
"No. But the premise is ridiculous," Hogan replied. "We are also talking about a person in Michael Cohen, who quite frankly has been proved to be a liar. He self-admits that he's a felon. So to give him any credibility it just doesn't warrant any response from the White House or this president."
When the Fox hosts again followed up by saying the headline was that Trump instructed Cohen to lie under oath and again gave Gidley the chance to deny and he again refused.
Asked if that allegation was true or false, Gidley responded: "Right. But the president's attorney has also addressed this. I'm not gonna give any credence or credibility to Michael Cohen, who's a convicted felon and an admitted liar. That's just ridiculous. I'm not gonna do that from the White House."
At the time, Gidley appeared to be referring to a statement from Trump's lawyer Rudy Giuliani, who also did not deny the heart of the BuzzFeed report but rather attacked Cohen. "If you believe Cohen I can get you a great deal on the Brooklyn Bridge," he told The Washington Post late Thursday.
Shortly after midday Friday, Giuliani, Trump's personal lawyer, came out with a more forceful statement—and the first outright denial.
"Any suggestion—from any source—that the president counseled Michael Cohen to lie is categorically false," he said to the Los Angeles Times, adding, "Today's claims are just more made-up lies born of Michael Cohen's malice and desperation, in an effort to reduce his sentence."
If the allegations in the Buzzfeed report are proved to be true, it could mean serious problems for the White House. Trump's own nominee for attorney general, William Barr, said under oath that a president instructing someone to commit perjury was obstruction of justice.