White House Promises Next Round in $15 Minimum Wage Fight Will Begin This Week
The White House has promised that its second push for the $15 federal minimum wage will begin this week as it plans to line up Senate votes for a second attempt at passing the pay hike.
White House Chief of Staff Ron Klain told MSNBC on Sunday that the Biden administration would be talking with allies on Capitol Hill this week about a "legislative strategy" for getting the votes needed to pass the $15 minimum wage.
He added that it would have been "quite incredible" if the White House had managed to get the $15 minimum wage passed through the budget reconciliation process with the rest of the $1.9 trillion COVID relief bill.
Speaking to The Mehdi Hasan Show on Sunday, Klain said: "We're definitely going to push for the minimum wage. We're in the fight for 15."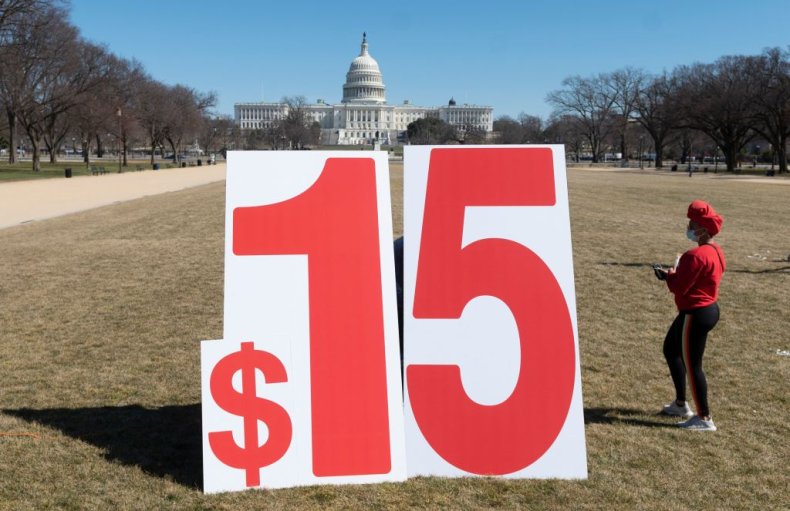 He later added: "Raised in the first 50 days. That would have been really quite incredible. But we are going back at it to try and find a legislative strategy, to try and get the votes together to pass the minimum wage.
"We'll be starting to work on that this week at the White House. We're going to talk to our allies on Capitol Hill, our allies in the broader fight for 15, and figure out how we line up votes, and how we move it through the legislative process."
Newsweek has contacted the White House for further comment and information on the $15 minimum wage talks.
The proposed federal minimum wage hike was effectively blocked by the Senate Parliamentarian Elizabeth MacDonough and the Biden administration in February.
MacDonough ruled that the wage increase was outside the remit of budget reconciliation rules, and Vice President Kamala Harris refused to overrule the unelected official, despite it being well within her power to do so.
When Senator Bernie Sanders (I-VT) made a final attempt to include the $15 minimum wage hike in President Joe Biden's American Rescue Plan, his proposal was defeated in a 58-42 vote. Seven Democrats and one independent voted with Republican lawmakers to curtail the wage hike.
Releasing a statement after the parliamentarian's ruling, White House Press Secretary Jen Psaki said: "President Biden is disappointed in this outcome, as he proposed having the $15 minimum wage as part of the American Rescue Plan. He respects the parliamentarian's decision and the Senate's process.
"He will work with leaders in Congress to determine the best path forward because no one in this country should work full time and live in poverty."