White House Turns to Republicans for Neera Tanden Support After Joe Manchin Opposition
The Biden administration is looking to Republican senators as it fights to confirm Neera Tanden as the next director of the Office of Management and Budget, amid questions over her suitability for the post.
White House Chief of Staff Ron Klain told MSNBC on Wednesday night that the administration was "talking to" Republicans in the upper chamber after Senator Joe Manchin (D-WV) said he would not be able to support her nomination over past remarks she had made about his Senate colleagues on social media.
Tanden needs the support of 50 senators if she is to be confirmed thanks to a tiebreaker vote from Vice President Kamala Harris. As it stands, the White House needs to find at least one Republican vote, but could require more if other Democrats split with the administration on Tanden's nomination.
Speaking to MSNBC last night, Klain said: "We're fighting very hard for Neera. We had Senator [Chuck] Grassley announce tonight that he's open minded on Neera's confirmation. We've got other Republican senators we're talking to.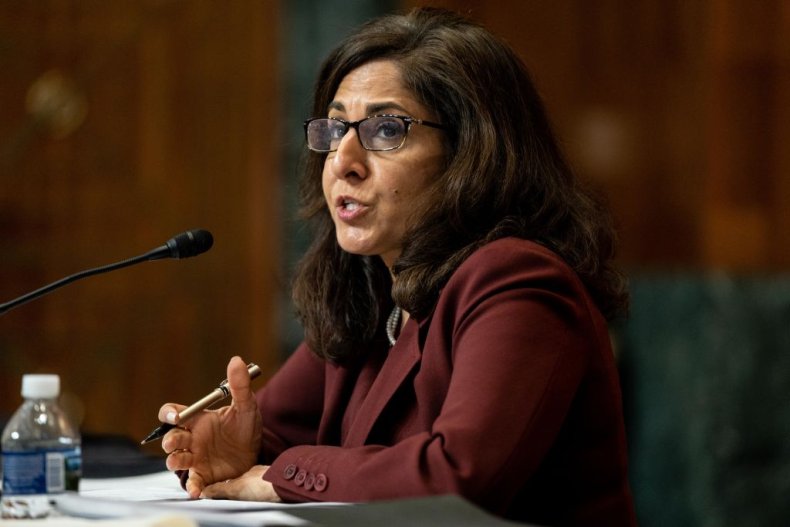 "We know that getting someone confirmed in a 50-50 Senate is hard. But, Neera Tanden would be a superb budget director."
The White House chief of staff later added: "If we can get a Republican to be the fiftieth vote, I do think we will be able to hold the rest of the Democrats, and I do think we can get Neera confirmed if we find that Republican vote. That's what we're working on right now."
Newsweek has contacted the White House for further comment and details on the administration's push to have Tanden confirmed by the upper chamber.
Releasing a statement last week, Sen. Manchin said he believed Tanden's "overtly partisan statements" would have a "toxic and detrimental impact" on her working with members of Congress as the OMB director.
"For this reason, I cannot support her nomination," he added. "As I have said before, we must take meaningful steps to end the political division and dysfunction that pervades our politics.
Senator Susan Collins (R-ME) said she would also refuse to confirm Tanden to her nominated post, arguing that she had neither the "experience nor the temperament" to carry out the duties of the role.
However, the Biden administration has defended its nominee. White House Press Secretary Jen Psaki said Tanden had an "important perspective and values," and added that she had "critical qualifications" for the OMB director role.
"She has a broad spectrum of support, ranging from the U.S. Chamber of Commerce to labor unions, and has a strong record of working with both parties that we expect to grow in President Biden's cabinet as the first South Asian woman to lead OMB," Psaki said.