Manchin Won't Support Neera Tanden for OMB Director, Putting Biden Pick In Jeopardy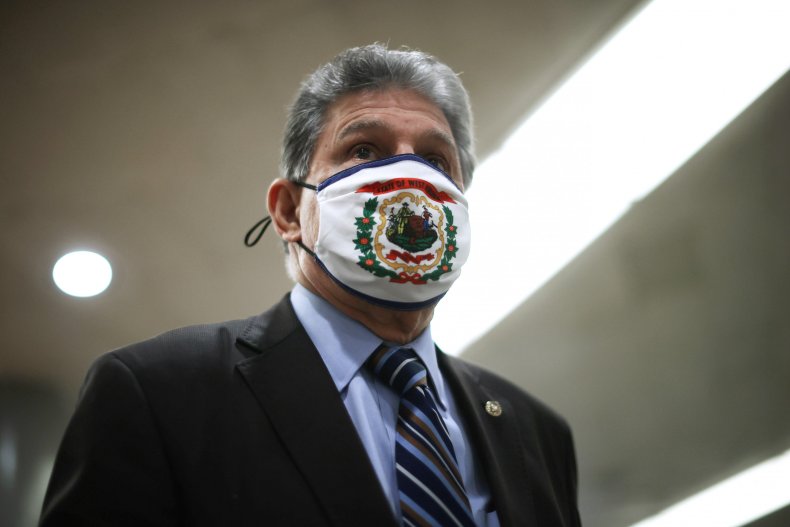 Sen. Joe Manchin (D-W. Va.) announced that he does not support President Joe Biden's nomination of Neera Tanden to lead the Office of Management and Budget on Friday.
Biden's November nomination of Tanden, a key figure in drafting the Affordable Care Act during the administration of former President Barack Obama, was immediately controversial due to her history of fiery social media posts aimed at both Republicans and progressive Democrats. Opposition from Manchin, a moderate Democrat, greatly complicates her chances of being confirmed in the Senate due to Democrats holding a razor-thin majority in the upper chamber.
"I have carefully reviewed Neera Tanden's public statements and tweets that were personally directed towards my colleagues on both sides of the aisle from Senator [Bernie] Sanders to Senator [Mitch] McConnell and others," Manchin said in a statement. "I believe her overtly partisan statements will have a toxic and detrimental impact on the important working relationship between members of Congress and the next director of the Office of Management and Budget."
"For this reason, I cannot support her nomination," he continued. "As I have said before, we must take meaningful steps to end the political division and dysfunction that pervades our politics. At a time of grave crisis, it is more important than ever that we chart a new bipartisan course that helps address the many serious challenges facing our nation."
Biden said that he would not withdraw Tanden's nomination after being asked about Manchin's opposition on Friday. The president told reporters that he believes Democrats "are going to find the votes and get her confirmed" after returning to Washington, D.C. following a visit to a Michigan COVID-19 vaccine facility.
Manchin's announcement could embolden other senators to oppose Tanden's nomination. Even without any other Democratic dissent, Tanden could easily become Biden's first cabinet pick to be rejected by the Senate. There are only 50 senators in the Democratic caucus, with Vice President Kamala Harris holding the power to break ties. At least one Republican senator will need to vote for Tanden for her to be confirmed without Manchin's vote.
Republicans have strongly opposed Tanden's nomination since it was first announced. Senator Lindsey Graham (R-S.C.) called Tanden a "nut job" shortly after her nomination, while others suggested she had no chance of winning GOP votes after divisive tweets that included comparisons of Sen. Ted Cruz (R-Texas) to a vampire and Senate Minority Leader Mitch McConnell (R-Ky.) to Voldemort, the central villain in the Harry Potter book series.
Tanden apologized for her past remarks during her Senate confirmation hearings last week, promising that she was willing to "work with anyone," but it is not clear that her remarks won her any new support. In addition to Republicans, she has also battled figures like Sen. Bernie Sanders (I-Vt.), who chided her for "vicious attacks against progressives" during the confirmation hearings.
Sanders later indicated that he would vote to confirm Tanden despite their contentious history, which was fueled by Tanden's opposition to certain progressive policies like Medicare For All. No Republicans have announced that they intend to vote in favor of Tanden's confirmation.
Newsweek reached out to the White House for comment.