Trump's White House Wall Sparks Wave of 'Bunker Boy' Memes
A wall erected around the White House ahead of election day has sparked a flurry of memes on social media poking fun at the security plan and mocking President Donald Trump.
The security measures on Monday saw the construction of a fence around the perimeter of the White House complex to protect it from possible protests as authorities take precautions from possible unrest, particularly if there is no clear winner by Wednesday.
First reported by NBC, the "non-scalable" wall will encompass the Ellipse and Lafayette Square, go down 15th Street to Constitution Avenue and then over to 17th Street. The fence will then head up to H Street to Lafayette, and down 15th Street. At least 250 National Guardsmen have also been put on standby.
Celebrities were quick to react, such as actor Patricia Arquette, who referring to Trump, tweeted: "a wall that keeps people out also keeps you in." Another actor, Jon Cryer tweeted: "Trump is clearly a president confident in his mandate from the American people."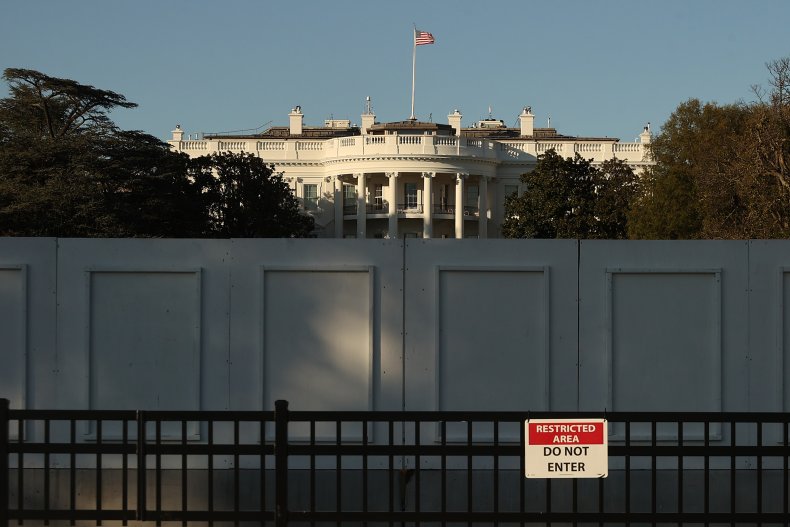 Ahead of the ballot on Tuesday, the wall has also sparked memes which reprised the hashtag #Bunker Boy. This was a nod to protests sparked by the police killing of George Floyd in May when Trump and his family were rushed to an underground bunker which had been used in the past during terrorist attacks, according to the New York Times. As the protests raged, a similar wall was built around the White House.
Twitter user Blotus in the Lie House tweeted an image of Trump cowering in the corner of a room, with the hashtag Bunker Boy. Another tweeted a mocked up image of barbed wire surrounding a White House roof whose gable resembles the hat of a Ku Klux Klan member.
Another Twitter used shared a cartoon of a scared looking president rolled up into a brick wall, while another tweeted an image of a wall with people on top of it, with the message "the #BunkerBoy is building an 'unscalable' wall around the WH." Meanwhile, Joe Sayre tweeted a cartoon image of a princess looking out over the bastion of a castle, with the message: "Trump built an unscalable wall around the White House."
Eve Natalie shared an image of Trump in a gutter beneath the street, with the message: "What's #bunkerboy afraid of? Us?"
DC's Homeland Security and Emergency Management Agency has said there had not been any specific or credible threats regarding the election although there would be a fully mobilized police department due to likely "First Amendment activities" in the coming days, CNN reported.
"If there's no winner, you will see significant deployments of officers at all levels across the capital," Patrick Burke, executive director of the Washington, D.C., Police Foundation told the network last month.
The graphic below provided by Statista shows the concerns of the American electorate ahead of the election.