White nationalist leaders who featured prominently in the deadly Unite the Right rally that took place in Charlottesville, Virginia, last August have told Newsweek that they are unlikely to attend a reboot of the event planned for its one-year anniversary.
Jason Kessler, one of the organizers of last year's rally, applied for a permit for a second event in November 2017, but it was rejected by the city. He has since sued Charlottesville over that denial, blaming officials for the violence that took place, in an effort to get a sequel on its feet.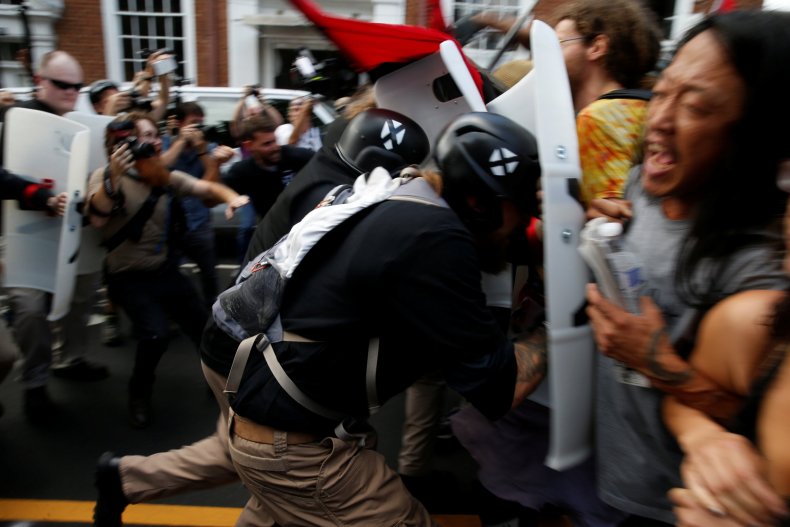 But it's becoming increasingly clear that other white nationalists do not share Kessler's appetite to return to the city to protest the removal of a statue of Confederate General Robert E. Lee. The first Unite the Right event was costly for the far right, both financially and politically, analysts have noted. The event, which saw members of the Ku Klux Klan and younger, more internet-savvy white nationalists marching side by side, has spawned a myriad of criminal and civil court cases. Many attendees of the rally also lost their jobs or were ostracized by their families after activists and concerned citizens circulated photographs of them online. Others are in jail, or currently awaiting trial.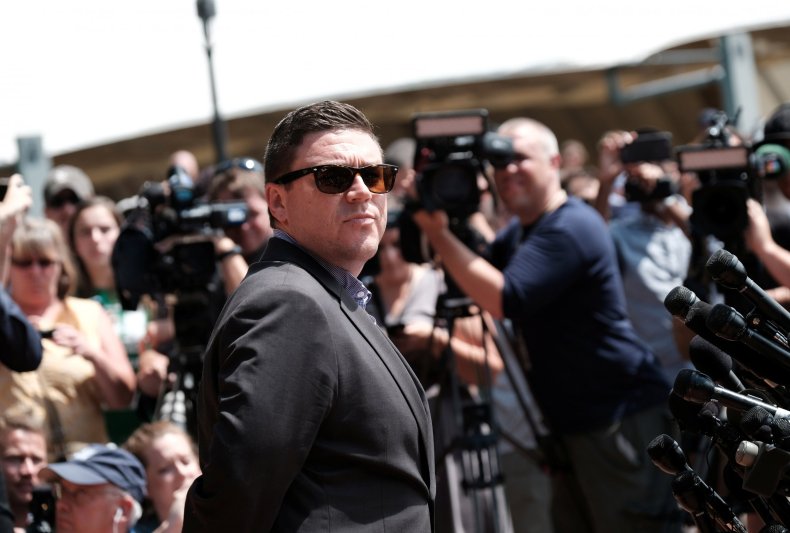 Michael Hill, the President of the League of the South, a white nationalist group that brought a large number of black-clad demonstrators to Unite the Right, announced on the far-right podcast Stormfront Action last Friday, "We don't have anything to gain by going back to Charlottesville," referring to his group. The statement was the first public declaration from Hill that he would not encourage League of the South members to attend the event.
Following Hill's announcement, Richard Spencer, the man often credited with being the face of the white nationalist "alt-right" movement, and one of the scheduled speakers at the first Charlottesville march, told Newsweek that he also "won't likely attend" a second event, but declined an opportunity to explain his reasoning.
Brad Griffin, a self-described Southern nationalist who is a member of League of the South and who runs the influential alt-right website Occidental Dissent, told Newsweek that he was unlikely to attend another Charlottesville rally. Sharing his reasoning, Griffin said he was staying away because he doesn't have "any reason to believe [the city] is capable of upholding law and order."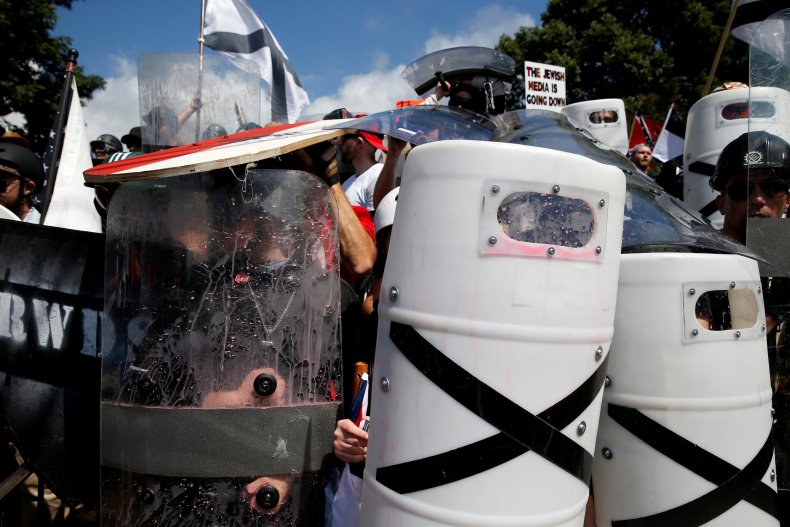 Griffin cited the recent convictions of Jacob Scott Goodwin and Alex Michael Ramos in the malicious wounding of DeAndre Harris during last year's rally as being the motivation behind his decision. Harris is black, and the men who attacked him—and beat him with blunt objects—marched with the white nationalists last August. White nationalists including Griffin have argued that Harris struck first in the violence, attacking one of their own. Harris was acquitted of assault charges against him in March.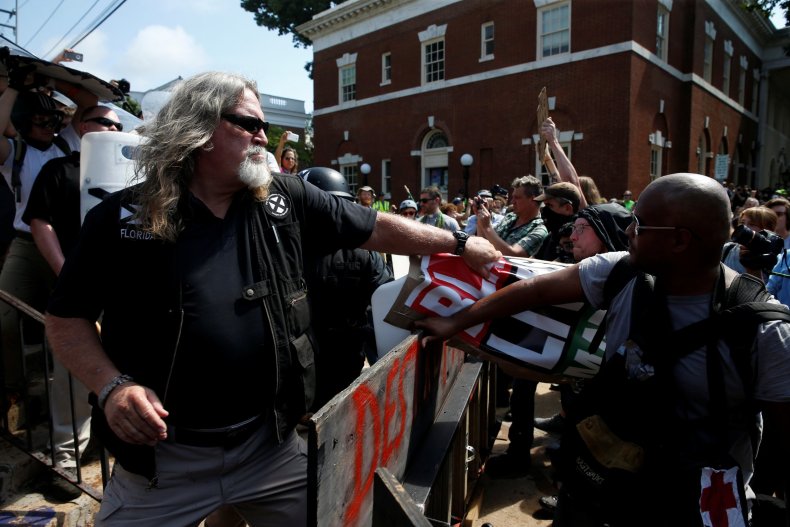 Other prominent figures in last year's infamous rally have similarly indicated to Newsweek they will be staying away from any repeat. Mike "Enoch" Peinovich, an alt-right podcaster who was scheduled to speak at the first rally before chaos erupted, said he would not attend another Charlottesville event this August, citing "Antifa thugs" as the reason. While less well known than Spencer, Peinovich, through his podcast network, reaches thousands of fans on the far-right, and would likely be crucial in Kessler's effort to galvanize another large turnout of white nationalist demonstrators.
"I have no plans to attend this rally, nor am I involved in any of the planning. I was not involved in the planning of the last event either, just an invited speaker," Peinovich said. "After the unfortunate events and the violent attacks we suffered, I am reluctant to return to Charlottesville. I hope the event, if it happens, is peaceful and that Antifa thugs do not disrupt it with violence as they did the last one."
Peinovich's pinning of the blame on counterprotesters was shared in part by President Donald Trump in the event's aftermath. Trump was widely criticized for saying that there was "blame on both sides."
"What about the 'alt-left' that came charging at, as you say, the 'alt-right,' do they have any semblance of guilt?" Trump asked. "What about the fact they came charging with clubs in hands, swinging clubs, do they have any problem? I think they do."
Peinovich told Newsweek that he agreed with Trump, but his statement on Kessler's event ignored the death of Heather Heyer, a 32-year-old woman who was killed when a man that marched with the neo-Nazi group Vanguard America allegedly drove his car into a crowd of counterprotesters. Peinovich is among the white nationalist leaders currently facing a potentially costly lawsuit implicating him in the violence that took place and therefore likely has good reason to want to distance himself from it.
Related: Anonymous white nationalists may have their identities exposed by a Charlottesville lawsuit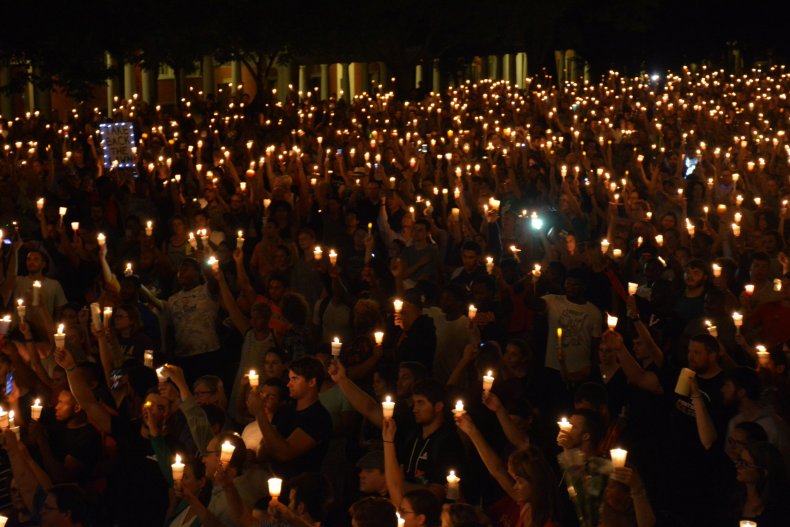 Other prominent groups on the far-right have fallen into disarray in the months following the much-publicized rally. The neo-Nazi group Traditionalist Worker's Party (TWP), which appeared at last year's Charlottesville rally, was thrown into turmoil after its leader, Matthew Heimbach, was arrested on a domestic violence charge in March. One member of the group, Tony Hovater, told Newsweek that only five members remain.
"As far as I know there aren't a ton of people planning on going," Hovater said of the planned anniversary rally in Charlottesville. "Leadership organizations aren't too keen on going, because of legal issues. I've seen interest from individuals, but I'm not sure on numbers. "
Other key players in last year's Unite the Right event elected not to comment, but are expected not to attend. At the same time as the anniversary, podcaster Christopher Cantwell will likely be standing trial on felony charges for allegedly using tear gas and pepper spray at the first event.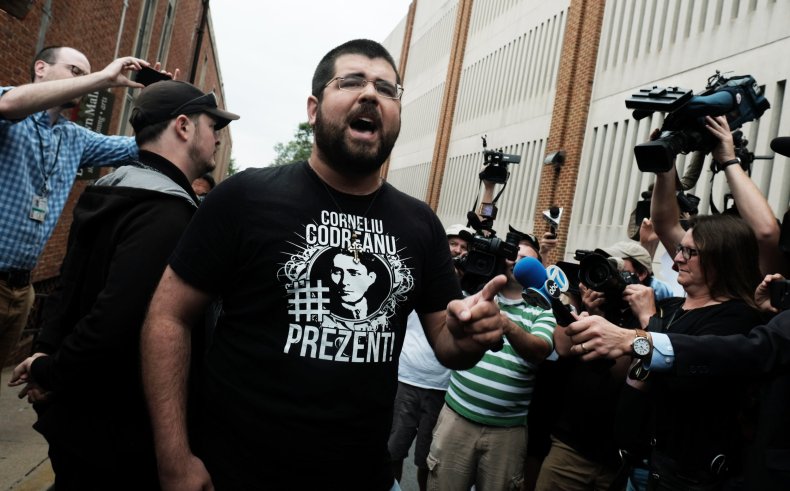 While he didn't attend the first iteration of Unite the Right, Andrew Anglin, the reclusive editor of the neo-Nazi website Daily Stormer, appeared to call for "war" in the lead-up to it. Anglin is implicated in a growing number of federal lawsuits due to the content of his website and has stopped promoting white nationalist events altogether in recent months. He spoke on one of Peinovich's podcasts in March and suggested that last year's rally had a detrimental impact on white nationalist recruitment.
"The way I would frame what's happened to us is that it's like a gigantic premature ejaculation. Where basically the media wanted us to come out and do a show for them," Anglin told Peinovich's audience about the aftermath of the 2017 Charlottesville event.
Emily Gorcenski, a Charlottesville resident who participated in the anti-racist counter-demonstration at the first Unite the Right, and was attacked by a member of the nihilistic neo-Nazi group Atomwaffen Division, told Newsweek that she believed Kessler was "losing friends and followers" by pushing for a replay of the chaotic event.
"I would be surprised to see this anniversary rally ever take place," she said.
Asked for a request for comment, Kessler only bragged that he thought the article would "help" him win his lawsuit against the city of Charlottesville.