White Texas Republicans Most Likely To Oppose COVID Vaccine—Poll
Almost two-thirds of white Republicans in Texas would be hesitant to get a COVID-19 vaccine, or would refuse it outright—more than any other demographic—a poll suggests.
A University of Texas/Texas Tribune survey found Republicans overall were the most reluctant to volunteer for inoculation against coronavirus.
Asked whether they would get a shot as soon as it was offered, among Republicans regardless of race, 59 percent said they were either unsure or would refuse.
Among white Republicans, this rose to 61 percent. This compared with 25 percent of all Texan Democrats who expressed doubts over taking up an offer of a jab.
A greater proportion of Texas Republicans expressed wariness about the safety and efficacy of the vaccines, too.
Close to half (46 percent) of GOP voters said they either had doubts about how safe the vaccines were, or were convinced they were unsafe. Only around a quarter (26 percent) of Democrats expressed similar views.
When it came to how effective people believed coronavirus shots would be, vaccine hesitancy—those saying they believed it to either be ineffective, or who were unsure—was again higher among Republicans (45 percent) than Democrats (22 percent).
The survey suggested these views were impacting actual vaccination rates, with 21 percent of Democrats polled saying they had already received the vaccine, versus just 11 percent of Republicans.
The University of Texas/Texas Tribune survey asked 1,200 registered voters from February 12 to 18, 2021. It had an overall margin of error of +/- 2.83 percentage points.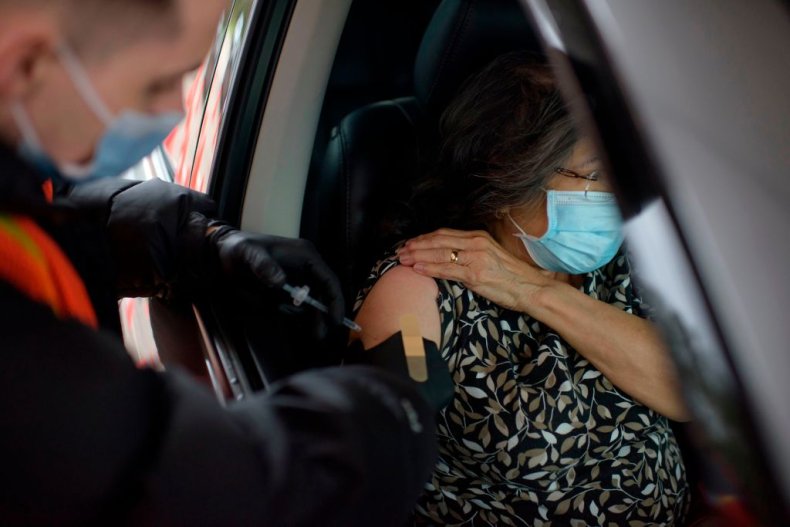 As of Tuesday, 38 percent of Americans had been vaccinated with at least one shot.
The Centers for Disease Control and Prevention (CDC) has previously warned that racial and ethnic minority groups are disproportionately represented among COVID-19 cases in counties across the U.S. with high or rapidly increasing incidence, and that these groups experienced higher COVID-19–associated hospitalization and death rates.
A poll released by The Associated Press-NORC Center for Public Affairs Research earlier in February found that hesitancy around the vaccine was more prominent among Black Americans than other ethnicities.
The survey, conducted on 1,055 adults between January 28 to February 1, revealed that Black Americans were less likely than white Americans to say they have received the shot or will definitely or probably get vaccinated, 57 percent compared to 68 percent.
Dr. Reed Tuckson, a founding member of the Black Coalition Against COVID (BCAC), said he believed the increased resistance of Black Americans to take the vaccine comes from a long-time distrust in U.S. societal institutions.
"The seeds of distrust in America's fundamental societal infrastructures have been deeply planted since our arrival in this nation and, unfortunately, they have been watered daily in our interactions with political, police and criminal justice, finance and health systems among others" Dr. Tuckson told Newsweek.
According to data from the Centers for Disease Control and Prevention, Black Americans are 1.1 times more likely to test positive for COVID-19 than white Americans, 2.9 times more likely to need hospitalization and 1.9 times more likely to die of the disease.