Who Is Allison Mack? How the 'Smallville' Actress Is Connected to a Sex Cult
Authorities arrested alleged cult leader Keith Raniere for sex trafficking and forced labor earlier this week. The 57-year-old, known as "Vanguard" to his followers, is accused of having operated a cult where women were branded with his initials, forced into sex, physically abused and blackmailed if they tried to leave.
According to the criminal complaint, Raniere formed NXIVM (pronounced "Nexium") in 2003, a controversial self-help group that offers classes on personal growth. Within NXIVM, Raniere is alleged to have ordered the formation of Albany-based DOS, shorthand for "master over the slave women" around 2015.
"DOS operated with levels of women 'slaves' headed by 'masters,'" the U.S. Attorney's Office for the Eastern District of New York said in a statement. "Slaves were expected to recruit slaves of their own (thus becoming masters themselves), who in turn owed service not only to their own masters but also to masters above them in the DOS pyramid."
One of the women is allegedly Allison Mack, the actress who played Chloe Sullivan on the WB (and then CW) hit Smallville. The 35-year-old is rumored to be the second in command, or "master," of the DOS, according to the group's former publicist and self-styled whistleblower. He also claims the branding marks are not just Raniere's initials, but Mack's too.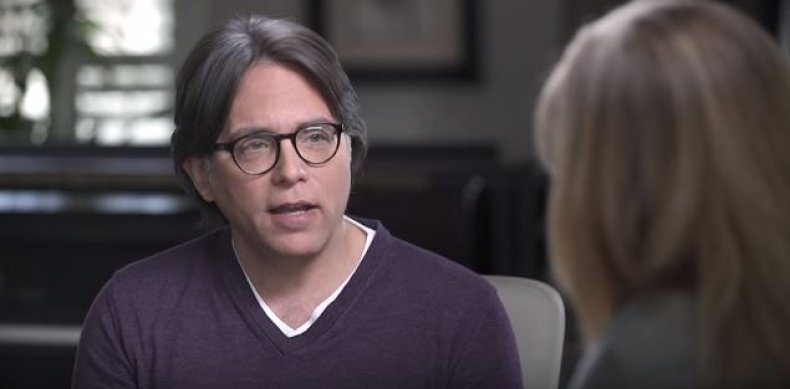 A woman who appears to be Mack was also photographed watching as police hauled Raniere away in cuffs earlier this week.
On her website, Mack credits the charismatic guru with jumpstarting her life after Smallville ended in 2011. The actress appeared opposite Elijah Wood in the short-lived series Wilfred from 2012 to 2014, and alongside Kevin Bacon in The Following, a cult-themed show that was eventually axed.
"Over the course of several years, Mr. Raniere mentored Allison in her study of acting and music," the actress's website reads. "As such, she has developed a deep connection to the nature of humanity as it relates to acting as an art form, and a tool for personal evolution."
The website describes Mack as a "president" and a "top trainer" at a private arts academy called "The Source," which was founded by Raniere. Mack has also appeared in promotional videos with the alleged cult leader.
The criminal complaint lists a "co-conspirator No. 1" and a "co-conspirator No. 2" who acted directly under Raniere, operating as slaves but also profiting from the crimes. Co-conspirator No. 1 is an actress, according to court documents.
"CC-1 is an actress and is currently understood to be one of the women with whom Raniere maintained a sexual relationship prior to the development of DOS," the documents stated. "Statements on NXIVM-related websites, including video interviews of Raniere and CC-1, refer to RANIERE's mentorship of CC-1, and to RANIERE's and CC-1 's co-development of 'The Source,' a NXIVM-affiliated entity focused on improving actors' performance skills."
"CC-2 is CC-1's direct slave," documents stated.
A representative from the United States Attorney's Office for the Eastern District of New York had no comment when Newsweek asked if any of co-conspirators would face charges. A spokesperson for Mack could not immediately be reached.
It's unclear how Mack became involved with Raniere. Fellow Smallville actress Kristen Kreuk denied rumors that she introduced the pair, but admitted to having once taken NXIVM courses to help with "shyness." Sarah Edmondson, a Canadian actress who has spoken openly about her experience trying to leave the cult, supported Kreuk's statement.
Mack has not updated any of her social media profiles since the arrest. On her Instagram, she regularly posts pictures lauding feminism, women's rights and equality. Her comment section is currently flooded with profane comments from people accusing her of being a "sex master."
A November investigation by the New York Times first exposed NXIVM and the DOS to a wider audience. Several women—including the daughter of former Dynasty star Catherine Oxenberg—spoke out about their experiences within the organization.
"These serious crimes against humanity are not only shocking, but disconcerting to say the least, and we are putting an end to this torture today," William Sweeney, Jr., FBI assistant director for the New York Field Office, said in a statement about the arrest of Raniere.