Who Is iO Tillett Wright? Amber Heard Says Depp Mistreated Trans Friend
During Amber Heard's testimony on Monday in which she took the stand in her defense in the defamation lawsuit filed by her ex-husband, Johnny Depp, Heard stated that her friend, iO Tillett Wright, was verbally abused by Depp.
As the pair's infamous defamation trial continues into its sixth week, Heard recalled an incident in which she claimed that Depp mistreated Wright during a fight and called him numerous transphobic slurs.
According to Heard, while on the phone with Wright, she and Depp allegedly got into an argument that resulted in Depp taking the phone from Heard and "started screaming at iO, just started screaming at the top of his lungs."
She said that Depp was "just screaming expletives, insulting names and telling iO that he can have me and you know, f*** off, and screaming at him."
Heard said that Wright then told her that she wasn't safe and that she should leave the house immediately, which angered Depp.
Depp "really started screaming this time," she added. "[He] called iO every imaginable, horrible name that you can say to an LGBTQIA person, for one, and any person, any human being ever."
Wright is believed to be a friend of Heard's who has previously defended Heard and her claims of abuse against Depp. He is described as an author, photographer, podcast host and activist. Wright has been pictured with Heard several times over the last decade.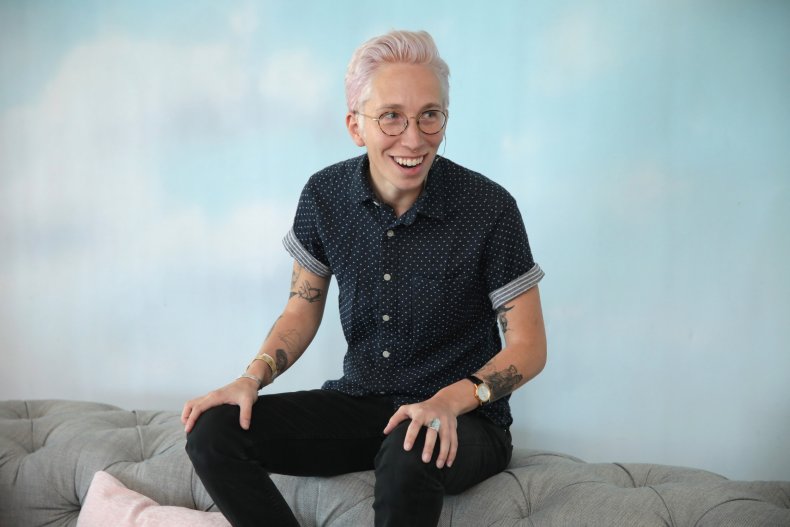 Reporter Sierra Gillespie tweeted that Heard testified about an altercation she had with Depp. Heard testified that after arguing with Wright on the phone, Depp threw Heard's cellphone at her, hitting her in the face. The police were called during their physical altercation, and Heard stated that she did not cooperate or file a police report because she wanted to protect Depp.
In 2016, Wright took to Twitter to call out a TMZ article that reported Heard leaving her and Depp's apartment "with no evidence of any facial bruising" a few days after the incident.
"I've had enough. I saw the bruises. Many times. And the fat lip. And the cut head," Wright wrote. He continued in a series of tweets, writing, "How much evidence does a woman need to present?! She has photos, texts, witnesses, and filed a restraining order."
"This culture of victim blaming makes me sick. I'm a witness. I'm here. I'm standing up. I can't take any more of this witch hunt," Wright tweeted. "I was on the f****** phone when he hit her. I HEARD HER SCREAM. I will testify. Here and in court. Under oath. WHAT ELSE DOES A WOMAN NEED?"
Wright's Twitter account has since been deactivated.