Who Is Jason Knauf? Meghan Markle's 'Trusted Adviser' Who Made Bullying Claim
Meghan Markle's press secretary Jason Knauf was once trusted enough to give feedback on a private letter she sent her father. Two months later he reported her for bullying.
The Duchess of Sussex faces allegations two of her junior staff left Kensington Palace after her "unacceptable" behavior.
Knauf said the employees had been bullied out while expressing concern for a third, Meghan's private secretary Samantha Cohen, in an internal Kensington Palace email sent in October 2018.
In a message published by The Times, he wrote: "I am very concerned that the Duchess was able to bully two PAs out of the household in the past year.
"The treatment of X [name removed] was totally unacceptable."
He added: "The Duchess seems intent on always having someone in her sights. She is bullying Y [name removed] and seeking to undermine her confidence.
"We have had report after report from people who have witnessed unacceptable behavior towards Y [name removed]."
The allegations come as a pre-recorded interview between Meghan and Harry and Oprah Winfrey is due to be broadcast on CBS this Sunday.
"Meghan Markle has been subject to a wave of abuse and harassment"
Prince Harry called out press coverage and social media trolling of Meghan just a few weeks into their relationship becoming public via a statement from his communications secretary.
Released on November 8, 2016, it spoke of a "storm" surrounding reporting on his then-girlfriend and said that "the past week has seen a line crossed."
That statement was given by Jason Knauf, the same palace aide who almost exactly two years later would accuse Meghan of bullying two PAs out of the royal household.
At the time, his statement read: "His girlfriend, Meghan Markle, has been subject to a wave of abuse and harassment.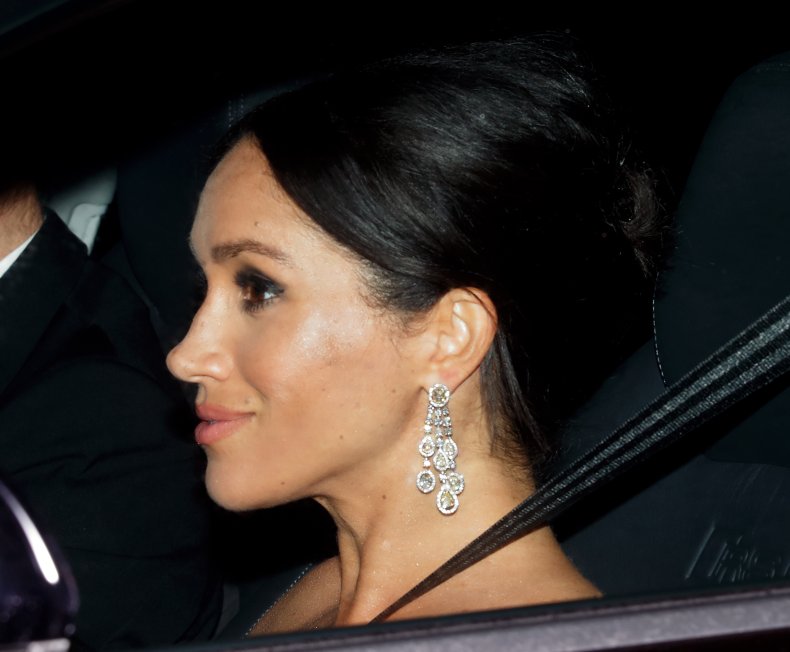 "Some of this has been very public—the smear on the front page of a national newspaper; the racial undertones of comment pieces; and the outright sexism and racism of social media trolls and web article comments.
"Some of it has been hidden from the public—the nightly legal battles to keep defamatory stories out of papers; her mother having to struggle past photographers in order to get to her front door; the attempts of reporters and photographers to gain illegal entry to her home and the calls to police that followed; the substantial bribes offered by papers to her ex-boyfriend; the bombardment of nearly every friend, co-worker, and loved one in her life.
"Prince Harry is worried about Ms. Markle's safety and is deeply disappointed that he has not been able to protect her.
"It is not right that a few months into a relationship with him that Ms. Markle should be subjected to such a storm."
"It didn't hurt that he was also American"
Knauf joined Kensington Palace from the comms team at the Royal Bank of Scotland in February 2015, before Prince Harry and Meghan had ever met.
Prior to that he worked at the Treasury of the British Government, and before that as a press secretary to the deputy prime minister of New Zealand, from 2007 to 2008.
On joining the palace, he worked for Prince William and Kate Middleton as well as Prince Harry, and was with them when the brothers chose to speak movingly about their mother's death on the 20th anniversary of her passing in 2017.
When Kensington Palace started representing Meghan as well, he became her press secretary.
Biography Finding Freedom describes him as Prince Harry's "capable press head."
Authors Omid Scobie and Carolyn Durand wrote: "Jason—who had navigated William and Kate's media efforts for family privacy and been instrumental in crafting the royal trio's highly successful Heads Together campaign in May 2016—had often given Harry good advice.
"And it didn't hurt that he was also American, with an understanding of the press on both sides of the Atlantic.
"The Texas-born head of communications was approachable, liked by the royal press pack, and savvy to the ways of social media."
"Mr. Knauf was not only a trusted adviser"
Knauf left Kensington Palace in March, 2019, to become chief executive of charity the Royal Foundation of the Duke and Duchess of Cambridge.
However, his time working for Meghan and Harry was thrown back into the spotlight last year when he was dragged into Meghan's privacy court case against the Mail on Sunday.
The duchess sued the newspaper for publishing a private letter she sent her father begging to stop him talking to the media.
However, the tabloid argued she always intended the letter to be leaked, pointing as evidence to the fact she had sent Knauf a draft. Meghan denies the allegation.
A court filing by Meghan's lawyers in November read: "Once it had been decided that [Meghan] would write to her father, [Meghan] informed Mr. Knauf.
"Mr. Knauf was not only a trusted adviser, who had spoken to [Meghan's] father repeatedly, particularly in the lead-up to the wedding, and was aware of the state of his health, but he was also responsible for reporting (as was required by palace protocol) the fact that the Claimant was going to write to her father to more senior people in the Royal households, all of whom had to be kept apprised of any public-facing issues (the media spectacle surrounding Mr. Markle being one such issue)."
Knauf was among a group of aides, described in court documents as the "Palace Four," who the newspaper claimed had key information to offer the court case.
Ultimately, they hired lawyers who revealed at least one of the group had relevant evidence to offer.
However, before the information could be released, Meghan won an application to be awarded victory without the need for a trial.
The ruling means the Palace Four's evidence may never come to light.
"The duchess is saddened by this latest attack"
The allegations Meghan bullied her staff were first published in U.K. newspaper The Times.
A spokesperson for Meghan responded: "The duchess is saddened by this latest attack on her character, particularly as someone who has been the target of bullying herself and is deeply committed to supporting those who have experienced pain and trauma.
"She is determined to continue her work building compassion around the world and will keep striving to set an example for doing what is right and doing what is good."