Who Is Judge Peter Cahill? George Floyd-Derek Chauvin Trial in Focus
The trial over George Floyd's death has begun, with former police officer Derek Chauvin charged with two counts of murder and one of manslaughter.
The killing of Floyd, a Black man, in Minneapolis in May, 2020 sparked global outrage and Black Lives Matter protests all around the world.
Infamous video footage of Chauvin kneeling on Floyd's neck for nearly nine minutes, during which Floyd is heard shouting "I can't breathe," is expected to feature in the trial.
Throughout proceedings, Peter Cahill, the presiding judge, will be in the spotlight.
He will also be the judge in the separate cases in August against the other three former police officers that were present at the scene at the time of Floyd's death.
Who Is Judge Peter Cahill?
Cahill, 64, a Hennepin County Judge, was appointed by former Republican Gov. Tim Pawlenty to the bench in 2007. Voters then elected him again in 2014 and 2020, and his current term expires in January 2027.
This latest trial could prove to be the greatest test of Cahill's legal career, which has spanned four decades.
"This moment is not too big for him," Chief Hennepin District Judge Toddrick Barnette, who chose Cahill to oversee the trial, told Minneapolis Star-Tribune on 26 March. "He will make thoughtful legal decisions based upon the law, even if the decisions are unpopular."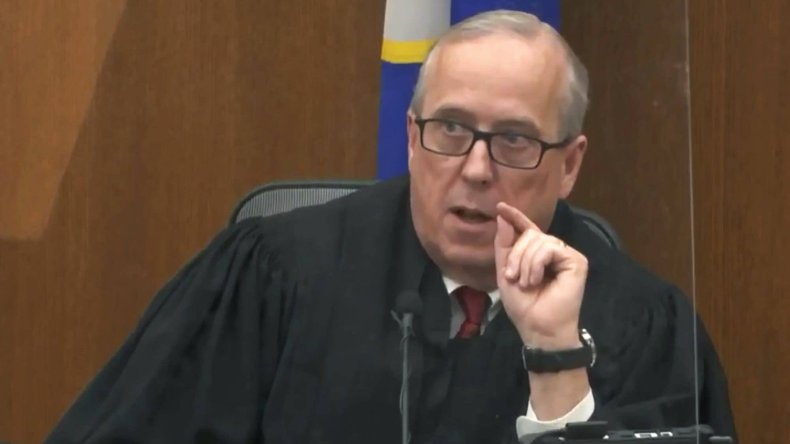 Last November, Cahill granted court access to cameras to broadcast the entire trial live—something that is unprecedented in Minnesota courts.
Making the landmark ruling, the judge said that—with numbers limited because of coronavirus restrictions—broadcasting it live would be "the only way to vindicate the defendants' constitutional right to a public trial and the media's and public's constitutional rights of access to criminal trials is to allow audio and video covered of the trial."
"He is very decisive. He applies the law fairly," said Michael Colich, a renowned criminal defense attorney, told NPR on 10 March. Cahill worked at his firm from 1987 to 1993.
"He's not going to be intimidated. And you're going to see that as the trial goes on, he'll control the courtroom. He'll let the lawyers do their jobs, but he will be in control."
Over his extensive career, Cahill has served as a defense attorney and a prosecutor. But he has also spent time as the top deputy to Democratic Senator Amy Klobuchar during her tenure as county attorney.
He served in the Hennepin County Attorney's Office from 1997 to 2007, the same year Klobucher was sworn into the U.S. Senate. In 2020, she ran for the Democratic presidential nomination.
Cahill forged his connections with some of the biggest names in the legal industry at the University of Minnesota Law School, working as a clerk for Colich.
He graduated from law school in 1984, before becoming an assistant public defender in Hennepin County for three years. He later joined Colich's private defense firm in 1987.
Six years later, Cahill opened his own practice, which he ran until 1997 before he became an assistant prosecutor of violent crimes for county attorney's office for a decade. He took the bench in 2007.
"He was always very confident in himself and he was extremely smart," Colich said. "I learned very quickly how he handled himself in the courtroom. He was a tremendous trial attorney."
Previous cases
Cahill has worked on a number of high-profile cases that have been in the spotlight, including those relating to racial injustice.
In 2015, he dismissed charges against activists who planned a Black Lives Matter protest at the Mall of America in Bloomington, Minnesota, while maintaining trespassing charges over some of the individuals involved.
"He was always cordial and respectful, and I felt that he was fair in terms of how he handled that particular case," said Nekima Levy Armstrong, one of the organizers who was charged with eight minor crimes.
He has also worked on high profile murder cases too. In November 2019, Kenneth Lilly pleaded guilty to shooting a school bus driver with a student on board. Cahill sentenced him to more than seven years in prison.
Jury challenges
Cahill has faced several obstacles when selecting a jury before the Chauvin-Floyd trial.
After seven jurors had been selected four days into the process, the city of Minneapolis announced that it would be making a payout of $27 million to the Floyd family.
"I wish city officials would stop talking about this case so much," the judge said before resuming jury selection. "At the same time, I don't find any evil intent that they are trying to tamper with the criminal case."
Two seated jurors were removed over fears the media coverage could have impacted their ability to be impartial in the trial.