Who Left 'Big Brother' Season 24 Last Night?
Big Brother Season 24 is only just getting started and already, one unlucky housemate has been evicted from the house.
In fact, the losing contestant actually left the house on Thursday (July 21) but due to some scheduling changes, the episode featuring their departure did not air until Sunday, July 24.
If you are not up to date with the Big Brother live feeds, where it would have been very obvious who had been eliminated from the competition, their departure on Sunday may have come as a bit of a surprise to viewers.
Who left Big Brother Season 24 last night? Newsweek has everything you need to know.
Who Left Big Brother Season 24 Last Night?
For Joe "Pooch" Pucciarelli, his time on Big Brother Season 24 came to a quick end as the first contestant to be eliminated from the show.
Going into the Week 2 eviction, it was Florida-based assistant football coach Pooch and personal stylist Taylor Hale who found themselves vulnerable after losing in the Power of Veto meeting earlier in the week.
Before the Power of Veto vote, Pooch had volunteered himself as a pawn with a game plan to save himself during the vote but he was blindsided by the girls of the house.
After the remaining housemates debated who should go next, weighed up their loyalties, and assessed their own game plans, a vote was eventually cast.
In the end, Pooch was unanimously evicted by a vote of 12-0.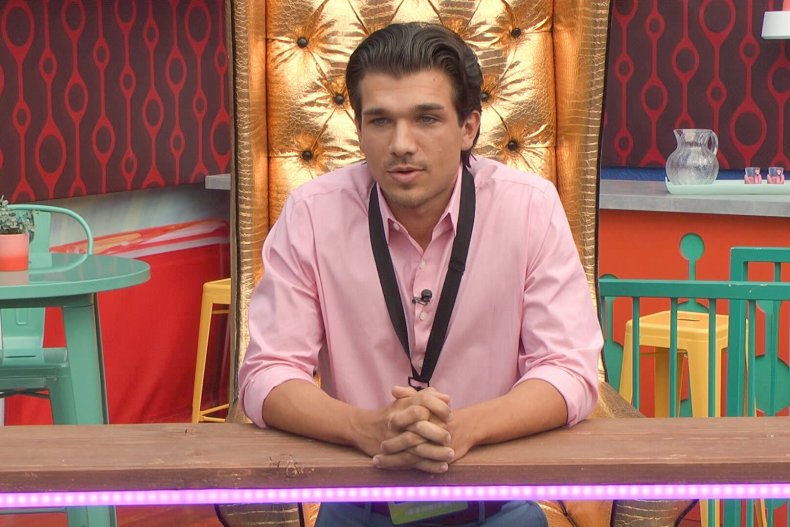 Speaking to Big Brother host Julie Chen Moonves about his eviction, Pooch reflected that his departure was simply down to the fact the other housemates felt threatened by him and would, inevitably, never pass up the opportunity to remove him from the competition if it was handed to them.
He also expressed his shock that the vote was unanimous and not split down the middle between him and Taylor.
Pooch also revealed he and Turner had a secret Final Two deal which, unfortunately, did not really play out on screen for the audiences to see.
He told host Chen Moonves: "I put myself up there, being a somewhat physical male. I thought I had a strong social game. It's an opportunity. If I was on the other side I probably would have done the same thing. At least entertained it. I really had no idea.
"For it to be 12-0 is shocking. I thought I would have heard from one person, but obviously, they were all on the same page. It is what they felt they needed to do. I understand that from a game point. When I heard 12-0 I genuinely felt, 'Oh cool, I'm straight.' I thought it maybe would have been a little bit more split."
Posting on Instagram alongside an image of his family after his elimination, Pooch said he was "so grateful" for the opportunity to appear on the show and wished the "opportunity lasted longer."
He wrote: "So grateful for the opportunity to be on my favorite TV show growing up!! Big Brother was everything I expected and more. I wish the opportunity lasted longer (obviously), but I couldn't have asked to be put together with a better a group of people/cast. I'm so thankful that I now have 15 best friends for life!!! At the end of the day, the game is a GAMEEEE. Can't wait until I see the rest of the cast once the show's over, and Especially the OASIS.
"love ya'll stay Poochieeee. shout out mom pooch, dad pooch, nick pooch, Beanzz pooch, frankie pooch, & the Pudimottssss."
The remaining houseguests are Alyssa Snider, Ameerah Jones, Brittany Hoopes, Daniel Durston, Indiana "Indy" Santos, Jasmine Davis, Joseph Abdin, Kyle Capener, Matthew "Turner" Turner, Michael Bruner, Monte Taylor, Nicole Layog, Taylor Hale and Terrance Higgins.
After Pooch's eviction, host Chen Moonves announced an exciting new twist to the much-loved reality series.
Starting from Sunday, July 24, each contestant will be paired up with a "Festie Bestie," meaning the housemates will be playing the Head of Household game as pairs. If one individual is safe from elimination, so is their partner.
Additionally, instead of nominating individuals for elimination, besties will be nominated.
Then, on eviction night, the two besties up for eviction will be split up, with one being sent home.
As you await the next installment of Big Brother Season 24 on Wednesday, July 27, you can catch up on all things Big Brother via the live streams now via Paramount+.
Big Brother continues on Wednesdays, Thursdays, and Sundays on CBS.