Who Is Noah Erb? Spoilers Say 'The Bachelorette' Has Its First Villain on Tayshia Adams' Season
There's a new Bachelor franchise villain in town, but he may not be as bad as he seems. Noah Erb is expected to upset the group of men on Tuesday night's episode of The Bachelorette when he steals time with Tayshia Adams on a group date he wasn't even invited to.
It all happens in the second half of the episode, according to Reality Steve, when the men compete in an athletic competition. This time, it's a wrestling match. Yes, we expect most of the wrestling will be done shirtless because this season has had no shortage of male nudity.
Erb isn't on the date, necessarily, but that doesn't stop him from entering the ring uninvited and, apparently, beating most of the men at their own date. Naturally, this upsets the men who thought they'd have uninterrupted time with Adams.
They might wonder about the rules of the competition being enforced, but, as viewers, we know the rules went out the window a long time ago. That's why Erb is given the group date rose, Reality Steve claims, and awarded time with Adams, despite the fact that he wasn't supposed to be there.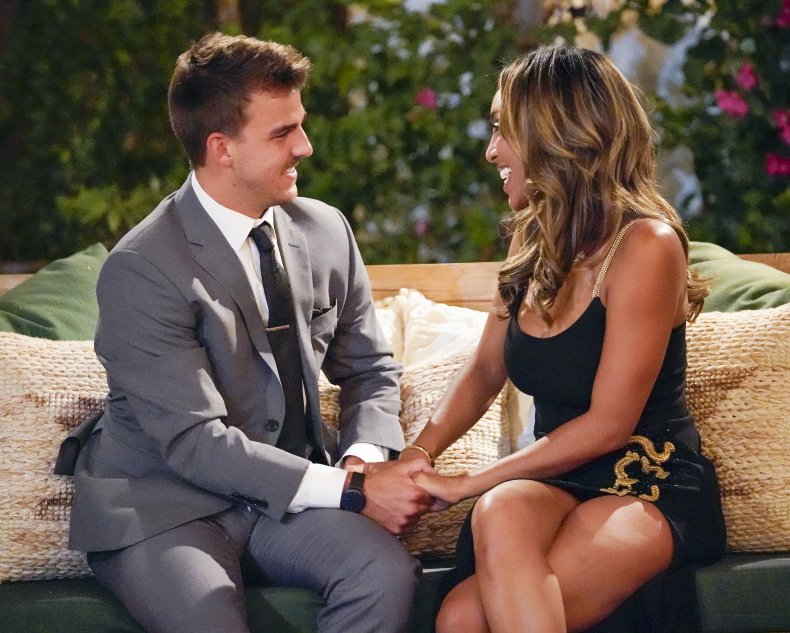 The story of stolen time is tried and true on the Bachelor franchise. While it routinely upsets other contestants, Erb's story appears to solidify the recurring theme that those who take risks impress the rose holder.
So, who is Erb? And will he stick around for long on Adams' season?
Erb is a 25-year-old travel nurse who has been bravely facing COVID like many healthcare workers around the world. "This man has spent the last year working tirelessly on the front lines of the COVID-19 pandemic as a registered travel nurse. He is here to prove that age really is just a number," his Bachelorette bio on the ABC website reads.
In addition, Erb's bio reveals that he's a twin and one of 10 children. His parents set the goal for his relationship with his future wife. "Looking at the example his loving parents have set for him, Noah knows exactly what it takes to treat a woman right," the bio says. "When it comes to relationships, Noah says that 'every captain flies better when his co-pilot is happy,' and he loves to make the woman in his life feel special."
With stolen time, Erb may live up to his intent to make the women around him feel special. As for the other men, though, tensions will surely rise as he solidifies his place in Adams' world with an extra rose.
Tuesday night will be Adams's second week as the Bachelorette after she stepped in for Clare Crawley. Crawley left the show engaged and in love with model Dale Moss, and the pair are still together.