Who is UKIP's New Leader Paul Nuttall And What Does He Mean for the Party?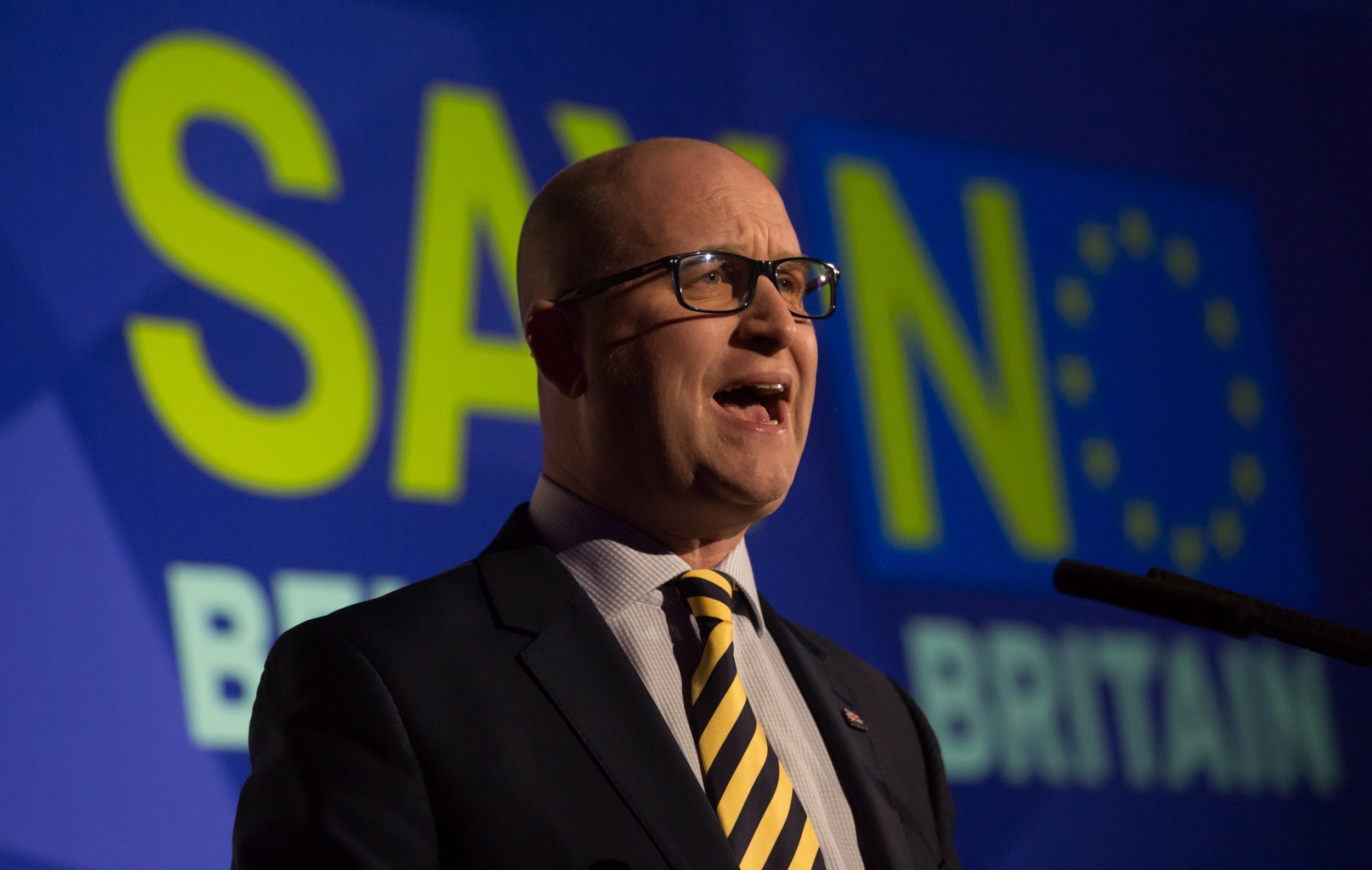 Paul Nuttall has won a crushing victory to succeed Nigel Farage as leader of the United Kingdom Independence Party (UKIP), promising to mend internal splits and "put the UKIP jigsaw back together."
In his acceptance speech Monday, the 39-year-old former history lecturer vowed to "replace the Labour party," "hold the Government's feet to the fire" when it came to severing ties with the European Union (EU) and stand tall as "the patriotic voice of working people." While focusing on party unity, his speech also hinted at his future strategy, with explicit mention of support for "English devolution" suggesting he will make winning over Labour voters in the north of England a priority.
Nuttall, a passionate Roman Catholic and pro-lifer, secured a landslide 62.6 percent of the vote in a ballot of party members, defeating former deputy chairwoman Suzanne Evans and activist John Rees-Evans.
He succeeds Farage, Member of the European Parliament (MEP) for the South East of England and a leading voice for the campaign to leave the EU. Taking up the baton, Nuttall vowed to continue to pressure Theresa May's government to take Britain out of the bloc.
Despite resigning after Britain voted to leave the EU in July, Farage remained UKIP's interim leader since October, when his replacement Diane James stepped down after 18 days, citing "insufficient authority" and a lack of support from within the party.
After the second leadership election in as many months following weeks of controversy, Nuttall promised to bring "unity" to the fractured organization, saying that all factions must let "bygones be bygones." He called his appointment "day zero" for the party, echoing the sentiment of Douglas Carswell, UKIP's only MP, who tweeted on Sunday: "Tomorrow UKIP finally gets a new leader—and the chance to press the reset button. Exciting."
As leader, Nuttall marks a change from the privately educated Farage, whom Nuttall refers to as his "drinking buddy." Nuttall was born and raised in Bootle, Merseyside, in the north west of England and attended a Catholic state school, before studying history at university. He taught at Liverpool Hope University before joining UKIP in 2004, where he quickly rose through the ranks, becoming party chairman in 2008.
He became an MEP in 2009—his party's youngest—and gained prominence for his tough stance on crime. Throughout his time in UKIP he has called for stricter prison sentences for persistent re-offenders, drug dealers and violent criminals; in 2011, he signed a controversial e-petition calling for the reinstatement of the death penalty.
"I am in favor of restoring the death penalty for child and serial killers," Nuttall, then UKIP's MEP for the north west, told The Bolton News. "I think capital punishment is needed for such heinous crimes and I know that many other people feel the same. Generally too much attention is paid to the so called 'human rights' of offenders—what about the rights of victims and their families?"
Nuttall is also opposed to abortion and told Sky News earlier this year that he would like to see the legal period in which a woman can terminate her pregnancy halved to 12 weeks. He said he would gladly hold a national referendum on the issue and in a blog post published to his website, compared "killing an unborn child" to serial "killers such as Ian Brady and Ian Huntley."
The 39-year-old has referred to global warming as a "hair-brained theory," told reporters at the BBC's Sunday Politics show that Russian president Vladimir Putin is "getting it right" in Syria and has repeatedly denounced what he considers to be political correctness, as "PC tosh." He has also called for a ban on Muslim women wearing headscarves, and opposes Sharia courts in the U.K. Much like his predecessor, and America's new President-elect Donald Trump, Nuttall is not afraid to say what he thinks.
Farage, essentially a one-man-band who successfully roused a nation during a controversial referendum campaign, without the backing of a mainstream party or more than one key policy, has a protege in Nuttall. He is the Northern equivalent; a colorful media performer with similar maverick appeal.
Though his northern roots may stand him in better stead than Farage to make an impact in traditional Labour heartlands, it may be his stance on the U.K.'s National Health Service (NHS) that causes problems. His previous support for privatization of the public service could prove to be controversial—something he seems to have considered. A post on his website from 2014, which has now been deleted, said: "I would like to congratulate the coalition government for bringing a whiff of privatisation into the beleaguered National Health Service…I believe, as long as the NHS is the 'sacred cow' of British politics, the longer the British people will suffer with a second rate health service."
There has been little mention of the NHS during his campaign. Controversial posts about the health service on his blog have been taken down and Nuttall has backpedaled when asked about his comments in recent interviews.
Nuttall's ideas for UKIP are, for now, fundamentally rooted in party unity and a hard Brexit.
"It is clear to me that if the infighting doesn't stop immediately, then UKIP will slip onto a downward spiral which it will not be able to get out of," Nuttall wrote for The Telegraph in October. "To prevent this, the party needs unity. It needs its leading lights to focus their guns on the enemy, not on each other."
Once Nuttall has achieved harmony among his members, he plans to storm united into Labour's heartland, squeezing its strongholds and gaining the support of those who voted to leave the EU, with immigration and crime as his focus points.
Whether or not Nuttall can reunite his party will remain to be seen, but one thing is clear: he is gunning for Labour.