Who Is Preston Hemphill? White Police Officer Named in Tyre Nichols Arrest
A sixth Memphis, Tennessee, police officer has been removed from his position following an investigation into the arrest and death of 29-year-old Tyre Nichols.
In a statement sent to Newsweek, a spokesperson for the Memphis Police Department said that "officer Preston Hemphill has been relieved of duty pending the outcome of the administrative investigation." Photos posted on social media show that Hemphill is white.
"Officer Hemphill was hired in 2018," the spokesperson said. "This is an ongoing investigation. Once additional information is available, we will update our social media platforms."
The announcement on Monday came four days after five other former Memphis police officers were relived of duty and charged with second-degree murder in the death of Nichols, a 29-year-old Black man.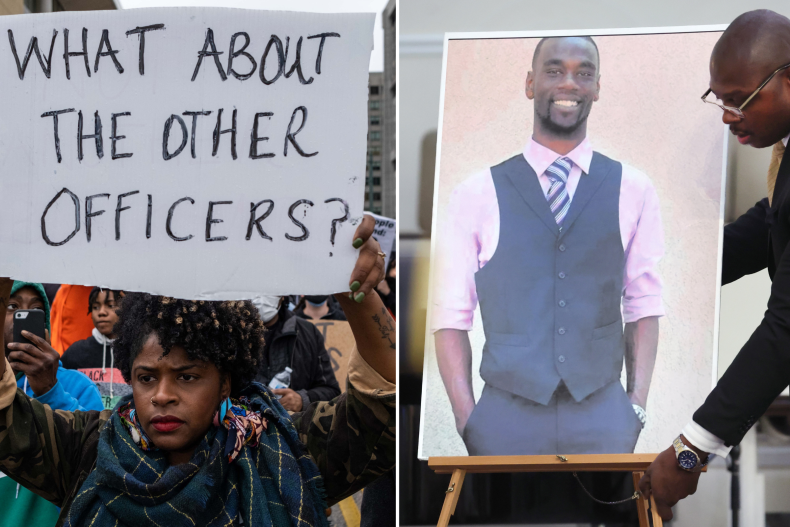 The five officers were identified as Tadarrius Bean, Demetrius Haley, Desmond Mills Jr., Emmitt Martin III and Justin Smith. Each of the five also was charged with aggravated assault, aggravated kidnapping, official misconduct and official oppression. All five of the officers are Black men.
The Tennessee Bureau of Investigation previously said that the five officers conducted a traffic stop of Nichols on January 7. During a second encounter with Nichols shortly after the initial stop, a "physical encounter" ensued. Nichols was later hospitalized with numerous injuries and died on January 10.
Shortly after the charges against the five officers were announced, the city of Memphis released the body camera footage of Nichols' arrest, which sparked protests against police brutality at several cities across the nation.
Prior to the release of the footage, Memphis Police Chief Cerelyn Davis said, "You're going to see acts that defy humanity. You're going to see a disregard for life."
Davis also announced that the Memphis Police Department had disbanded the department's Street Crimes Operations to Restore Peace In Our Neighborhoods, or the Scorpion unit.
"In the process of listening intently to the family of Tyre Nichols, community leaders, and the uninvolved officers who have done quality work in their assignments, it is in the best interest of all to permanently deactivate the SCORPION Unit," the Memphis Police Department said in a press release.
"While the heinous actions of a few casts a cloud of dishonor on the title SCORPION, it is imperative that we, the Memphis Police Department take proactive steps in the healing process for all impacted."
While speaking with CNN last week, Nichols' mother, RowVaughn, described what she saw after visiting her son in the hospital following his arrest.
"He had bruises all over him," she said. "His head was swollen like a watermelon. His neck was busting because of the swelling. They broke his neck. My son's nose looked like an S. They actually just beat the crap out of him."
Update 1/30/23, 1:23 p.m. ET: This story was updated with additional information.