Who Is Roger Stone? Former Trump Adviser and Political Lobbyist Is Self-described 'Dirty Trickster,' Promoter of Conspiracy Theories
The tattoo of former U.S. President Richard Nixon Roger Stone has on his back is a good indicator of who the political strategist's heroes are.
He worked on Nixon's re-election committee in 1972 and remained a key adviser to the disgraced president after he was forced from office. Ever since, he has been a figure at both the center and periphery of the Republican party.
As with Nixon, the specter of impeachment hangs over President Donald Trump, who Stone says he got elected in 2016, although Trump has played down their links. With Stone's arrest as part of the probe by special counsel Robert Mueller into claims of Russian interference in that campaign, the media will no doubt draw further parallels between the presidents.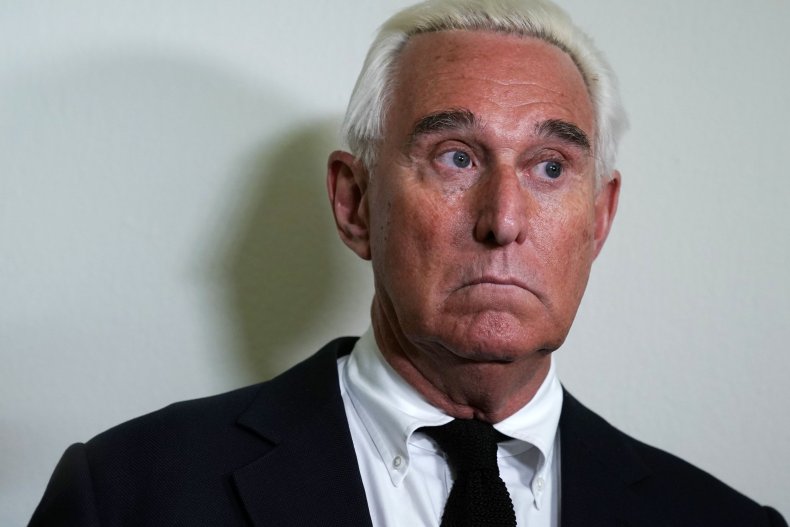 Born in Norwalk, Connecticut, in 1952, Stone became renowned for his opposition research and is considered a pioneer of negative political campaigning.
He was co-founder of the lobbying firm Black, Manafort & Stone, which built its reputation in the 1980s as a firm working on behalf of U.S. corporations, companies and foreign organizations.
As well as Nixon, he worked as strategist on the political campaigns of former president Ronald Reagan and 1996 Republican nominee Bob Dole.
The New York Times said Stone described himself as a "dirty trickster" who reveled in his outsider status. On the eye-opening Netflix documentary about his career, Get Me Roger Stone, he boasted: "Those who say I have no soul, those who say I have no principles, those are bitter losers."
The "loser" epithet was meted out to him in 2008 by Trump himself, unhappy with Stone's publicity-seeking persona, with the future president telling the New Yorker: "He always tries taking credit for things he never did."
As part of a self-confessed strategy of "attack, attack, attack—never defend," Stone has promoted a number of conspiracy theories. These include saying the 9/11 attacks "merit study" and linking the father of Senator Ted Cruz to the JFK assassination.
Stone is said to have played a key role in the Trump campaign until August 2015, when Trump suggested a television interviewer was menstruating. However he stayed as an informal adviser, USA Today reported.
During the 2016 election campaign, Hillary Clinton's camp alleged that Stone had prior knowledge about the WikiLeaks publication of the emails of Clinton campaign chairman John Podesta.
Stone said he had "communicated" with WikiLeaks founder Julian Assange before the emails' release and had described the contact as "perfectly legal," the BBC reported.
He is accused of lying to the House Intelligence Committee about what passed between him and WikiLeaks, and of falsely claiming not to have records of it. Trump has played down his links with Stone in that election and has branded the probe a "witch hunt."
Stone's former business partner Paul Manafort has already been convicted on a variety of bank, tax and witness-tampering charges.
Stone wrote to supporters in August 2017, warning that "Robert Mueller is coming for me," and has repeatedly said that he expects to be indicted.
He was right on that front and what happens next will be another chapter in a very colorful career.